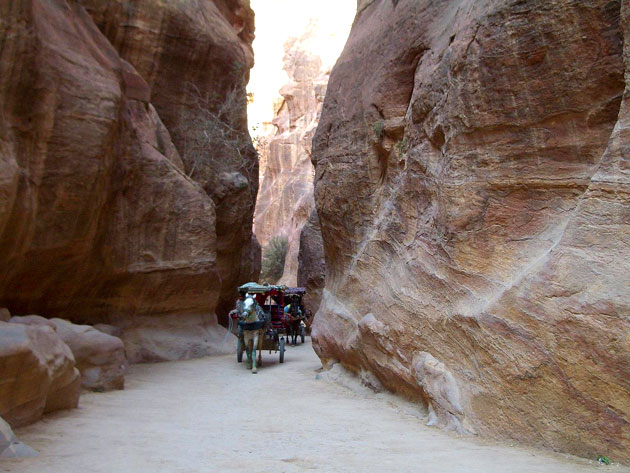 Egypt Diary: Sharm El Sheikh and Petra
Posted on December 24, 2009 at 2:01am Madrid / 8:01pm Cincinnati by Kelly Larbes

Wednesday, November 25
For me, the snorkeling is the best thing about Sharm El Sheikh and Naama Bay. Hundreds of colorful fish swam around us yet somehow none of them ever touched us. Only one other time in my life (in the Caribbean) have I swam with so many different and colorful fish. Most places you need to take a boat to arrive at great snorkeling, but there was a reef only about 50 yards from where we entered the sea by our hotel. Snorkeling made the day fun and the proximity to our beach loungers made the day relaxing too. I also really appreciated being on a sandy beach after spending the summer on Croatia's rocky ones.
I chose to snorkel in my normal Nike swimming goggles because I found them more comfortable than snorkeling goggles, and I didn't mind having to come up every few minutes for air (I probably do that with normal snorkeling gear anyways.). Fins would've been fun, but weren't really necessary because the reef was small. I wish I knew all the names of the fish we saw. There were so many different types: green ones with big flapping fins on their sides, bright yellow ones with white and black stripes and a super tall thin fin on top, a slow fat reddish brown one with white speckles, and my favorite colorful ones that looked like superman ice cream (google it if you don't know what it is).
We even saw a sting ray and then a poisonous lion fish. The lion fish's venomous spines are not usually deadly, but extremely painful (and require a trip to the hospital) if touched. Kevin spotted it first at the sea floor near the base of the coral. Luckily it stayed down there. Still, I think Jay will be wearing his swim shoes tomorrow like the rest of us, just in case.
In the afternoon we played sand volleyball! – something Jay and I missed a lot over summer. We started out playing doubles: Kevin and Dad versus Jay and I (I don't know who won). Then we had four more join us to make it quads and a multi-national game – they were all from Russia and didn't speak much English. I think this was the first time I played sports with a group who didn't speak English, which made the game quite interesting. It is amazing how much body language, facial expressions, and tone of voice communicate without actually understanding words.
We spent the evening walking around Naama Bay's downtown district (like a boardwalk area), having a nice dinner, and window shopping. Being in Sharm feels like we have left Egypt. It feels a bit like Myrtle Beach meets Cancun meets Egypt. There is a vibrant (somewhat obnoxious) night life, nice restaurants, a Starbucks, and endless souvenir shops.
Thursday, November 26
Today was a lot like yesterday: snorkeling and lying on the beach. It was a great way to spend Thanksgiving, though it didn't even feel like Thanksgiving. The water here has great buoyancy. I am an average swimmer, but I was able to stay out snorkeling (not standing) for an hour and a half. Tomorrow we are taking a day trip to Petra in Jordan and I know part of all of us doesn't want to go because we are enjoying relaxing on the beach so much.
The only dark mark on the day was dinner. It was the crappiest Thanksgiving dinner I have ever had (food and service). After a discussion with the Iberotel Lido's manager about our room mishap, they agreed to compensate us by giving us a buffet dinner (though I would've preferred my sea view room). All around the hotel there are signs posted advertising the buffet dinner saying it includes all you can eat food and one drink (beer, soda or water). The food was the worst we've had on the trip, but we tried to stay positive by thinking, "Eh, at least we got a free drink." That was until they bought us a bill for the drinks! We tried to explain to them that we were supposed to have a complimentary buffet dinner and clearly a drink is included (based on many signs). They told us that only the people paying for the dinner got a drink included. They made us pay for the ridiculously expensive drinks, so in the end they made even more money off us. We got doubly screwed over by them. I'm just happy knowing that in the end this will be an insignificant blip on a great trip (though I sure would never stay here again).
Friday, November 27
I know yesterday we were questioning whether we wanted to go to Petra today, but we are sure glad we did. I think it might have been my favorite day of the entire trip, though I am having trouble picking just one. Jay confirms it was definitely his favorite. Petra is an archeological site in Jordan known for its rock cut architecture built around the turn of the millennium. Most people know it from its Hollywood debut in Indiana Jones and the Last Crusade (which I will have to watch when we get home).
We had one last early wake-up call at 3:30 am to catch our flight to Aqaba, Jordan. The flight was a small (about 60 people) chartered flight full of day-trippers visiting Petra. About half of the group were Russians, one fourth were Italians, and one fourth were English-speakers. When we arrived in Jordan we were divided into groups with tour guides based on our language preference. The Russians were on one bus and we shared a bus with the Italians. We could see Israel off in the distance as we drove away from the airport. Petra was a two hour drive from the airport. Usually I hate being stuck on a bus, but this trip has been different. The sun-lit mountain scenery made the drive enjoyable.
To get to the ancient city you walk through the Siq, a narrow opening (about 10 feet wide in many places), similar to a gorge. It was just over a kilometer in length. The Siq was naturally formed by tectonic forces, which caused the the red sandstone rocks to split dramatically in half. In the Siq we were flanked on either side by soaring 300 foot high cliffs. Walking through the Siq was just as fascinating as seeing the city because the path twisted and turned and the rocks appeared in so many different formations and colors.
At the end of the Siq you see Petra's most impressive ruin, Al Khazneh (the Treasury). I found it fascinating that the Nabataeans, who built Petra, made such elaborate facades, but just small plain interior rooms. Surrounding this area were other smaller tombs and halls. And further beyond was a giant semi-circle ampitheater, which could seat 3,000 people. There were temples, sacrificial altars and a colonnaded street. And high above our path was the beautiful Urn Tomb. I wish we had time to make the climb to get a closer look, but four hours wasn't nearly enough time to see everything. We just had time for the highlights (except we didn't get to see Ad-Deir Monastery, the second most impressive ruin).
The sandstone rocks had their own unique lure and often times they almost appeared to be painted. We weren't confined to the main path and Jay enjoyed going for a few small climbs up interesting rock formations. I've read that you need four or five days hiking through Petra to see it all. There is even a fairly new annual marathon that runs through Petra. That would be an impressive run, but it would be hard not to stop and stare.
Our English-speaking group ended up being a group of 12, and oddly enough, 8 of us had some sort of connection to this area (Croatia or Bosnia and Hercegovina). There were the five us in my family, a lady from Zagreb, and a Canadian couple living in Sarajevo. It was an unlikely group to find each other in Jordan. I really enjoyed talking with them, especially with the Canadian couple, and learning more about the region. The husband works for Bosnia's Office of High Representative, which is the chief civilian peace implementation agency in Bosnia and Herzegovina. He had many fascinating stories about the struggles in trying to unite the region. It is still a steep uphill battle.
After leaving Petra, we enjoyed a delicious late lunch buffet at a nearby hotel (it made up well for last night), and headed back to the airport. The bus trip flew by quickly for me as I listened to more stories about Bosnia and Herzegovina (as the rest of the family slept).
Saturday, November 28
We almost didn't make it out of Egypt. Today was a mess. We arrived at the Sharm airport an hour and a half before our flight was supposed to depart for Cairo. When we tried to check in we were told that we couldn't because we didn't get a new visa yesterday after arriving back from Jordan. The one we had purchased at the beginning of our trip was a single entry visa, so we should've bought a new one yesterday. That would've been great if someone told us that yesterday.
The only place we could purchase the visas were in the arrivals part of the airport, so Jay went with an Egypt Air worker through security to this area. The visas cost $15 USD. You can only pay cash in USD or Egyptian pounds, but we didn't have any (we just had Croatian kunas). Jay figured he would just get cash out of an ATM. There were three ATMs at the airport. Two of them had Out of Order signs on them, and I am pretty sure the third one was out of order too. Jay tried his two cards, but neither worked. He went back through security check-points to get my cards. He tried my three cards. None of those worked either. Each time Jay had to go through several security check-points and the time kept ticking closer to our plane's departure. I was almost in tears. I don't understand how we could have five different ATM cards from three different banks in two different countries and none of them would work at an airport. (Yes, we learned our lesson to always travel with USD.)
Jay tried to convince a few workers to exchange us double or triple the value in kunas for what we needed in Egyptian pounds, but they didn't buy it. I resorted to the only option I could think of besides begging random people (which Jay said he had already considered). There was a young Canadian woman who had taken the hotel shuttle bus to the airport with us. We had spoken briefly and I knew she was on the same flight as us. I convinced the Egypt Air worker to take me through security to the departure gates so I could ask her for money. We arrived at the gate and I panicked when I didn't see her anywhere. Right when I was about to give up I saw her walk out of the smoking lounge. There was no time left to be embarrassed so I walked right up to her, explained our situation, and asked if she had any cash we could borrow. She was so kind; our traveling angel for the day. She said she didn't know how much she had but we could have it all. She pulled out a wad of $1 bills (useful for tips) and started counting them out. She had $29 – $1 short! She had a few Egyptian pounds too, so all together it added up to what we needed.
I ran back to Jay. He ran to buy the visas (and, of course, he had trouble trying to explain that we were paying in both USD and Egyptian pounds, but they eventually figured it out). We then finally checked our luggage in at the check-in counter (it had been sitting there for 90 minutes – they wouldn't process the luggage without our visas) five minutes before our scheduled departure time. We thought for sure we would miss the plane, and if by some stroke of luck we didn't, our bags would never make it. We ran to departures. A security officer wanted to check inside one of our carry-on bags (I was about ready to flip out on him). We arrived at the gate exactly at the departure time. We were so happy to see that the flight had been a bit delayed and was just boarding. We couldn't believe our luck.
It got even better when we arrived in Cairo and discovered our luggage made it too. We exchanged contact information with our travel angel, Reena, and headed on to our next three flights of the day. We had tight connections the entire way. We were rushed, but didn't miss a flight.
When we arrived back in Split we didn't see our luggage on the carousal. We assumed our luck had ran out for the day and it didn't make one of the tight connections. We stood in line with a few other people to report it. The worker at the desk was yelling at someone on the phone. He hung up and politely said to us, "They found more luggage on the plane and it will be here shortly." Only in Croatia would they not bother to get all of the luggage off the plane the first time.
Click here to view more of our photos from Sharm El Sheikh and Petra, Jordan.