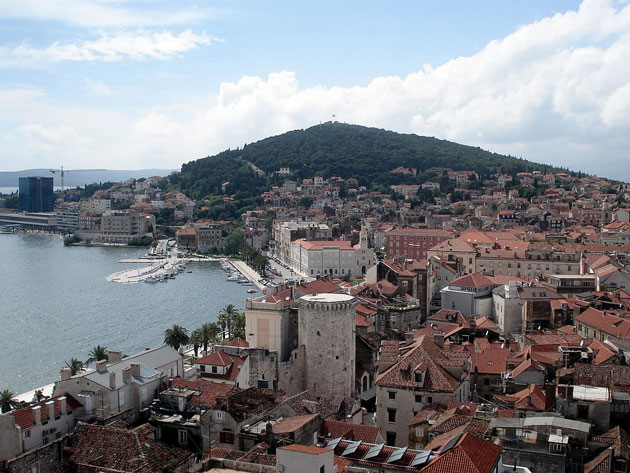 Free Split City Tour
Posted on May 14, 2011 at 8:29pm Madrid / 2:29pm Cincinnati by Kelly Larbes

Our friends Mario and Milda are among the smart people we know in Croatia trying to overcome the ridiculous bureaucracy to run a successful business. They just launched a new addition to their Dalmatia Events event planning company: a Free Split City Tour. Jay and I really enjoyed free city tours we took in Berlin, Budapest, and Prague, so we think this is an excellent idea. The idea behind free tours in almost any city is that the tour guide provides the tour for free, but gladly accepts tips at the end. We've found this model is ideal; the tours are superb since the guides are motivated for tips, and even with a generous tip it is cheaper than a traditional tour where we'd have paid up front.
Mario and Milda were kind enough to give us a preview of their tour last year, the night before we left Split and moved to Madrid. They intended to start the tours last summer after Mario attended tourism school to become an officially certified Croatian guide, but bureaucratic rules got in the way. Luckily they decided to wait and do it by the books because a jealous competitor has put the inspectors on them already and has also gone around town stealing their fliers. Not cool.
Last June we got the first unofficial tour. We met at the metal Split city model on the Riva and proceeded throughout Diocletian's Palace on what is now Split's Free City Tour. Mario and Milda took us through the history of Split from Diocletian's time in the 3rd century until today.
It was fun seeing them in professional tour guide mode. I learned so much. I guess it was expected since they did a lot of studying, but I was surprised and impressed by just how knowledgeable they were, knowing dates, noble families, architectural styles, and numerous fun anecdotes.
We learned how Diocletian had the floor of the Peristil where his worshipers stood lowered so he would appear taller and more astute. This made me laugh because this philosophy has endured thousands of years. Leaders like French president Sarkozy wear thick soled shoes and hire only short body guards so they appear taller.
Many of the columns throughout the palace were brought from Egypt and originally there were 12 Egyptian sphinxes. Only two still exist today. One of the most dramatic differences between the Roman ruins in Split and in Italy is that the ruins in Split are living ruins; people still have their homes and work inside the ruins. And it isn't even surprising to see a kid climbing on one of the original Sphinxes.
In the Pjaca (main plaza), we stopped at a statue of a saint that I had probably walked passed a hundred times and paid no attention to it. And I had definitely never noticed the mischievous looking little man peeking out from behind the saint's robes. It was the nobleman who commissioned the building of the statue.
This was a wonderful way to spend our last night in Split. All through the palace Mario and Milda pointed out things I had never noticed. It gave me even more of an appreciation for Split. Mario has lived his entire life in Split (actually he grew up in Stobrec, a suburb of Split) and even he said his tourism classes showed him new things he had never seen and historical facts he had never known. It definitely motivated me to learn more about the history of my hometown, Cincinnati. It's so easy to miss intriguing things right at our doorstep.
If you're lucky enough to be in Split, here is what you need to know:
Monday through Saturday at 13:00 and 18:00
Meeting Place: Riva (Promenade) next to Split city metal model
For more information, visit the web site or write to info@dalmatia-events.com