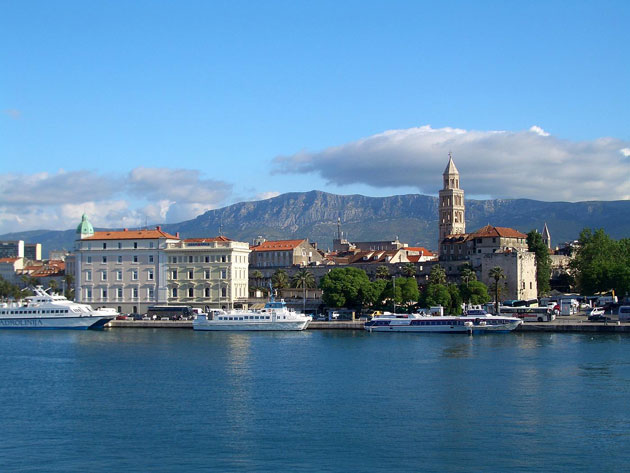 Which did I like better – Croatia or Madrid?
Posted on April 12, 2011 at 3:12am Madrid / 9:12pm Cincinnati by Kelly Larbes

I've been back home in Cincinnati now for just over a month and one of the most common questions I hear is whether I liked Croatia or Madrid better. At first I found this question nearly impossible to answer because both are so dear to my heart, but I think I figured it out. If I could only live abroad for a year or two and I had to pick just one, it would be Croatia. And if I had to pick one to live in forever, it would be Madrid.
I'd pick Croatia because it really was a magical place to Jay and I. Split had a charming old town made up mostly of a giant old Roman Palace dating from 305 A.D. The buildings were all made of ancient stone with orange clay roofs. The streets were small and winding and seemed to offer endless new discoveries. We could walk to groceries, shopping, restaurants, parks, the sea, work – almost anything we needed.
Just a 10 minute walk from the center was a large park that offered beautiful views over the old town and the sea. It was full of jogging paths and rocky beaches. I'd run on the paths overlooking the sea a few days a week.
Split has just 220,000 people, but it is the largest Croatian port city, making it easy to get to the islands. There were three island we could get to in less than an hour on a ferry (and the ferry was just a 15 minute walk from our house). It was common to hear, "Oh, we just decided to pop on over to the island of Brac for the afternoon." I'll likely never be able to say that again in my life. And the islands were fabulous. They were mostly under-developed. There was pristine nature and crystal clear turquoise water.
For being a fairly small country, Croatia offered an amazing amount of beautiful places to visit. My favorite was the island of Vis because it was the least developed and offered such a variety of beautiful coves and diverse beaches. My second favorite was tie between the two national parks with waterfalls: Plitvice and Krka. Plitvice was a bit more impressive and much more expansive, but Krka was less crowded and we got to swim beneath the falls.
We met wonderful people in Split and not just acquaintances that we will lose track of now that we're gone. Some are close friends that we've already seen since leaving Split. We visited Milda and Mario in Lithuania. And Paula and I vacationed together in Prague. We are looking forward to them visiting us here in the United States.
Sometimes when I think about it, Croatia seems like a little paradise, but then I remember that that it wasn't. No place is perfect. And as much as I love Croatia, its not the place I would pick to live forever because the business culture and bureaucracy drove me crazy. Magical islands and sparkling turquoise seas can only sustain me for so long.
I get a lot of fulfillment in life from being a designer and helping businesses grow using design, but too much time in Croatia was dedicated to trying to overcome silly Croatian bureaucratic and cultural business obstacles. And this had absolutely nothing to do with internal workings of my company, Elevator. Croatia overall does a poor job at encouraging business growth and entrepreneurial success. The nonsensical constant changing laws and nepotism were never ending. I have seen some of the most intelligent people I know (local Croatians and expats) trying to make a career for themselves only to be spun in circles and spit back out by the bureaucracy. I am confident though that some of these people will succeed. I admire their perseverance.
That was the main reason that I would pick Madrid over Croatia as my preferred place to live forever. Madrid wasn't quite as enchanting as Croatia, but it was still pretty spectacular. The city offered a never ending stream of exciting things to do, travel was cheap and easy, I loved my job and I got the opportunity to drastically improve my Spanish.
We lived in the center of the city so we could walk to most places and Madrid has one of the largest metro systems in the world so it was easy to get anywhere. Madrid doesn't have the obvious tourist attractions like some large European cities, but it is a great place to live or visit. It has a very rich culture. There were wonderful museums, lots of parks, and always great events.
Retiro Park is my favorite city park I've ever been to because the gardens are beautiful, there are great walking/running paths, the beautiful main pond is fun for row boats, and there are plenty of grassy spots to find your own private corner for a picnic.
Jay and I appreciated the plethora of events that can only happen in a big city, like the free Linkin Park / Katy Perry concert. And being in Madrid for a victorious World Cup was something we'll never forget.
Madrid also boasted an amazing amount of discount airline routes. We visited the island of Mallorca for less than $25 round trip each and made it to Marrakesh for less than $50 round trip each. Plus there were numerous great day trips we took by train. We were completely spoiled by the amount of wonderful places we got to visit. We wished we were able to snag such great travel deals here in Cincinnati (but we did learn we need to explore our own region more because it has a lot to offer).
I wish I had had more time in Madrid, especially for improving my Spanish and because work was fun too, but I know I should just be thankful for the eight months I had. Jay and I both feel amazingly blessed for the experiences we had the last two years. It surpassed all expectations. But no matter how marvelous Croatia and Madrid were, they were both missing what was most important to us: our families. We also feel pretty blessed to be back in Cincinnati spending time with those we love most.