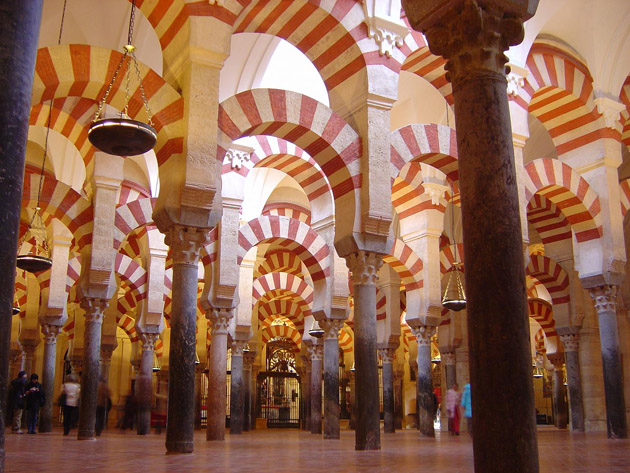 Southern, Spain: The Alhambra in Granada, the white villages, Seville, and an awful ending in Cordoba
Posted on March 1, 2011 at 4:19am Madrid / 10:19pm Cincinnati by Kelly Larbes

As I write this, I am on my long flight back to the United States reflecting on what an amazing two years it has been. I've gotten to see so many fascinating places. I've shared almost all of my trips through this blog, I think in fact all of them except for one. I was content being in denial about it ever happening. It might be better left forgotten, but my story feels incomplete without sharing this one too.
It wasn't all bad. Actually it was quite pleasant until the end.
Jay and I decided to spend our long Thanksgiving weekend this past November renting a car and driving through the south of Spain on a four-day road trip. Our first stop was Granada, home of the Alhambra, a palace and fortress complex constructed mostly during the 14th century by the Moorish rulers. The grounds of the palace are extensive and we spent the afternoon walking through the citadel, the royal complex and the Generalife villa and garden. Much of the beautiful intricate Moorish artwork was reminiscent of what we had seen in Morocco. The center courtyard, the Court of the Myrtles, which helped cool the palace in hot summers, was the highlight. We were even lucky enough to have it to ourselves for a short while. It made me very happy to be visiting in November because in the summer the area is overflowing with tourists. We even had very nice sunny weather, but it didn't last the rest of the trip.
Our plans for days two and three were to drive to the coast and then up through the Sierra Nevada mountains and to stop at the various pretty "white villages" – small towns filled with old houses comprised of whitewashed walls hugging the mountainsides – scattered throughout the route. Day two was burdened by patchy rainfall. The rain stopped long enough for us to make a short stop at the beach and to walk around the town of Mijas. We were thankful for the respite because most of the day we spent driving by road signs pointing to "beautiful scenic panoramas," though all we could see was fog. We could see just enough to taunt us and make sure we knew that on a sunny day the mountain view would be amazing.

That evening we had our first Couch Surfing experience. Couch Surfing is a website that connects travelers with people offering a free place to stay in their city – sometimes a couch and other times a private bedroom like we had. We stayed with Evi and her three dogs at her special farmhouse in Estepona. Evi is a German woman who spent much of her life in Africa so her unique home had an authentic safari feel. And her tropical garden looked like the rain forest under the torrential downpour. She shared a lot of fascinating stories about Africa over dinner and wine during the evening and spoiled us with a huge homemade breakfast before we left the next day. She was a gracious host that went well beyond any expectations.
The rain continued on day three as we continued our trip through the mountains. We made the best of the weather and headed out with our umbrellas to explore the town of Ronda which is perched atop cliffs and divided by a steep ravine. It was one of my favorite Spanish towns we visited. We walked all around town and then hiked to the base of a the tall New Bridge (a bit of a misnomer considering it was built in 1751). It is one of three bridges connecting both sides of town across the canyon.
I climbed down some rickety steps and across a narrow path to explore further under the bridge and the other side. Jay watched, thinking I was nuts. There wasn't much to see except an old rundown slanted steel building that was being overgrown by plants and looked like it belonged on the set of Lost. One blessing from the rain was that the waterfall beneath the bridge was full and flowing.
We spent most of day four in Seville, the artistic, cultural, and financial capital of southern Spain. After Christopher Columbus's expedition to the New World in 1492, Seville grew to its height of cultural importance. It was designated the only royal port to the New World and all trade from the Spanish Americas had to pass through the city before going on to the rest of Europe. The city's development grew quickly over the next few hundred years.
Seville was a beautiful historic town to walk around. Like many Spanish towns, it has an impressive towering gothic style cathedral. It was a Sunday so we attended part of mass to get a good look at the inside. We also visited the old Moorish Palace, which had similarities to Alhambra, but was much smaller in comparison. My favorite part of town was the large Plaza de España and the Traditional Arts and Customs Museum, which were both in the The María Luisa Park. The sunny weather returned for our last day so the park was full of families and children. It was perfect people watching.
Our drive back to Madrid took us through the town of Cordoba. We didn't have time to fully explore the town, but Cordoba is home to a magnificent Cathedral-Mosque, an old mosque that was converted into a cathedral. This impressive site was worth a short stop on its own. Today it is a World Heritage Site and the Cathedral of the diocese of Córdoba.
The mosque was built in 784. It is most notable for its giant candy cane-like arches, with 856 columns of jasper, onyx, marble and granite. After the Spanish Conquest it became a Roman Catholic church and a cathedral was built right in the middle of the mosque. It was fascinating to the the dichotomy and the two still existing side by side.
When we got back to the rental car, I took a photo of Jay in front of the passenger side. As we walked to the other side of the car, we realized something was wrong. The small front window was smashed and broken. My first reaction was, "Oh shit, someone smashed the window and we are going to have to pay for that." Jay's reaction was, "Oh shit, someone smashed the window and stole all of our stuff!"
Jay's reaction was the appropriate one. We lost more stuff than I care to recall: both of our passports, Jay's work laptop, a Kindle e-reader, Jay's prescription glasses, a suitcase full of clothes and toiletries including my favorite tailored jeans, a laptop bag full of electronic stuff, my backpack full of stuff, the keys to our apartment and more.
I don't need to be lectured that we shouldn't have had all of the stuff in the car, even if it was in the trunk. I understand that, but it seriously baffles me that someone had the nerve to smash our window and steal all of our stuff in broad daylight on a Sunday afternoon when we were parked by 20 other cars. And we were only gone for one hour. People never cease to surprise me.
We spent the evening at the police station waiting in a long line and then filling out forms. We did our best to clean up the glass and I created a make-shift window from cardboard and paper to cover the hole for the long four hour drive back to Madrid. The drive home actually had one bright spot – I discovered the iPod and GPS still in the glove box, which was a small miracle considering the glove box was left open by the thieves and they cleaned the car of everything else. I guess they got spooked before they cleared the glove box – they shouldn't have saved that for last.
Our aloof landlady never answered her phone on our drive home, so we had no way to get into our apartment. We didn't arrive back to Madrid until after 1:00 am, so we thought it was too late to call a friend for a place to stay, so we stayed at a hotel. It felt very odd staying at a hotel with no luggage – just the clothes on our backs and my purse. Luckily our doorman had a spare key and we were able to get into our apartment the next morning.
We eventually wrote out a list of everything that was stolen – just to torture ourselves I guess. It was very long and the monetary value made me sick. We didn't have insurance to cover any of it. And for weeks afterwards, we kept discovering new things that we didn't realize were stolen at first. It was a frequent reminder of the event, and I cursed the thieves each time. We know the situation could've been worse. We were lucky we weren't hurt at all, and we know things can be replaced. The fact that Jay and I both considered this one of the crappiest events in our lives actually was a nice reminder of just how blessed we are.