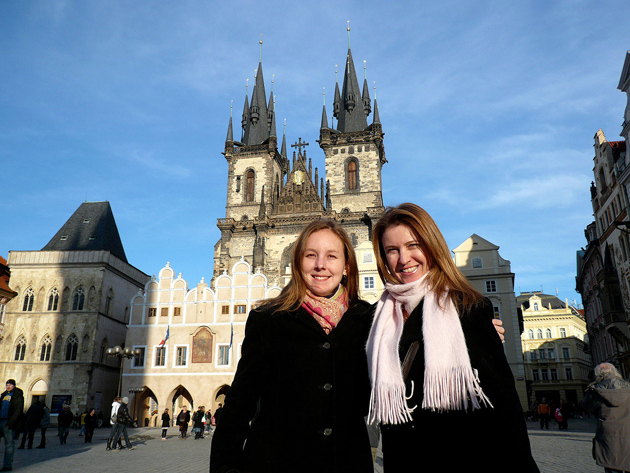 Prague, the city of a hundred spires
Posted on February 17, 2011 at 7:02am Madrid / 1:02am Cincinnati by Kelly Larbes

I visited Prague two weekends ago with my good friend, Paula, from Split, Croatia. As we walked across the Charle's Bridge at night we laughed because we couldn't help but think that we should have each really been there holding hands with our significant other. One of Prague's nicknames is the city of a hundred spires, which it earned in the early 1800s when it actually had around a hundred spires. Now it has over 500 spires, making it a beautiful city to walk around — and quite romantic. Even though I wished Jay was there, and we had disastrous flight schedule problems, Paula and I had a wonderful weekend.
It didn't start out so great. Paula was coming from Split and I from Madrid. Both of our flights had layovers in Frankfurt, Germany, which seemed like the perfect opportunity to start our weekend early and arrive in Prague together. We asked each other all sorts of important questions before we left, such as, "What shoes are you bringing?" and "Are you bringing dressy going-out clothes?" Yet we never bothered to trade mobile phone numbers or talk about what we would do if we didn't see each other at Frankfurt airport as planned and one of us missed the connecting flight.
At Madrid's airport I learned my flight was delayed an hour, which would give me just enough time to meet Paula, but when I boarded the plane the pilot said it would be another hour before we took off. We were told there was bad weather in Frankfurt causing the delay, but that was a lie; it was perfectly clear when we landed — 10 minutes after my Frankfurt to Prague flight departed.
SpanAir (first leg of flight) and Luftansa (second leg of flight) were not helpful at all. They couldn't tell me when I could depart and they sent me across the airport to a transfer desk that was already closed for the evening. I finally found someone to direct me to the proper transfer desk where I found a long weaving line awaiting me. I stood and moped as it slowly inched forward.
Suddenly I saw Paula in line too. I tapped her on the shoulder. We hugged and squealed and jumped up and down like 12 year old girls at a Justin Bieber concert. We were stuck in the airport for a few more hours, but at least we were together. We had a nice dinner with our new friend, Karen, from Prague whom Paula met on her flight from Split and eventually we made it to our hotel in Prague around midnight.
We stayed at Ventana Hotel right behind the Old Town Square. It was a beautiful old hotel with the highest ceiling in a hotel I had ever seen (I really appreciate tall ceilings wherever I am; they just feel nice). We couldn't have asked for a better location because we were in the center of everything. We had hoped to see the town that night, but it was late and we were exhausted. We were even too tired to ask to be moved from the smoking room they gave us; I always forget that you still need to request a non-smoking room in most of Europe. I hope that continues to change.
On Saturday we walked through the Old Town Square, crossed the beautiful old Charle's Bridge and explored Prague on the castle side of the river. The entire town was wonderful for walking. There were beautiful buildings on every street and everything was in walking distance.
At noon we watched the changing of the guard at the castle. We arrived just in time for a good spot. Playwright-turned-president Václav Havel brought some zeal to the castle in 1989, when he hired the Czech costume designer from the film Amadeus to redesign the guards' uniforms and then instigated a changing of the guard ceremony. A brass ensemble accompanied the ceremony and played music composed by local rock star/politician Michal Kocáb.
My favorite place we visited in all of Prague was the Strahov Monastery because it housed two of the most beautiful libraries I've ever seen. The Monastery sat on top of a hill and the walk up felt grueling since we had already been on our feet all day, but it was worth it. The libraries left me frozen in awe, staring, most likely with my jaw hung open. The libraries, the Theological Hall and the Philosophical Hall, date from the 17th and 18th centuries respectively and still house over 60,000 antique books. The main floors were roped off for preservation purposes and we viewed the libraries from massive wooden doorways. I would've loved to walk among the old books, but still nothing took away from the place's magnitude.
We enjoyed dinner at a typical Czech restaurant. We toasted to my birthday earlier in the week, to good friends and to a fun trip. After dinner we walked through town to see all of the old buildings and monuments lit up at night.
On Sunday we took a free walking tour (The guides work for tips.), just like I did in Berlin and Budapest, and this one lived up to the others; it was very interesting and educational. We walked all through the half of town we didn't see on Saturday, so it worked out perfectly. Part of the tour took us through the old Jewish quarter and we learned about WWII's devastating effect on the city's Jewish population, and the tour finished by the river where we learned about the city's "liberation" and then immediate communist occupation.
After the tour we visited the Pinkas Synagogue which holds a memorial with names of those murdered and then walked through the old Jewish cemetery. I always find cemeteries fascinating because they usually have such unique characteristics and can show so much about a culture. The Old Jewish Cemetery in Prague was used from 1439 to 1787. There were 12 layers of tombs because the city would not give the Jews more room to bury their dead. The headstones were mashed together one right after another. It has been estimated that there are approximately 12,000 tombstones presently visible, and there may be as many as 100,000 burials in all.
Throughout our sightseeing both days we sprinkled in tea breaks and shopping respites. Among the Starbucks there were also plenty of cute local coffee shops – and even an absinthe shop where you could buy marijuana ice cream (we passed on the opportunity). Paula stocked up on great clothes she couldn't find in Croatia and I resisted as I knew I was already short on luggage space for my trip back to the United States. We finished Sunday evening with a wonderful Italian dinner. We lamented about how quickly the weekend went by and I lamented more about how much I would miss the easy and wonderful European weekend trips.
Most of my weekend trips have been easy, and this one would've been if it wasn't for the flights. We were headed back through Frankfurt again on Monday and we thought for sure our luck couldn't go wrong both ways, but after we were told to fasten our seat belts for landing we eventually realized we were just flying in circles. The pilot came back on the announcement system to tell us he had no idea when we could land in Frankfurt, so we were going to Nuremberg to refuel. (Once again, the weather was just fine.)
Even with a three hour layover my connecting flight was doomed. Once again we landed in Frankfurt 10 minutes after my connecting flight departed. Luckily I made it out a few hours later. Paula wasn't as fortunate since there is just one flight daily to Split from Frankfurt. She was rerouted through Zagreb and again didn't make it to her destination until midnight.
I just hope my luck improves next week with my flights home.
Click here to view more photos from my weekend in Prague, Czech Republic.