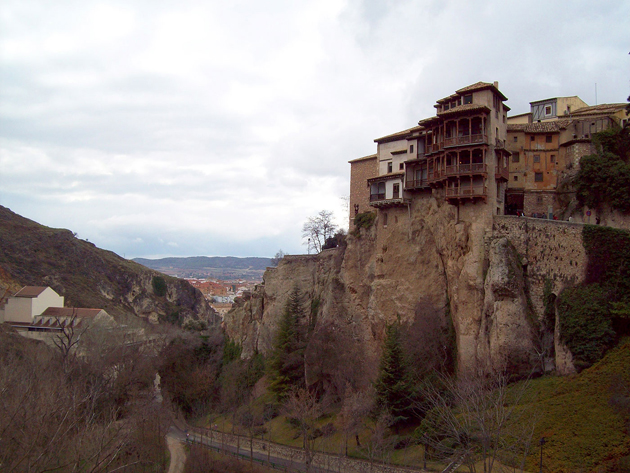 Solo Traveling: The Hanging Houses and Ars Natura in Cuenca, Spain
Posted on February 4, 2011 at 4:41am Madrid / 10:41pm Cincinnati by Kelly Larbes

Last Friday the NY Times wrote an article about Cuenca, Spain, which was impeccable timing because I had plans to visit on Sunday. The article said if you have never heard of Cuenca to blame it on Toledo. Toledo gets all of the buzz as being the best day trip from Madrid, but Cuenca may soon be getting more of a spotlight now that Spain's high-speed Ave train just opened up its newest route to include Cuenca in December 2010. The journey that used to take over two hours by bus or car can now be reached in just 50 minutes by train. (I think the bus is still a great budget option and gets you much closer to the old town than the train.) Cuenca doesn't have quite as many attractions as Toledo, but the historic and picturesque hilltop town has just as much charm.
Arriving by the high-speed Ave train left me a 15 minute bus ride from town, and then a 20 minute walk to the center of the old town. Cuenca is a small town and January isn't a popular month for tourists, so I couldn't just follow the crowds. I had to ask several people for directions to find my way. Throughout the day I saw just a handful of tourists and two buses of Asian tour groups.
I was traveling alone and I enjoyed the quiet of the city. I rarely travel alone, and though I wouldn't want to make it a habit, I really enjoy it in small doses (even though the entire time I am wishing Jay was with me to see it all). A day I spent alone in Japan at the end of a work trip is one of my most vivid travel memories. I can't really pinpoint why, but solo traveling can feel so refreshing to me.
I spent the afternoon in Cuenca finding the best views of the hanging houses (casas colgadas), seeing the Cathedral in Plaza Mayor and exploring the small winding streets that weave throughout the old town. Parts of the old town, the narrow alleys, some stone houses with clay tile roofs and an abundance of stray cats had me happily reminiscing about Croatia. I also visited the Abstract Art Museum and walked to the other side of town to find Ars Natura, a natural history Museum. I wish I had gotten up early and given myself more time to see different museums; most of them closed at 2:00 because it was Sunday.
Cuenca's old town is perched up on a cliff above the Huécar gorge. The houses built right up out of the cliff side are called hanging houses or "casas colgadas." They are the most iconic symbols of Cuenca as their dramatic stance make for picturesque views. Many of the houses were built in the 15th century and were once the houses of nobility. The most famous house is now the Abstract Art Museum. In the 1960's Cuenca was the center of Spanish abstract art and many artists had homes in the city. A wealthy collector, Fernando Zóbel, donated his collection to the city and helped establish the museum.
The city has numerous other museums, but they were all closed by the time I left the Abstract Art Museum. After seeing photos of the architectural beauty, Ars Natura, it was on my list of "must-sees." It sat high on a hill in a residential neighborhood on the other side of the gorge. It was an adventure just finding it. I had to navigate a complete maze of streets. There were very few people out to ask for directions so I couldn't be too picky. Luckily even the guys I had unfairly judged as creepy were actually very friendly. I eventually came to a tall fence surrounding the property only to be told that the entrance was another 10 minute walk away on the other side. I honestly would have climbed the fence if there wasn't someone out waiting for a bus right near the lowest point.
I'm glad I made the effort to find the museum even though it was closed. I thought the building, designed by architects Carlos Asensio y José María de Lapuerta, was stunning. It is one of my favorite works of architecture I have seen because it harmonizes so well with the environment. Even though it is very contemporary and mostly made of concrete of glass, its low and lengthy shapes and neutral colors integrate it with its habitat. Large windows, each spanning more than 1000 square feet, let light into the building and offer spectacular views out over Cuenca. If I ever make it back to Cuenca I will definitely make sure I have more time and visit the inside too.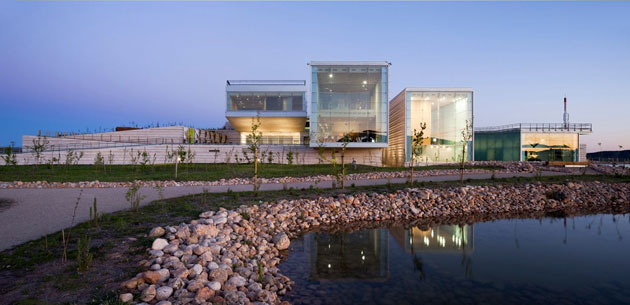 My fiasco trying to find Ars Natura left me little time to enjoy it and then rushing to catch the bus so I wouldn't miss my train. I honestly didn't think I was going to make it. I thought for sure I would need to take a cab (if I could find one) and even then I worried I might miss the train. I about gave up hope because I didn't even know how to find my way to the bus station. Suddenly I realized where I was and that I just might make it if I ran. I ran, what in my mind was a full out marathon sprint, for about a half mile (.8 km). I could see the bus as I ran down the street and just prayed it wouldn't pull away when I was so close. Luckily it didn't. I arrived at the bus dripping in sweat and panting – not pretty – but I made it. I got on with one other couple, we paid our fares, and the bus driver shut the doors and immediately pulled away. I enjoyed a quiet train ride back to Madrid and immediately showered when I got home.
Click here to view more photos from my solo trip to Cuenca, Spain.