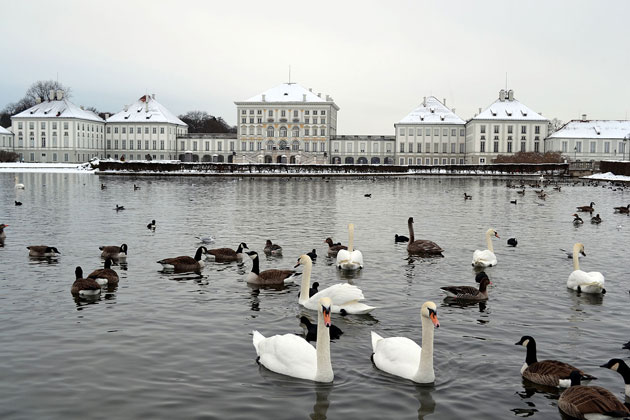 Munich, Salzburg and our first Vegetarian Christmas
Posted on January 18, 2011 at 4:41am Madrid / 10:41pm Cincinnati by Kelly Larbes

Since it wasn't practical to fly across the ocean to be with family, Jay and I decided to spend the Christmas and New Year holidays with friends in Europe. On Christmas Eve, we arrived in Munich, Germany to visit our friends, Ken and Jenna. They are Americans (from Cincinnati and Cleveland) living the ex-pat life like us, though they say we all are more like immigrants since we don't have fancy jobs footing all the bills, like others we have met.
We spent Christmas day walking around Munich. Everything was closed, but it was a perfect time to see the city. The streets were relatively quiet and almost everything shimmered in a fresh coat of snow from the day before. I loved seeing the city covered in snow even though the downside was the cold that came with it. It was so frigid! I had gotten quite used to Croatian and Spanish winters where it is rarely below freezing. We experienced cold in Cincinnati, but we never walked anywhere in it for long. Jay and I reminisced about how we would play for hours out in the snow as kids. We don't know how we did it. Luckily I bought some warm long underwear before we left from the knick knack bazaar shop. It was probably the best $7 USD I've ever spent in my life – I wore them almost every day.
Jenna spoiled us all Christmas day with her baking and cooking. Jenna and Ken are vegetarians so we had our first vegetarian Christmas. Honestly, it was likely also our last vegetarian Christmas, but not because we didn't like it. We just like meat. I loved everything Jenna made except the lentil bean 'meat' loaf, which is pretty impressive considering how picky I am. Along with the 'meat' loaf we had yummy mashed potatoes and biscuits. Jay might have missed his traditional ham, but surprisingly he even liked the vegetarian 'meat' loaf. And we topped it all off with Christmas cookies and chocolate covered pretzels that I ate way too much of.
We spent the evening playing Catch Phrase and Uno and sharing stories. Jay and I love games, but we rarely seem to play them since we left the United States. It was a nice bit of American pop culture to make us feel at home on Christmas.
Jay and I wouldn't survive well as vegetarians considering we don't like vegetables, but Ken and Jenna may have influenced where we buy our meat. Jay borrowed Ken's book, Eating Animals by Jonathan Safran Foer, which described in too much detail meat-producing factory practices. The stories about the treatment of animals and the chemicals they put into them were very disturbing. It wasn't quite enough to make us become vegetarians, but we are definitely going to look into buying non factory farmed chicken and other meats. Findlay Market, Cincinnati's farmers' market, may end up being one of our new favorite places. Hopefully we follow through with our plans and it doesn't cost an arm and a leg.
The Sunday after Christmas we went out for a traditional American brunch and visited two modern art museums in the afternoon. It was a relaxing day before our long day trip to Salzburg, Austria on Monday.
We took the train in the morning. Jay and I have a knack for almost missing trains, but luckily we made it with two or three minutes to spare.
Salzburg is a beautiful little town at the foot of the Alps near the German border. It is the home of Mozart, Klimt, and the Sound of Music. We spent the day walking around the town, stopping in little Christmas shops, and visiting the fortress atop a hill overlooking the city. We found a Christmas shop with the most beautiful hand-painted ornaments I had ever seen, and there were hundreds of them. I spent way too long admiring them and wishing that they were less expensive and that I had more room in my suitcase.
The view from the fortress was magnificent. We could see out over the entire snow-covered town in one direction and over the seemingly endless Alps in the other. I wish we had more photos, but we were borrowing Jenna's almost defunct camera and the battery died. Somehow we mysteriously lost our own camera in between moving out of our apartment and arriving at the airport at the beginning of our trip. It is still a conundrum.
Before heading back on the train we bought Ken some of his favorite wasabi peanuts and caramelized almonds and a giant warm pretze for us. Surprisingly our favorite pretzels were in Austria and not Germany, though we didn't have time to do proper taste testing.
The next day we did more sightseeing in Munich. We visited the Schloss Nymphenburg Palace just outside the city center and the Royal Residence in the city center. My favorite part of the Palace was probably the partially frozen lake full of swans and ducks. They were so animated and amusing. Some of the swans were gigantic. I kept telling Jay to step closer for a photo, but they didn't look friendly enough to him. The swans, along with the Palace, set on the expansive snow covered grounds felt like a fairytale; except if it was my fairytale I would've had a long thick furry white coat and golden sleigh with horses to carry me around. We saw a lot of these types of sleighs and ornate carriages on display in the old palace carriage house.
As we left the Schloss Nymphenburg Palace we visited the swans again and then watched people ice skating and curling. The small man-made river leading to the lake freezes over every winter and makes a perfect spot for recreation. Curling looks like a fun sport to play with friends, but I don't know if I would last long enough outside in the cold.
The Royal Residence in the center of Munich's historic district was grand and expansive with many beautifully painted ceilings. I'm often bored by audio tours, but I amused myself by listening to the tour in Spanish. At first I accidentally had it set to German. For a few seconds I thought, "Wow, this person speaks Spanish with such a thick German accent that I can't understand a thing." I was relieved to realize it was actually German being spoken and not my lack of understanding.
Jay's German isn't quite advanced enough to have listened to his audio guide in German, but still, I was repeatedly impressed with his skills. Ken's German is perfection (at least to my ears). Between the two of them, traveling was easy. I got to sit back and let them ask all the questions and do all of the ordering. For a few days, it was a pleasant change from the ordinary.
Click here to view more photos from our Christmas holiday to Munich, Germany and Salzburg, Austria.