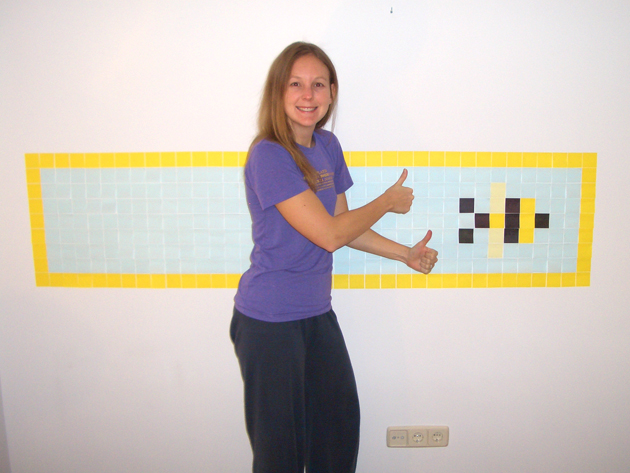 Happy New Year 2011 Post-It Stop Motion Animation
Posted on December 31, 2010 at 11:07am Madrid / 5:07am Cincinnati by Kelly Larbes

Happy New Year to all of our family and friends. We had such a blessed year in 2010 and are excited to see what 2011 has in store for us. We are most looking forward to being back in Cincinnati and spending time with those we love.
Below is a 90-second New Year video I made frame by frame with post-it notes. It was officially made for my work at Cato Partners Europe, but it was created with sentiments for my family and friends. Jay and I wish you the best in 2011 and all the years to come.
Notes: 1. Cato's logo is a bee. 2. Turn your sound on.
A few weeks ago my boss approached me about making a New Year's greeting to share with clients, something interesting yet short and simple. I've always been fascinated with stop motion animation, and somehow I thought this sounded like the perfect opportunity to experiment. The process was definitely not short and simple, but I'm happy I tackled the challenge.
The process involved over 1,000 post-it notes (250 hand-colored black), over 600 photos, and over 60 hours in 6 days. Jay and I turned our tiny studio apartment into a photo studio by moving all of the furniture into one corner and ever-so-professionally taping my camera to a dresser so it wouldn't move. I arranged every light in the apartment so it was spotlighting the wall, which included rigging the overhead light with rope and paperclips to get it in the proper position.
Our apartment become an obstacle course rigged with traps and we were very careful not to touch anything so we didn't mess up the lighting or camera positioning. We even climbed over lights and the couch to sleep in our bed that was nestled next to the window. I was thankful I never had to go the bathroom in the middle of the night; I surely would've tripped.
I started shooting photos on a Saturday morning and Jay was such a trooper that he helped out all weekend with very minimal complaining. I wanted black post-it notes for the video, which I couldn't find anywhere, so Jay took on the task of coloring in 250 post-it notes by hand with marker. The marker I bought dried up, then another we had at home dried up too, so I ran out to the store to buy a third that got us through to the end. Jay even sporadically paused the UC basketball game to help fill in the post-it note grid as I created new words.
I spent about every waking minute of the weekend moving post-it notes and taking photos. And then I spent time the next four days editing the images in Photoshop (my make-shift spot lights weren't good enough), creating more images, picking out music, and putting the animation together. I stayed awake until dawn to get it finished before we left for our Christmas holiday trip – it brought back memories from pulling all-nighters in college working on graphic design projects.
I will definitely think twice before starting another stop-motion animation project because of the time commitment needed, but I do hope an opportunity for one presents itself again. I learned so much throughout the process. I know that just having one under my belt will make a world of difference.