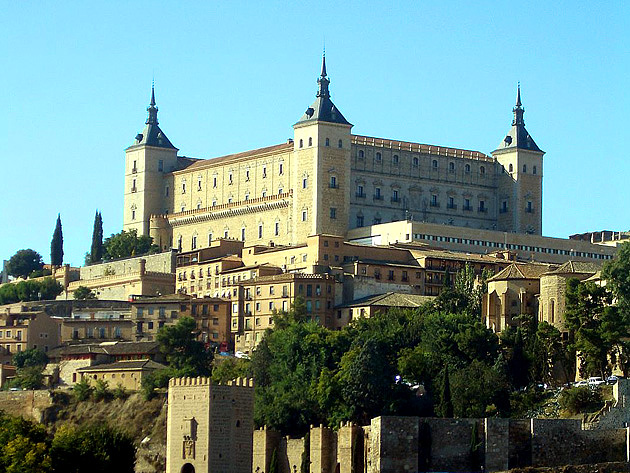 Madrid with my parents: Costume Museum, San Francisco Basilica and a day in Toledo
Posted on November 12, 2010 at 12:03am Madrid / 6:03pm Cincinnati by Kelly Larbes

After our cruise, my Mom and Dad made their way back to Madrid with us to see the city and what life was like for us living here. It was tight quarters in our small studio apartment for four of us, but we had lots of fun. It was hard for them to imagine how Jay and I could live together in one room for so long without getting in each other's hair. I'll be happy to have more space one day, but for now we stay busy enough not to notice it.
We were able to share many of our favorite places in Madrid with Mom and Dad and to discover new favorite places. We packed a lot into three days; we checked out the Temple of Debod, Campo del Moro Park, a city guided walking tour, Plaza de Mayor, Puerta del Sol and the yummy bakery, a walk along Paseo del Prado, Plaza de Cibeles and the old post office, the Caixa Forum Museum, the turtles at Atocha Train Station, the Costume Museum, San Francisco El Grande Basilica, the Royal Palace, the Cathedral of Almudena, Retiro Park, and a day trip to Toledo. We had perfect sunny weather everyday (Historically, Madrid has more sunny days than any other European capital – in a close running with Athens.) and my favorite part of their visit was probably simply walking all around the city spotting random beautiful buildings.
Here were a few of our other new favorites:
San Francisco El Grande Basilica
The San Francisco El Grande Basilica rises above La Latina neighborhood in the older part of Madrid not far from the Royal Palace. It has a commanding exterior presence, but the interior is where it really shines. We entered through one of the seven massive carved walnut doors.
There visiting hours are quite limited (11:00-12:30 and 4:00-6:30) and we arrived just in time to join a tour that was included in the small entrance fee. The tour was in Spanish and luckily the guide acknowledged non-native tourists in the group and he spoke very slowly and clearly. I enjoyed the listening comprehension practice and being able to periodically translate a few sentences for Mom and Dad.
The basilica has a round floor plan and our guide led us around the outer edge along the adjoining chapels. One by one he turned on the lights in each chapel while explaining its highlights and he would turn off the lights before heading to the next one. Each was elaborately decorated and once contained the basilica's most famous painting by Goya. The center of the basilica boasts the largest dome in Spain, at 108 feet in diameter. Every surface was covered in decoration with minute attention to detail, gorgeous stained-glass windows, elegant frescoes and barrel vaulted ceilings.
The Costume Museum (Museo del Traje)
Mom and I have always been fascinated with costumes and period clothing, so when I found out Madrid had a Costume Museum, I saved a visit to share with her. I didn't have high expectations because most museums and exhibits I have seen in other cities have been small and homogeneous; always the same with mannequins lined shoulder to shoulder displaying the costumes. Madrid's Costume Museum quickly blew away my expectations with its size, voluminous collection, and very well-designed displays.
The permanent collection takes you on a walk through fashion history from 16th century tunics and doublets to contemporary runway designs. I loved seeing the cocktail dresses from the 1950s; there were so many that I wished I owned today. There was also a temporary exhibition displaying the costumes from a current Spanish movie set in the 17th century called Lope. Mom and I spent a couple hours strolling through all of the displays. I was impressed with the detail and ingenuity in each of them. I know Jay and Dad were thankful they didn't have to go to this museum, but I know they would have enjoyed it more than they think. Mom and I could've spent all day there, but more of Madrid was calling.
The city of Toledo and its cathedral
We spent the last day of my parents trip visiting the medieval town of Toledo (Toledo, Spain (pronounced toe-LAY-doe), not Toledo, Ohio (toe-LEE-doe). It is a formal capital of the Spanish Empire and actually has a much longer history than Madrid. Long ago Christians, Jews and Muslims coexisted here, and the city boasts ancient sights representing the different cultures.
Toledo is just a half hour speedy train ride from Madrid's main Atocha station, so it was an easy day trip, but there were so many places of interest that one day didn't give us nearly enough time to see everything. It was the last chapter on a long trip and we were a bit worn out so we took our time, taking in what we did see a bit slower than normal. We walked around town enjoying all of the historic buildings. We visited inside the Alcazar fortress and the Army museum, the Synagogue of El Transito, and my favorite of the day, Toledo's cathedral.
Toledo's 15th century cathedral has a dominating gothic exterior, but it was almost hard to get a good view of it because it is nestled so closely between other historic buildings. The interior felt like a maze of treasures to me. There were so many side chapels, a sacristy, a treasury, and more and more rooms leading to other rooms whose names I quickly forgot.
My favorite part was the Transparente, an ornate Baroque altarpiece in the ambulatory behind the high altar. Its name refers to the unique illumination coming in from the skylight in the vault above it and the numerous stained glass windows. (The cathedral has over 750 stained glass windows.) The transparente is decorated with with fantastic figures in stucco and bronze, paintings, and many colors of marble.
Hanging from the transparente (and several other places in the cathedral) was a lone red hat. It belonged to a cardinal who was buried in a tomb directly beneath me. Toledo's cardinals have the opportunity to choose anywhere in the cathedral to be buried, and their hats are hung above their tombs until they rot away (which obviously takes a long time). I had read about these before visiting the cathedral, so I had my eye out for them, but they were quite hard to spot at first. They somehow blended into the fabric of the decoration in the cathedral. I felt like I was playing a game of Where's Waldo? So many cathedrals run together in my memory, but the transparente and the cardinals' red hats made Toledo's unique.
The last thing we did before heading back on the train to Madrid we was introduced Mom and Dad to churros, often referred to as Spanish donuts. They are fried rings of dough sprinkled in sugar or dipped in chocolate that taste similar to a funnel cake. They are my favorite Spanish treat — delicious!
The next morning we took Mom and Dad to the airport. We were so glad they had gotten to visit us in Madrid to share in a city we love. It may have been snug in the apartment, but I had gotten used to them being around. I surely wasn't ready for them to leave.
Click here to view more photos from Mom and Dad Klocke's visit with us in Madrid and Toledo.