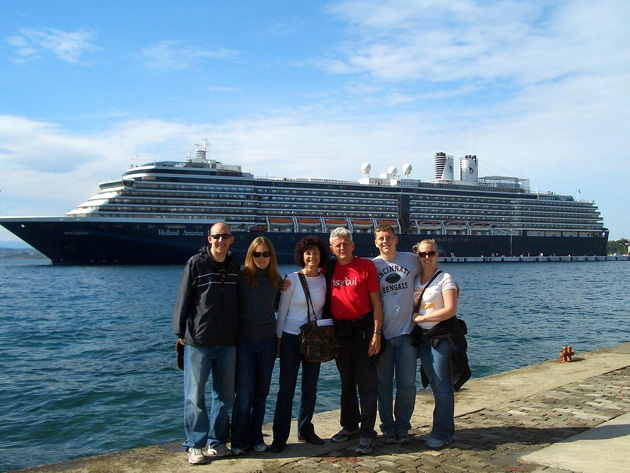 Family Cruise Diary: Sinop, Turkey and Sevastopol, Ukraine and a final day at sea
Posted on November 7, 2010 at 1:20pm Madrid / 7:20am Cincinnati by Kelly Larbes

Sunday, October 10 – Sinop, Turkey
Our day in Sinop was another low-key day, but it was one of the most enjoyable to me. The weather was absolutely perfect and sunny. We walked all around town and along their long sea front. It offered pretty views of our cruise ship, which was docked alone and dominated the town's small port. We also saw a sailing class for kids with lots of miniature sailboats; it reminded us of Croatia since we had often watched these classes from the balcony of our first apartment.
The most fascinating part of Sinop's sea was the abundance of jelly fish. They were absolutely everywhere. I had never seen so many. They were beautiful and their semi translucent bodies floated tranquilly like they were little angels in the sea.
We visited Sinop's citadel, an ancient sea-side prison that was decommissioned in the 1970s. There wasn't a lot of explanations for the sights except for a few signs with pitifully translated English, which were always a treat to read; for example, we were warned to "slip carefully" and the next day in Ukraine we read about a "batman bringing water during a battle (in the 1800s)". The prison had a few interesting cells, offices, a gutted old bus, and a work-out yard where Jay was very amused showing off his pull-ups and weightlifting "skills."
Sinop sits on a peninsula, and from the prison, we walked to the other side of the peninsula to view the sea. It had a much more picturesque landscape than the port side: a mixture of sandy beaches and rocky cliffs and a view of a town a short way off in the distance. We stopped for awhile taking in the view and basking in the sun.
We spent a short time shopping at a craft center and a clothing store, spent more time watching the jelly fish, and returned to the ship for a late lunch and relaxing afternoon. My dinner that night was my favorite of the trip: parmesan crusted turkey and creamy pasta, and, of course, lots of desserts (and the boys continued their steak-eating trend).
Monday, October 11 – Sevastopol, Ukraine
We had been looking forward to this port in Ukraine since we booked the cruise because our friends, Jon and Elena, (who we met in Croatia) are now living in Ukraine, just two hours from Sevastopol. They were kind enough to come visit with us and show us around. We had big plans to rent a car and see the countryside, a beautiful church, and some submarines, but sadly they were rained out. Sevastopol was our one day of really cruddy weather on the cruise. There was an almost constant light rain with dark clouds and very cool air.
We didn't let the weather completely ruin our day though. We visited an impressive 360 degree panorama and 3D model of the 1855 Battle of Sevastopol during the Crimean War. It was normally closed on Mondays, but opened just for the official cruise sponsored tours. Luckily Jon and Elena speak Russian (Elena is Russian) and they were able to talk our way in too. We had a tour guide explaining the exhibit in Russian and Jon did a wonderful job of translating. The painting of scenes from the battle were so detailed and the most impressive part was how the 3D model in the foreground seamlessly connected with the painting, so much so that it was visually difficult to tell where the painting ended and the 3D model began.
In the 20th century Sevastopol was the home port of the Soviet Navy's Black Sea Fleet, and the city retains a significant Russian naval presence. It was one of the most secret towns of the USSR due to its military status. It was closed not only to foreigners, but also to all Ukrainians until 1997. While eating breakfast in the morning on the ship, we saw a submarine leaving the bay with two heavily armed navy ships as escorts. It was the first time I'd seen a submarine on the move and the dark rainy weather gave the scene a curious ominous feel.
After the visit to the panorama, we went on a harbor tour to see the Russian fleet up close. Once again Jon did a great job of translating the Russian explanations. He had his work cut out for him because the guide spoke a million miles a minute non-stop the entire time; I'm sure Jon didn't know his day was going to be such hard work. We saw all sort of ships from medical ships to spy ships to cable laying ships.
After purchasing a few small souvenirs, we decided to head back to the cruise ship because it began raining even harder. We gave Jon and Elena small gifts we had brought: wine and Alpen, Jon's favorite cereal that he couldn't get it in Ukraine. It might have been the best part of the day. We loved seeing how excited Jon was over a box of cereal and how much Elena laughed. It was a good end to a nice day. Hopefully we will get to return the favor to Jon and Elena some day in the future.
Back on our ship, we enjoyed a late lunch and afternoon of ping pong, playing cards, and happy hour drinks. That evening was our last formal night and it included an after dinner chocolate dessert night. There were more decadent chocolate desserts than I could've imagined; alas I was too full from dinner to eat much of any of them. Either way, they were pretty to look at.
Tuesday, October 12 – Day at Sea
Our last day on the cruise was spent at sea. Once again we were up just in time to get waffles (just writing this is giving me a craving for them) — delicious! We had no agenda for the day and it was welcomed for relaxing and packing.
There was one last self-indulgent dinner with a little too much wine and reminiscing about how quickly the cruise had passed. We couldn't believe that in the morning we'd be off on our ways back to Spain and Ohio.
Click here to view more photos from our Black Sea Cruise to Greece, Turkey, Russia and Ukraine.