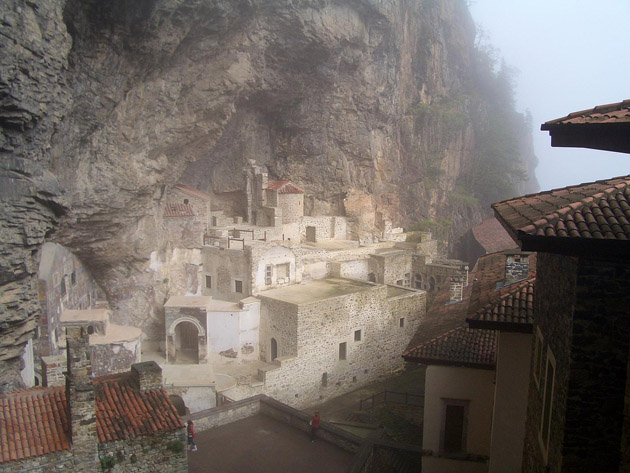 Family Cruise Diary: Sochi, Russia and Trabzon, Turkey
Posted on November 1, 2010 at 9:24pm Madrid / 3:24pm Cincinnati by Kelly Larbes

Friday, October 8 – Sochi, Russia
We spent the day in the 2014 Winter Olympics city – Sochi, Russia. Usually tourists need visas to visit Russia, but on a one-day cruise stop, you just need to be part of a Russian-authorized tour group. The cruise companies like to scare people and tell them they can't get off unless they are part of the cruise-sponsored tour, but luckily we knew this wasn't true. In Sochi, we actually could have gotten off without any type of paperwork if we had the courage to act like we belonged and knew what we were doing. We had a private tour booked and met our guide, Yaroslav, when we exited the tender boat.
We took a short city tour and walked along the seafront. Yaroslav was full of stories of Russian corruption and the need for reform. The seafront was lined with expensive apartments illegally built on property that used to be green parks. Money can buy just about anything in Russia, and the judges drive some of the nicest cars in town.
All day we got so lucky and arrived between the big tour groups missing the crowds at all of the sights. We got a beautiful view of the city, the mountains, and the sea from an observation tower atop Akhun Mount. We had the whole tower to ourselves.
Next we spent some time at a national park and hiked to Agura waterfall for a picnic lunch. The waterfall wasn't anything spectacular, but it was a nice spot for a picnic and the easy hike was enjoyable. I liked climbing over the rocks by the waterfall to get a closer look.
I was most amused by the old man at the park entrance collecting an admittance fee. We saw Yaroslav argue with him, grunt in exasperation, hand him a little money, and move on. Yaroslav told us that the Russian government deemed the park admittance free, but the old man said the locals didn't agree with it, so they were collecting money anyways.
As we left the park, we stopped by a natural hot sulphur spring. The sulphur springs have made Sochi a famous health spa resort town in Russia. The sulphur is used to treat respiratory and cardiac problems. We were told it is quite potent and should only be used under instruction of a doctor. People have died of asphyxia from going deep into caves where the sulphur runs. The odor it produced was unpleasant, but the river of cloudy white water was fascinating.
From there we visited Stalin's dacha, his favorite summer home where he spent a lot of time with his family and with other Russian diplomats from 1937 until his death in 1952. Most of the furnishing and decor were original including his desk and pool table. We were entertained by stories of Stalin's madness. He led a bizarre life. His colleagues hated visiting him there because it was never a short visit; he forced them to sit through repeated movies and long drunken dinners, and even to dance with one another while he watched.
As we left the dacha and headed back to the ship, Yaroslav found Dad a Mountain Dew at a newsstand (Russia was the only country we visited during the trip that sold Dad's favorite soda), and Mom, Kyleen and I admired the wedding photo sessions taking place in the park near the harbor. I appreciated how stereotypically Russian the scene felt to me with so many ladies with long bleach blond hair, short skirts, high heels, and dark heavy eye make-up and the beautiful bride smoking a cigarette.
Saturday, October 9 – Trabzon, Turkey
Today we met up with Sertac from Couch Surfing (Couch Surfing is a website kind of like Facebook intended to help people out with a place to stay and getting to a know a city while traveling). He was a perfect host for our day in Trabzon.
Sertac helped us rent a dolmus (taxi van) to go to Sumela Monastery in the mountains of Altındere National Park. The monastery was founded in 386 AD, and during its long history it has fallen into ruins and been restored several times. As we drove through the woods and up through the mountains the scenery was beautiful. The monastery is located on a picturesque steep cliff. The weather was cloudy and foggy, but luckily no rain. The thick fog made the beautiful view we had seen in photos impossible to see, but at the same time added to the mysterious enchantment of the monastery as we approached it up a long and narrow stairway.
We walked around the monastery, took lots of photos, and tried to avoid the crowds before heading back to our dolmus. The 40-minute ride to and from the monastery went quickly as we swapped stories with Sertac. He was a great story teller and his English was superb from the couple years he had spent in the United States. He had been an intern at a park in Pennsylvania and camp counselor in the bible belt in Texas; he said they were worlds apart. He seemed to have had girlfriends from all over the world. He was currently seeing someone from Poland and in the past had dated girls from Croatia and even Columbus, Ohio. I couldn't stop laughing when he threw his arms in the air and broke out the "OH-IO!" I wish I had taken photos.
We had the dolmus drop us off atop Boztepe Hill for a view over the city and then walked down to the coast. Our walk down the hill took us through winding streets and neighborhoods. We walked by a soccer game being played in front of a mosque. We ate a fresh fig off of a tree. We watched kids playing in the small streets. They all stared at us curiously. Two small boys leaned out their window and waved hello. As we waved back they proceeded to make farting noises and giggled uncontrollably as their mother ran over to scold them.
We stopped for some delicious baked bread still hot and fresh from the oven that reminded Jay and I of being in Croatia. We sat at a small cafe on the coast and enjoyed a picnic lunch and some local beverages (the local beer, Efes, and tea). Sertac seemed particularly pleased with the chocolate chip cookies we had brought from the ship; no one quite does chocolate chip cookies like Americans. The sun was even nice enough to shine through breaks in the clouds.
After a stroll through the local bazaar and a stop at an internet cafe, we said goodbye to our new friend, Sertac, and headed back to the ship.
Click here to view more photos from our Black Sea Cruise to Greece, Turkey, Russia and Ukraine.