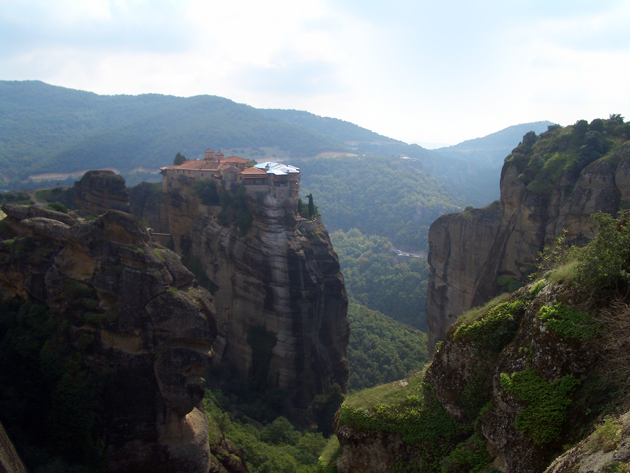 Family Cruise Diary: Turkey (Kusadasi) and Greece (Volos, Thessaloniki)
Posted on October 26, 2010 at 7:26pm Madrid / 1:26pm Cincinnati by Kelly Larbes

Saturday, October 2 – Kusadasi, Turkey
Our first port off the Holland America Westerdam was Kusadasi, Turkey. We headed to Ephesus, the best-preserved ancient classical city in the Eastern Mediterranean. It was founded in the 10th century B.C. and during Roman times was the second largest Roman city, ranking just behind Rome. There were beautiful ruins of the old library, the theater, and terrace houses that displayed intricate and well-preserved mosaics.
Cenon, our Turkish tour guide from Meander Travel, shared with us the history of Ephesus and many fun stories. He did a good job of not boring us with too many details (we often have short attention spans). I always wonder how true the stories are, but we'll never know the difference. For example, the library had an underground tunnel leading to the whore house across the street, making the library one of the most popular places in town.
From Ephesus, we headed to Sirince, a pretty little hilltop town known for its wine. The town has preserved its old traditional Turkish feel giving it its charm and tourist appeal. The streets were lined with small wine and souvenir shops. Several offered beautiful views across the hillsides. Most wine shops offered free tastings, which we took advantage of, and bought a bottle as a gift for our friends Elena and Jon who we'd meet up with later in Ukraine.
After lunch outside a silk rug shop, we headed inside for a demonstration and short sales pitch. I had asked when booking the tour not to be taken to a rug shop, but figured we would be anyways. It is common practice in Turkey (and many other countries); even the official cruise tours make the stop. I was happy at least that the demonstration was short and interesting and the sales pitch was very tame compared to most countries.
After browsing through the bazaar, we headed back to the ship to enjoy a mountain of cheese, crackers, and fruit as we debarked. We relaxed for a couple hours and enjoyed another scrumptious dinner. Jay had two filet mignons. I clearly don't cook him enough beef; he had beef every night of the cruise, and probably about 8 filet mignons. I think Dad and Kevin might have matched his count too.
Sunday, October 3 – Volos, Greece
Today was Jay's favorite port stop (and my second favorite). From Volos, we headed an hour and a half inland to Meteora, home of six monasteries in a breathtaking setting on tall, natural sandstone rock pillars. We went with a group from Cruise Critic, a website we use to do cruise research before we travel. It facilitated us meeting up with other cruisers on our trip to organize an inexpensive private tour with TheTaxi.GR
Before we left, we watched the old James Bond movie For Your Eyes Only because we knew part of it took place here. It was the perfect setting for a dramatic action adventure and we surely weren't disappointed seeing it in person. It's hard to imagine the construction of the monasteries over 500 years ago on the cliff sides. The buildings look like a continuance upward of the natural rocks.
We visited the inside of two of the monasteries. Until the 1920s, the only way to access the monasteries was through a trepidacious series of ladders and baskets. Now there are a series of paths and steps. We climbed 315 steps to the Great Meteoron Monastery and visited Agios Stefanos, the only convent in Meteora. They each had beautiful churches and offered magnificent views around the area.
We had lunch in the town below the monasteries, Kalambaka, where we had some of the best chocolate cake and baklava, and headed back to the cruise ship. While unpacking our bookbag, we realized we accidentally left Jay's iPod on the bus.
Monday, October 4 – Thessaloniki, Greece
By some small miracle, we got Jay's iPod back today. Through help from Linda, who organized the Meteora tour, and the concierges for suite guests, Jay was able to contact the TheTaxi.GR tour company. Thessaloniki isn't too far from Volos and luckily someone from the company was coming here today. The driver found Jay's iPod on the bus and someone was waiting for us in Thessaloniki when we got off the ship to return it to us – what kind service!
Overall, today was an enjoyable low-key day. We walked around Thessaloniki, Greece's second largest city. The weather was kind of crummy; luckily no rain, but it was cool and damp. We took the Hop On Hop Off bus that the city runs for just 3€. It was a nice way to get around the city. We were joined by a rambunctious school field trip of loud teenagers who wanted to know if we liked their country. We hopped off at the top of the city at Trigonion Tower over looking the city and stopped by a few pretty churches before heading back to the ship.
This was the cruise's first formal night, where most guests look their best for dinner and evening activities. I love getting all dressed up and I rarely have an occasion for a long fancy dress, so formal nights are one of my favorite things on a cruise. Plus, the people-watching is at its best these nights. Luckily Mom and I are the same size, so I got to share her formal dresses.
Our dinner also took a dramatic upswing tonight because we sat at a new table (where we remained for the rest of the dinners during the cruise). Our first few nights' service was slow and a bit erratic so we decided to try a new table with new servers. We couldn't have been happier. Our new server, Didit, was fun and super attentive. We always had everything we needed and more. He didn't hover, but he seemed to catch our every move. If we made a funny face at a dish, he was suddenly there asking us if we wanted to try something new. I had to check my people-watching because he would always think I was looking for him and needing something. Him and his assistant, Athea, and Lovely, our bar server and wine connoisseur, helped make our cruise dinners memorable and helped us pack on a few extra pounds with all of the yummy food and extra desserts!
After dinner we played cards, Rummy 500. Dad was never a huge fan of playing cards – he didn't have the patience for it – but I think we may have converted him because he kicked our butts several times during the cruise.
Click here to view more photos from our Black Sea Cruise to Greece, Turkey, Russia and Ukraine.