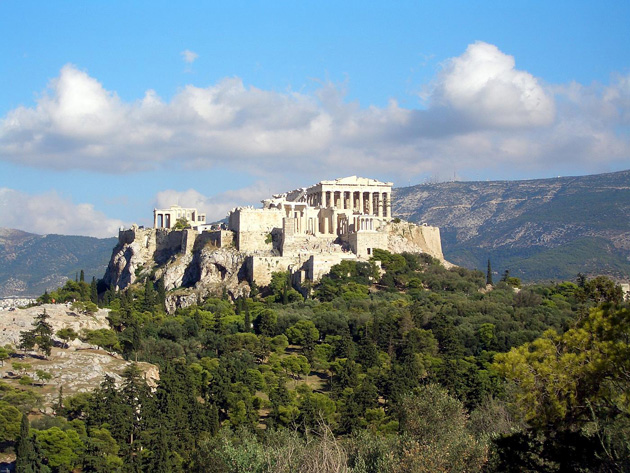 Family Cruise Diary: Athens, Greece
Posted on October 22, 2010 at 6:54pm Madrid / 12:54pm Cincinnati by Kelly Larbes

Each of the last few years Jay and I have been lucky enough to take a big family vacation with my family. We are spread out across the world and all busy with our jobs, so it feels like a small miracle we've been able to make it happen. This year we met up in Athens, Greece for a cruise across the Black Sea visiting cities in Greece, Turkey, Ukraine, and Russia.
For Jay and I, the vacation started a day earlier than expected because we were scheduled to fly out the same day as Spain's labor unions scheduled a general labor strike to protest labor law changes. Most airport employees, including baggage handlers and air traffic controllers took part (in addition to subway and train employees). The union leaders agreed to run 20% of international flights, and we decided not to spend our day at the airport taking our chances, so we moved our flight up a day.
It worked out for the best because we were able to be in Athens the morning my parents arrived and help them sort out their early morning tribulations…
Wednesday, September 29 – Athens, Greece
We were about to head downstairs to eat breakfast when we got a call; Mom and Dad arrived earlier than expected, but they weren't in a good mood. They took the metro from the airport during rush hour and in the chaos of a packed subway car, dad got pick-pocketed. His wallet was stolen out of a buttoned pocket on hi cargo pants! Cash, credit cards, and driver's license were all gone in a matter of seconds. The only saving grace was that dad had most of his money tucked safely away in the bottom of his shoe! We called the credit card companies via Skype and got everything sorted out. It was upsetting and inconvenient, but not tragic.
Mom hadn't slept at all on their overnight flight. After a late breakfast, she took a nap while Jay, Dad and I walked to Lykavittos Hill and then climbed to the top. It was 85°F, the hottest day of the trip, and it felt like it. The climb was worth the effort because the top offered a fantastic view over Athens, the Acropolis, and the Aegean Sea in the distance. The hill is visible from much of the city and we frequently admired our accomplishment over the next couple days.
We stopped back at the hotel to get Mom and then walked through the National Gardens, another beautiful city park. I liked the soaring palm trees and Jay found turtles to watch.
We then walked to Panathinaiko stadium. The stadium was the site of the 1896 Olympics, but its history is much longer going back to classical times BC when the stadium had wooden seating. Now it boasts being the only major stadium in the world built entirely of white marble.
We arrived back to the hotel in time for Kevin and Kyleen's arrival. They have been dating for over a year, but it was the first time Jay and I got to meet Kyleen. For her it was baptism by fire: two weeks in a cruise ship cabin with us. She fit right in. Besides the sinus cold we jokingly blame her for giving all of us later in the trip, we couldn't have asked for it to go more smoothly. Hopefully she agrees.
Thursday, September 30 – Athens, Greece
We spent the morning at Athens' famed Acropolis. I hadn't realized it was so much more than just the Parthenon; there are several temples and theaters. The Parthenon was impressive, but it was sooo crowded. I couldn't have counted the number of tour groups if I had wanted to. I felt like I was back in Rome, the other city full of tourists moving in packs like they are on a pilgrimage.
Next we headed to the Acropolis Museum, which surpassed my expectations. It is a beautiful museum that just opened about a year ago and houses around 4,000 artifacts found at the Acropolis. It was built over an archaeological site where excavations continue and can be viewed by visitors through many sections of the floor that are transparent glass. It was fascinating to see archaeologists at work below.
The top floor of the museum sits slightly askew to the rest of the building and is set up as the same orientation as the Parthenon. It displays the marble friezes just like they once occupied the Parthenon. Most of the panels on display are plaster casts obtained from the British Museum in the 19th century. The original marble friezes were taken from Athens to Britain by Lord Elgin during his time as ambassador to the Ottoman court of the Sultan in Istanbul in the early 1800s. There is a debate whether this offered protection or was just greed (most likely both). Athens wants them returned, but The British Museum continues to resist. One reason the New Acropolis Museum was created was to increase worldwide pressure for their return.
We visited more ruins, Hadrian's Arch and the Temple of Olympian Zeus, and headed to Filopappos Hill near the Acropolis. On the way we spotted Hajduk graffiti (Split, Croatia's local soccer team)! There was a large sticker plastered over a green stop light. There are Hajduk fans everywhere.
I actually enjoyed Filopappos Hill more than the Acropolis. It offered the best views of the Parthenon (the ones you see in all of the books and postcards) and it was peaceful and solitary. We walked all around the hill taking in the views and relaxing in the sunshine.
After a short visit to the annex of the Benaki Museum for an architecture exhibit we took a looong walk back to our hotel. The monotony of the walk was broken up by the sight of a guy shooting heroin into his arm at a bus stop. I had never seen needle drug use before, but I saw it three times during my short time in Athens, in different parts of the city and always in broad daylight. The first time was on the front steps of an apartment building just half a block from our hotel. Plus, we saw several prostitutes. I know every big city has drugs and prostitutes, but I didn't expect so much from Athens. I guess other cities just hide it better.
Friday, October 1 – Athens, Greece
On Friday morning we were itching to get on the cruise ship to see what everything was like, but first we headed to the National History Museum. It was full of cool old costumes, fancy guns, mastheads of old boats, and an awesome portrait of an ancient Greek hero that looks like one of Will Ferrell's ancestors. We also visited the Syntagma Square Subway Station which houses remains of ancient aqueducts, graves, and cisterns that were uncovered during the construction of the station. Across the street we watched the Changing of the Guard. I liked the little pom-poms on the guards' shoes and their silly march that required them to kick their legs high. They were all more flexible than I'll ever be.
We took the subway to the port. It was supposed to be a direct route, but construction forced us to switch lines twice. As we left the subway station we could see our ship, but its distance was deceptive because it was much further away than it appeared. We dragged our heavy luggage over cobblestones and bumps and around light posts and parked cars for 30 minutes until finally arriving at the ship. We were ready for cruise ship pampering and we sure got it. When we arrived to our cabin, us kids realized just how spoiled we were.
Dad and Mom upgraded our room to a fancy suite so we we would have plenty of room. There was a king bed and a large pull-out sofa, a 32" flat screen tv, bathrobes, a changing room, a double vanity in the bathroom, a shower and a shower tub, plenty of closet space, and a balcony with room for six people. It made the entire cruise so nice. There was plenty of space for us to get ready; we didn't have four people fighting over one tiny bathroom for showering, changing, makeup, hair, and more. Laundry and pressing service was even included. My clothes were more wrinkle free than they'd been since I lived at home two years ago with Mom. And when Jay woke up the next morning I was so far away from him in the big bed that he said he wasn't even sure I was there.
After oohing and ahhing and thanking Mom and Dad (I remember the oohing and ahhing and sure hope we did the thanking), we enjoyed our first giant meal of the cruise. Cruises are known for enticing people to eat too much and we fell right in line.
Click here to view more photos from our trip to Athens, Greece.