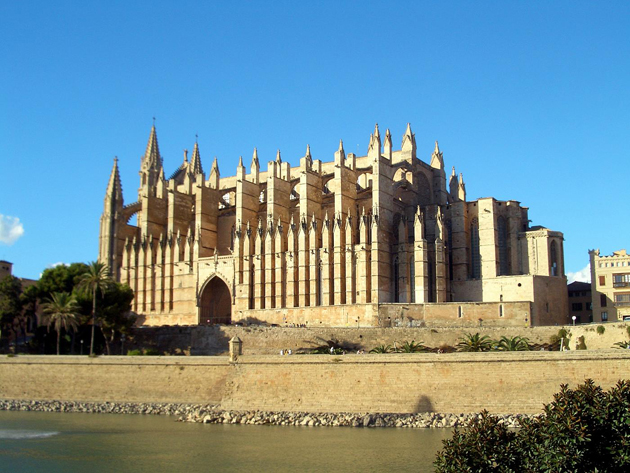 The Gothic Cathedral and Warm Sandy Beach on Spain's Island of Mallorca
Posted on October 17, 2010 at 4:07pm Madrid / 10:07am Cincinnati by Kelly Larbes

Ryan Air, one of Europe's popular discount airlines, gets a bad reputation for poor customer service and ridiculous fees, but I love them. Even with their outlandish fees (everything from luggage fees to processing and credit card fees), we've gotten some amazing deals making short weekend trips affordable. (Plus, we have been able to sit in the spacious exit row on every flight.) Nearly a month ago, the weekend before our big family cruise vacation we headed to Spain's largest island, Mallorca, on $25 USD round trip flights.
We flew into the pretty town of Palma, which has a beautiful waterfront dominated by the large gothic Cathedral of Santa Maria of Palma built between 1229 and 1601. We were disappointed to learn that the interior closed for the day before we arrived, but we got lucky because on our second stroll past the cathedral a wedding was concluding. We got to see a beautiful bride, and as the bridal party left, the cathedral remained open for visitors. The interior didn't quite live up to the stunning exterior, but I enjoyed the soaring pillars and stain glass roses.
We debated for way too long about eating dinner in Palma or heading to the beach of Magaluf where our hotel was located. We eventually hopped on a bus for a 45 minute ride to Magaluf. The bus quickly filled until there was one small seat left in the back row bench already filled with four men. Most people getting on after that stood, but a heavy man decided that he AND his two small children would fit into this last seat. As he sat down squishing everyone around him and then proceeded to pull the two kids on his lap, I watched with slight horror thinking how annoyed I would be if I was next to him. There were two tall African immigrants in the row who made me think twice about my attitude; instead of being perturbed by their new seatmates, they quickly readjusted their bodies turning sideways, moved partly off their seats, squished even closer together and made room for the five year old boy to share their two seats. The boy sat contently between them and his dad, and I sat thinking that I should have a kinder disposition.
As we checked into our hotel, we were reminded that our stay included half-board (breakfast and dinner). We were sure glad we didn't eat in Palma. The buffet was unexpectedly large and delicious and it made us feel like we had started our cruise eating early. The creamy lemon ice cream will be especially remembered by Jay.
Afterwards we headed to the beach for a night time walk along the sea. Though Magaluf felt a bit like a smaller version of the overly-commercialized Panama City, Florida, we were pleasantly surprised to find the beach completely deserted and lit only by the moonlight. The sand was soft and damp. The cool night air made the water feel very warm in contrast. We hid our shoes in a paddle boat pulled ashore for the night and waded along the sea's edge.
The next day was pleasantly uneventful, except perhaps for the massive amount of older voluptuous topless German and British women. There were more topless woman than we had ever seen (which is always a bit of a culture shock for me), and I don't think Jay enjoyed it quite as much as he would've hoped.
There were so many vacationing Germans and Brits that I am pretty certain I heard more English and German than Spanish being spoken in Magaluf. People just seemed confused when I would try to speak to them in Spanish. I eventually gave up and resorted to English. My favorite part of the day might have been when we went into a sports bar to ask if they would be showing American football on tv that evening and the bartender said, "Maybe. Is the Super Bowl on tonight?" It was still September, and clearly, we were far far away from our Cincinnati home.
After a short run and a swim, we spent the rest of the day laying on the beach reading. The water was a pleasant 74°F, which was warmer than the water ever got in Croatia, so it was a nice surprise for the last weekend in September. We swam out to the buoys and I enjoyed the buoyancy of the salt water. That, along with the calm Mediterranean waters made swimming easy. I lamented that I wasn't sure of the next time I would be in the sea. I soaked up the sun and tried to take it all in.
Jay rented two beach chairs and an umbrella for reading while I was running. I about had a heart attack when I returned and found out they cost $15 USD. It seemed a bit steep to me, but in the end I was glad he did. We put them to good use. We laid there reading until the sun almost set.
After another delicious meal that was way too big, we set out to find wifi to watch the Bengals' game. There was none near the beach like we had been told, but we were surprised and happy to find unsecured wifi from our hotel room. We got to end our relaxing trip watching a Bengals' win before heading back to Madrid early the next morning.
Click here to view more photos from our weekend trip to Palma and Magaluf on the island of Mallorca.