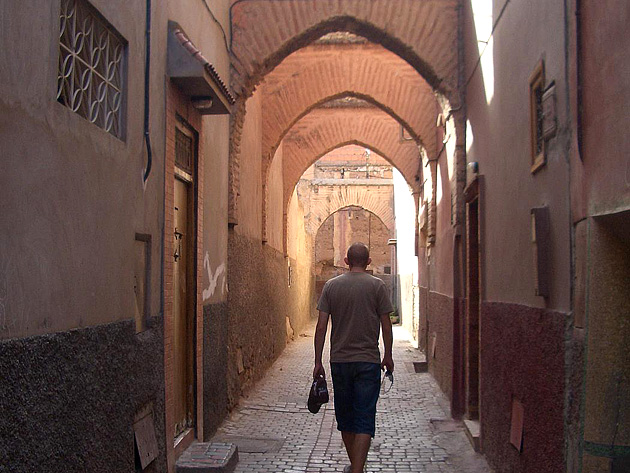 moorish architecture, canyoning, story tellers and more in Marrakech
Posted on September 15, 2010 at 12:16am Madrid / 6:16pm Cincinnati by Kelly Larbes

We arrived in Marrakech, Morocco shortly after the sun rose. The streets were quiet and mostly deserted besides the few random cars and bicycles. We were greeted by Rashid who ran the daily operations at Riad Mur Akush, our accommodations for the weekend. He said the tranquility was due to Ramadan; most people had gone back to sleep after their pre-dawn breakfast.
My knowledge of Islamic religion and Muslim traditions are sadly naive. Being in Marrakech during the Ramadan holiday gave me the opportunity to learn more in one weekend about Islam than I had learned during my entire life. I knew that Muslims fasted during the day during the month of Ramadan, but several customs and laws surrounding Ramadan surprised me. I didn't know the fast included water, which must be so difficult when temperatures hit 115°F. Children, pregnant, nursing and menstruating women, and the sick are not expected to fast, though woman are expected to make up the days they missed. There is actually a Moroccan law that forbids any known Muslim from breaking fast in public. Restaurants keep Spanish hours, not opening until after dark; though there were plenty of places still open during the day catering to non-Muslim tourists. The time officially changes in Morocco during Ramadan so that the sun set earlier and people can eat earlier; even though Morocco is straight south of Spain, we had a two hour time difference.
When fast broke at 7:15pm, literally everyone we saw was eating. We saw street-side restaurants throw food on the grill and people sitting on the sidewalks pulling food out of their backpacks. I know Ramadan is hardly all about fasting, but that is the aspect we personally saw most throughout the weekend. I recently started reading a book called Mirrors of the Unseen, Journeys in Iran by Jason Elliot, which is enlightening me on other Muslim customs.
Being in Marrakech for the weekend was a perfect break from normal life (though life is hardly ever monotonous). I find it energizing to be thrown into a completely foreign environment where so much feels completely different. Sure, Croatia and Spain are foreign to me, but they are both Catholic countries with plenty of familiar Western traditions. In Marrakech I felt surrounded by the unfamiliar.
The riad
Riads are traditional Moroccan houses with interior gardens located inside old city districts. The word riad comes from the Arabian term for garden. Today many riads are used as private guest houses, kind of like a Moroccan bed and breakfast. Staying in a riad definitely contributed to an authentic Moroccan experience and we enjoyed the personal touches that you don't find in a hotel. There seems to be an infinite number of riads in Marrakech and it was so hard to pick one knowing the the quality levels varied greatly. We decided on Riad Mur Akush based on Trip Advisor reviews and price and we had a wonderful experience.
When we arrived so early we were given a fresh cooked breakfast and a room to freshen up in since our room wasn't ready until the afternoon. Rashid gave us a map and marked all of the major attractions and several restaurants, though the map served little purpose since the old town was like a maze with few street markings (but getting lost is part of the experience).
After a morning of canyoning and exploring the Djemaa el Fna, the main square in town we returned to our Riad in the hottest part of the day for a nap. We entered our room on the ground level through two double doors that locked with pad lock. We loved our room. Everything felt very old (excluding things like the bed linen and the iPod alarm clock), but at the same time a bit regal with intricate Moroccan style. The room was painted with polished bright blue tadelakt. The floors were terra cotta tilework known as zellige and bejmat. There was a hefty bed with four huge spiral posts made from olive trees, plus a giant shower with a rain style shower head. And most importantly, we had air conditioning — a huge blessing in the afternoon heat.
Our canyoning adventure
Going canyoning is hardly authentically Moroccan, but it is lots of fun. Canyoning is is traveling through a canyon by walking, hiking, climbing, jumping, and rappelling (descending down a cliff on a rope). We had read that just outside Marrakech are the beautiful Atlas mountains. Jay and I love nature adventures and we had never been canyoning, so I thought this would be a great way to see some of the natural beauty surrounding Marrakech.
We went with a Scottish outfit, Splash Morocco, that set up shop in Morocco last year. Usually a larger group goes out together, but we were the only ones signed up for Saturday, so Jay and I got a private excursion with guides Andy and Erin. They were both friendly and personable, sharing expat stories and offering their advice on what to see and where to eat. And they took lots of (free) photos.
The best part of canyoning was, of course, the rappelling. We rappelled down two cliffs. The first was a shorter, 23 foot cliff, and the second was a more impressive 73 foot cliff. We wore a typical rock climbing harness and a silly looking helmet that smashed Jay's ears. Andy tied two ropes through openings in secure boulders: one we used ourselves to control our descent and the other was our safety rope that they controlled. Getting started was the only daunting part, as we had to slowly lean further and further backwards and walk ourselves off the edge of the cliff. I mis-stepped once, falling sideways against the cliff, but it just resulted in an increase in adrenaline more than anything and a small scrape on my elbow and shin. Once we got going it was an easy descent, with our legs straight out and our butts low walking backwards straight down the cliff and enjoying the canyon around us.
The food
Based on recommendations from Rashid, Andy and Erin, we had dinner in the newer part of town at Al Fassia, a restaurant owned and operated by an all female staff; this was unique and refreshing to see in such a male dominated society. I ordered chicken tajine with caramelized pumpkin. Tajines are slow cooked stews in a heavy clay pot, resulting in very tender meat. I had read that tajines are a most typical Moroccan cuisine, so I figured it would be good to try. Those of you who know my aversion to vegetables and odd mixes of food could imagine my horror when I saw the tajine arrive at the table and it looked like gross vegetable slop. Good thing I tried it because it was amazing (and it didn't taste like vegetables at all). It was the best chicken meal I've had in my life. The tajine along with the unique atmosphere of Moroccan decor, short tables, and low lights made it a rare dining experience I'll remember for a long time.
We almost returned to Al Fassia the next night, but decided to try something new since we would only be in Marrakech for two nights. After drinks on a hotel rooftop bar, we ate Italian food amongst lush Moroccan decor at La Trattoria De Giancarlo. The best part was the romantic atmosphere: low lights, beautiful design, outside seating surrounded by trees and plants, and we were right next to the pool (literally right next to it; Jay was worried my camera was going to fall in). The food was good, but it couldn't live up to the night before.
Koutoubia Mosque and evening prayer
The Koutoubia Mosque was built in the 12th century and is the largest mosque in Marrakech with a minaret standing 221 feet tall. It dominates Djemaa el Fna square and can be seen for miles if your view isn't blocked. We'd sometimes use it to find our way, but usually if we were lost we were in some small alley and we couldn't see any landmarks.
After dinner at Al Fassia we took a $2.50 USD cab ride back into the old town to the mosque. By chance, evening prayer was beginning just as we arrived. It was was magnificent to see hundreds of men in perfect rows on their mats praying all around the front of the mosque in perfect harmonization — and to see their exodus as prayers ended. After such synchronized prayer, I enjoyed observing the different styles and colors of mats and the individual customs for storing them away. Some people meticulously rolled theirs and dropped it into a bag specially designed for the mat, while others folded theirs up and put it in a plastic grocery bag or shoved it into a backpack.
Djemaa el Fna square
The Djemaa el Fna square seems to be the center of life in Marrakech. During the heat of the day it is mostly dominated by endless stalls of orange juice sellers. I had never seen so many oranges in my life; I can't imagine how many are growing in Morocco. For just35¢ (3 Moroccan dirham) we could buy a glass a fresh orange juice squeezed right in front of us and poured into a kitchen glass. We'd drink it at the stand and leave the glass to be washed for another customer. Jay had about six glasses in the two days we there – not counting the orange juice served at breakfast.
At night the square comes to life and is full of people – tourists and locals alike. Besides from the rows of numerous food stands, there seemed to be no organization nor lights in the large open area. The food stands had no markings other than numbers and the animated men yelling their wares to catch our attention. We'd tell them we'd already eaten, but that we would come back tomorrow; they would yell after us to remember their stand number and would repeat it five times for good measure.
In the spacious expanse of the open square groups gathered around musicians and story tellers with their lanterns. I couldn't understand any of the stories, but I loved watching wide eyes and wild gestures of the story tellers. Woman beckoned me to let them tell me my fortunes or draw henna on my hands. Some people held out their hands looking for alms, but quickly moved on when we shook our heads. I had read stories promising snake charmers, monkeys and acrobats, but saw none, perhaps because it was Ramadan or just bad luck. It left me a bit disappointed, but still enchanted with enigmatic ambiance.
Souks
Marrakech has an impressive district of souks where you can buy everything from shoes to lanterns to chickens to cow heads and more. They were a mishmash off alleyways full of stalls stuffed to the brink with goods and spilling out onto the small streets. We had no intention of buying anything, but I loved walking through the maze of stalls and seeing all of the goods. I was tempted by some beautiful handmade sketch books with luscious cloth covers, but I knew they were too heavy and unpractical.
We left with just small pair of intricate earrings for my mom. The salesman swore they were real silver, which I highly doubted. This was pretty much confirmed as I haggled the price from $18 USD to $3.50 USD after feigning disinterest and leaving. Still, they were very pretty and I was happy with my bartering skills (even though they may have only been worth $1 USD to the salesman).
After turning down a small alley and ending up in a small square we came across chicken stalls. It was so unexpected to see people buying live chickens, men walking around with bundles of them held by their feet, and eggs piled high to the ceiling. The smell was horrendous, but the atmosphere was buzzing and intriguing. I snapped a few photos and was immediately yelled out by a man in Arabic. I couldn't tell if he wanted money or just didn't appreciate being in my photo. I took it as a good cue to leave.
Getting lost
I had read that every tourist gets lost in the Medina (old town). The streets twisted and turned inside the extensive ancient walls (10 miles long). There were few street signs and only the few larger streets were marked on our map, but I carefully followed the map by counting streets and looking at angles. I was so proud of myself for not getting lost all morning on Sunday. That ended on our way to the Ben Youssef Medersa. We decided to visit the souks on the way there instead of taking the most direct route and we got completely lost; we had no clue where we were.
At first it was kind of fun being lost. We saw lots of interesting shops fronts, buildings, people, donkeys, and more. After walking aimlessly for a half hour, not seeing any other tourists for 15 minutes, and realizing the poverty levels were deteriorating lower, we decided it best that we tried to turn around and get unlost. I stopped two ladies on the street to try to ask them directions. They didn't speak English, but I showed them my map and where we wanted to go. They couldn't tell me where we were put they pointed in the direction we needed to go. We continually asked people which way to go until we found our way. We only had a few missteps as people directed us into their shops instead of towards the Ben Youssef Medersa.
Historic architectural sights
We visited the Saadian tombs, Badi Palace, and the Ben Youssef Medersa, all from the 16th century. The Ben Youssef Medersa was my favorite. It was an Koranic school, where students learned Islamic law, science, and the Koran until 1960, and it was reopened to the public in 1982 as a historical site. There were 130 claustrophobic student dormitory cells clustered around a beautiful courtyard. Supposedly there were 900 students housed here at one time, but it is hard to imagine how they were all squeezed in.
The central courtyard surrounded a shallow pool for washing before prayer. All the walls were ornamented in rich carvings in cedar, marble and stucco. At the back of the courtyard was a large prayer hall containing the most elaborate carvings. Moorish architecture is impressive in its attention to details and craftsman.
The heat
After we left the Ben Youssef Medersa, the heat was beginning to feel oppressive; I longed for the 70°F from the early morning, or even the 95°F high from the previous day. The periodic soft breezes felt like the heat from a giant hair dryer. We returned to the riad for cold showers and an afternoon reading break before heading to Majorelle Gardens. On the way to the gardens we passed an electronic sign outside of a bank that read 112°F. The only other time in my life I experienced heat nearly that hot was at the Hoover Dam in Nevada in July. Thank goodness there was low humidity or I wouldn't have left our riad. At Majorelle Gardens we entered a large shady green oasis. Though we were still outside, the temperature seemed to drop a blessed 30°F.
Majorelle Gardens
Majorelle Gardens was designed by a French artist in 1924 when Morocco was a protectorate of France. From 1980 until his death in 2008 it was owned by designer Yves Saint-Laurent. The gardens almost felt out of place in Marrakech, but they were a welcome change from the rose colored buildings and hot dusty streets of the old town. We enjoyed walking along the raised pathways and seeing the cacti, groves of bamboo, coconut palms, pretty marble pools, and lily filled ponds. Many of the built features in the garden, such as the fountains and a house, were painted a cobalt blue that stood out boldly from the plant life. You could tell the garden was designed by an artist. Everything flowed together so cohesively.
The lily pad pond had turtles, frogs, and fish, so this was Jay's favorite part. We were here watching them play when they kicked us out at closing time at 6:00pm. We weren't ready to leave; we would've gladly stayed another hour enjoying the peacefulness and the cooler climate.
We left Marrakech early the next morning and returned to the hustle and bustle of city life in Madrid. At the narrowest extent, Spain and Morocco are separated by only 8 miles, but they feel worlds apart.
Click here to view more photos from our weekend trip to Marrakech, Morocco.