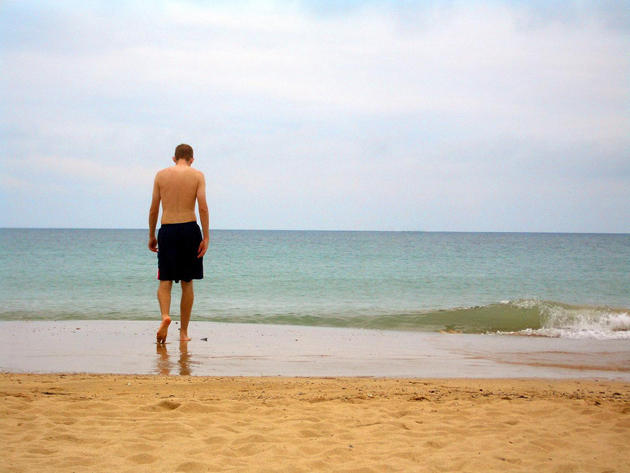 Celebrating our 5th Anniversary, Part 2: The beach in Santander
Posted on September 3, 2010 at 6:50pm Madrid / 12:50pm Cincinnati by Kelly Larbes

I'm glad I was awake for the bus ride back to Santander because the ride along the coast and through the countryside was very pretty (Jay slept). After a fun visit to Bilbao to see the Guggenheim Museum, we were back in Santander, a beach town on the northern coast of Spain. We checked into our hotel (right across the street from the bus station), freshened up with showers, and headed out for dinner and a walk through the town.
Jay and I were quite pleased with our food in Santander. Our appetizer that night was some of the best potatoes we've even had. They were soft and seasoned with herbs and oil and came with a spectacular garlic and olive oil aioli dipping sauce. Jay is still talking about it. And for our main course we split yummy lemon chicken and ground beef pizza.
The next day was our beach day. We walked all along the coast in Santander checking out the different beaches. It was so nice to dig my feet into soft white powdery sand. It was something we had missed on the pebbly beaches in Croatia. While we loved the sand, we missed Croatia's beautiful crystal clear turquoise sea. It's impossible to have both; we debated which was better and ultimately came to no conclusion. We love both.
As we walked along the street above the beach, I almost felt like I could be in Florida. We could see small waves crashing on the wide white sandy beaches. The sidewalk was lined with pretty flowers, grass and hedges. There were plenty of ice cream parlors, nice looking restaurants, and even Starbucks. It was an odd sensation after being in the south of Croatia, because no place there ever felt like the United States to me. Once on the beach though, the abundance of topless women ended the Florida feeling. I joked that the beaches in Santander were just like Florida plus topless women, wine, and Spanish tortillas.
Before settling ourselves in the sand, we walked around the small headland on the eastern tip of Santander called Magdalena. It is covered with a green park and tall trees. Here the sandy beaches ended and the coastline turned into rocky cliffs offering some beautiful vistas. We checked out the 19th century Magdalena Palace, which was mildly interesting, and a small zoo with penguins and sea lions. Jay practiced his Spanish with me by reading the educational signs about the animals. We then searched out some lunch before we headed to El Sardinero, the town's largest beach.
As expected all of the sandwich shops along the beach seemed overpriced and mediocre. We crossed the street and headed down a small side street and found a "hole-in-the-wall" sandwich shop where Jay hit the jackpot. He ordered a veal sandwich. The old man behind the counter opened his fridge, took out a fresh perfect cut of veal, cooked it in front of us on his grill, and served it up on a warm fresh roll with melted cheese. Jay said is was so tender it melted in his mouth. All sandwiches from here forward will be compared to that one.
We spent the afternoon lying on the beach in the sand, reading, and wading into the ocean. It was cold, so we didn't venture deep. The day was overcast, but we didn't mind because it made our walking and reading comfortable. During our walk we had kept our eyes out for beach volleyball, but just saw a lot of paddle ball. As we were leaving though, we saw four courts in play and two more being setting up. We timidly asked if we could play too, and got to partake in two good games of doubles. We lost, but we held our own – they were close matches. And we got to expand our Spanish volleyball vocabulary more. It was great way to end the day.
Our walk back to the hotel took much longer than expected — over an hour, but it was all along the beautiful cost, so it was enjoyable for the first 45 minutes. The last 20 minutes, we were just sick of walking and ready to be back. We carried our beach bag like traveling Europeans: sharing, each of us holding one handle. (This is how we frequently see European tourist carrying their bags, but rarely Americans. I'm not sure why, other than it looks silly.)
We had a small dinner at a hopping sandwich shop called The Green Frog (ha ha). I was saving room for a big piece of scrumptious moist chocolate cake from a local dessert shop that I read about online. When we got to the dessert shop, they were out of chocolate cake for the day! It felt tragic at the time. I got cheesecake instead, which always seems to be a mistake wherever I've been in Europe. I guess one small tragedy for the weekend isn't too bad. We headed to bed early and were up before dawn again for our early short flight back to Madrid. Weekend trips always go so quickly.
Click here to view more photos from our trip to Santander and Bilbao.