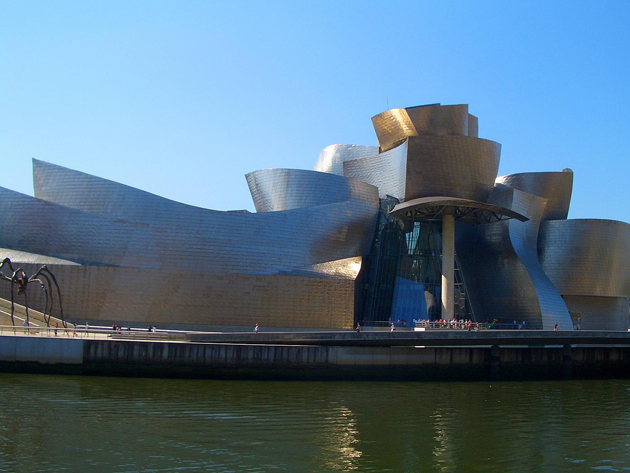 Celebrating our 5th Anniversary, Part 1: The Guggenheim in Bilbao
Posted on August 29, 2010 at 11:21pm Madrid / 5:21pm Cincinnati by Kelly Larbes

Time sneaks up on you like a windshield on a bug. – John Lithgow
This quote seems to summarize so much of life for me — and I know every year I will feel more that way. Jay and I celebrated our wedding anniversary last weekend with a short trip to Santander and Bilbao. I can't believe we have already been married for 5 years. Sometimes we still feel like kids and other times we feel like old fogies. We booked the trip because we found a great deal on the discount airline, Ryanair, and it wasn't until a few days later that we even realized the trip coincided with our anniversary.
Our flight left at 6:30 am Saturday morning, so that meant we left our apartment at 4:15 am — ouch! The subway doesn't open until 6:00 am, so we had to take an airport shuttle taxi. It was fun driving through the city and seeing everyone still out for the night going to bars and drinking on stoops. And when we got to the airport we were surprised by the scene in the check-in area; it was filled with hundreds of backpackers sound asleep. They were spread out everywhere and lined up in rows along the walls. Most slept on sleeping mats with their heads resting on their backpacks. Some slept with their mouths wide open, others curled up in the fetal position, and some twitched as they dreamt. I was amazed at the multitude of people and how many were sound asleep even with all of the noise. I guess it was a good way to save on a night's hotel and taxi fare.
Luckily we got the emergency exit row on the plane, so we had extra leg room and got some extra sleep. We continued our nap on the hour and half bus ride from Santander to Bilbao. Like most visitors to Bilbao, we went to see the Guggenheim Museum. It is a modern and contemporary art museum designed by architect Frank Gehry. When it opened in 1997 it was immediately touted as one of the most spectacular buildings of our time and put the formerly unknown town of Bilbao on the world map. Since it was built, I have wanted to see it, and it lived up to my expectations.
The building is formed from random curves made of titanium fish-like scales. The curves catch the light and reflect brightly. It's beautiful. It feels more like a sculptural work of art than a building. I couldn't decide if it dwarfed the importance of the artwork inside or elevated it.
We walked all around the exterior of building, snapping way too many photos along the way. The sun was scorching, but we climbed up seven flights of stairs onto the neighboring bridge to get a view from above. When we got to the top we saw a group of people walk out from around the corner and realized there was an elevator we could've taken instead.
As we approached the front of the museum we admired Jeff Koon's sculpture "Puppy," a 43-foot-tall topiary terrier made of fresh pansies. It was intended to be a temporary exhibit during the opening of the museum, but was so well received that it found a permanent home. It was playful and fun.
The inside of the museum follow the same theme as the exterior with all walls, hallways, and galleries formed of curves. The galleries contain permanent works from some important 20th century artists such as Picasso, Andy Warhol, Robert Rauschenberg, Ives Klein and Willem de Koonig, and temporary exhibits from current artists.
My favorite exhibit showcased work from Anish Kapoor, who many people know for his Cloud Gate sculpture (or giant reflective bean) in Chicago's Millennium Park. Much of his work explores themes of ambiguity and distorted perceptions. One gallery had a giant yellow piece of art that at first looked like a flat painting trying to give the illusion of depth, but as I approached it I realized there actually was depth — a giant hole going deep into the wall. Another gallery contained an array of different shaped mirrors that distorted our reflections. Jay and I had fun seeing how silly we could make ourselves look. Other pieces of Kapoor's work challenged the traditional static nature of sculpture and painting. He used wax and pigment in his pieces, but instead of arranging them on a canvas, he used them as the work of art itself. In one piece he had a cannon that would randomly shoot out red wax and splatter it on the wall, so the piece was always evolving. My professional classification of his work would be goofy, but fun and intriguing.
After leaving the museum, we planned to walk to the old part of town and to see more of Bilbao before heading back to Santander, but our energy quickly waned from the sweltering sun and our lack of sleep. Instead we walked through the nearby park that lined the river, found a shady spot in the grass, and took a nap. I'm a little ashamed to say we didn't see much of Bilbao except the Guggenheim, but that is why we went, and the nap in the park was lovely.
Click here to view more photos from our trip to Santander and Bilbao.