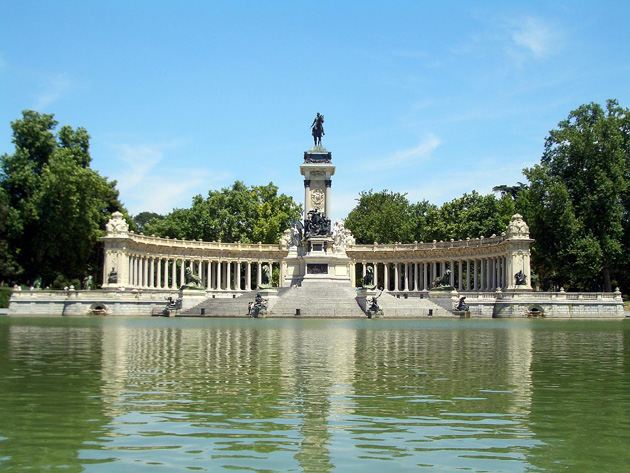 Parks and Gardens in Madrid
Posted on August 8, 2010 at 1:07pm Madrid / 7:07am Cincinnati by Kelly Larbes

Madrid proudly boasts more trees per capita than any other capital in the world. Only Tokyo has more trees, and they have three times the population. This fact makes Madrid a great place for me since I love city parks. I love the contrast; being surrounded by large buildings and bustling life one minute and then being lost in the middle of lush green trees, grass and flowers the next minute. And the fresh smell is always invigorating after being among the exhaust and pollution that fills the streets of any city. Jay and I spent that last few weekends visiting some of Madrid's parks and gardens and we have barely scratched the surface.
Almost all of the parks and gardens in Madrid are well kept: plenty of trees and dense green grass with well manicured lawns and bushes. This characteristic was a pleasant surprise to me considering it almost never rains in the summer and temperatures reach into the upper 90°s Farenheit almost daily. I expected them to be more like the city parks we visited throughout Italy, which were usually full of dry barren spots. Madrid works hard to keep them pretty.
And I know most of the parks in the city have a rich history, but this gets stored in my short term memory and is quickly forgotten. I remember seeing the sights, walking along the paths, laying in the grass, and people watching.
Retiro Park
Retiro Park, Madrid's main city park, is probably my favorite city park in the world because it has so many interesting aspects: walking paths, gardens, forests, Dr. Suess trees, a lake with row boats, statues and monuments, fountains, playgrounds, a glass building, art exhibits and more. I fell in love with Retiro during my first visit to Spain in 2001 and I was excited to share it with Jay, so it was the first park we visited after the West Park (the park closest to where we live).
We made the baneful mistake of sleeping in late and not going until the afternoon in the sweltering heat. Living in Madrid has quickly made me understand the traditional Spanish siesta. In July and August, the mornings are cool and comfortable (mid-60°s F and 70°s F) until about noon when the temperatures slowly rise to oppressive levels. I was really looking forward to the row boats at Retiro, but we decided to save them for another time and stick to the shade. Since there is very little humidity, the air feels fine in the shade; it's just the sun that can be unbearable.
Even though we didn't make it onto the lake ourselves, we enjoyed seeing the impressive monument behind the lake and the people watching. We watched children splashing water as the parents scolded them in vain and men rowing while their ladies sunbathed at the front of the boat (this being the exact reason Jay was not about to step in a row boat with one set of oars when it was 98°F outside — he didn't want to do all the work).
We walked along pathways that wove like a maze throughout the park and walked through a few of the gardens. My favorite garden had a bunch of trees that looked like they belonged in a Dr. Suess book! I also thought La Rosaleda, the rose garden, was enchanting, but there wasn't any shade, so Jay's interest there lasted about 3 minutes.
In the middle of the park there is a beautiful glass building call the Crystal Palace with a small pond in front of it. The Crystal Palace and the Palacio de Velázquez host free art exhibits. The Palacio de Velázquez was showcasing work of Antoni Miralda from the 1970s until today. I wasn't familiar with his work, but the exhibit was enjoyable, amusing, and often funny — plus the air conditioning was a nice bonus.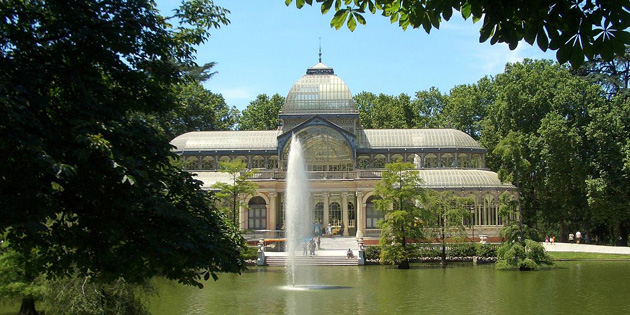 Campo del Moro Park
So far, Campo del Moro is my second favorite park in Madrid. I had never heard of it before a few weeks ago and I had no expectations, so it was such a pleasant surprise. This time, we were smart and made it out our door by 9:00 am, so we had the entire morning to enjoy the nice weather. As soon as we entered the park we were greeted by a beautiful view of a green fairway with the Palace in the background. Jay jokingly said he wished he had his 7-iron with him, and I had to agree that it looked beautiful for golf.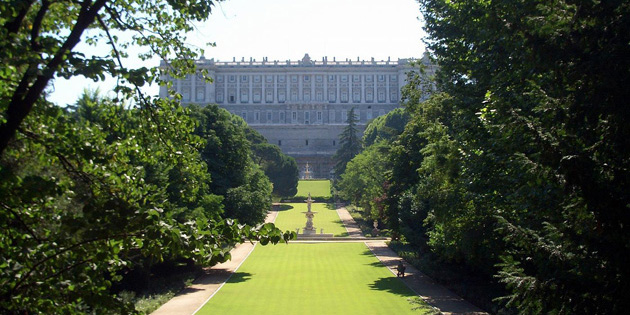 The park was quiet and is not often visited by tourists because it is not easy to find. Though it is right next to the Palace, there is only one small unmarked entrance on the back west side of the park. Most of the other visitors seemed to be elderly people sitting on park benches reading their morning paper. We walked along the tree covered paths, stopping at several pretty fountains and a pond. The pond had fish, ducks, turtles, and black swans. Sometimes Jay and I still feel like little kids — we spent way too long watching the baby ducks swim around and dive for food, and Jay said he was quite upset I did not tell him to bring food for the ducks.
Sabatini Gardens
Near Campo del Moro are the Sabatini Gardens. These gardens line the north side of the palace and we overlooked them from our hotel our first week in Madrid. They are much smaller than Campo del Moro and we stayed a short time to see the sculpted plants, royal statues, and reflecting pool.
The highlight for me was an energetic french bulldog zipping around the park. On one hand, he was well behaved and would quickly return to his owner as soon as she whistled because he had been out of sight for too long. On the other hand, he was quite mischievous. He greeted anyone who didn't shy away, swam in the reflecting pool, ran through the manicured hedges and seemed to pose in front of statues for me.
Royal Botanical Gardens
The Royal Botanical Gardens were the only gardens we had to pay to enter and ironically they were the only ones we found disappointing. They were the only ones that were not well kept. I imagined that it would've been much prettier in the Spring, but now there were many plots that were barren and dead. We really enjoyed the greenhouse though. There was a fun cactus room and tropical plant room that made up for the small entry fee (only 1.25 Euros each).
Casa de Campo Park
This morning we planned to take a day-trip to El Escorial, a town about an hour outside of Madrid that has an impressive monastery, but the bus didn't show up as scheduled. We waited an hour and then changed plans. We head to Madrid's largest park, just west of the city, Casa de Campo. Casa de Campo was formerly the Royal hunting ground and covers over 4200 acres. It contains hiking trails, bikes paths, a lake, an amusement park, the city zoo and more.
We walked around the lake, but decided once again it was too hot for a row boat. Instead, we watched other row boats and kayaks and an interesting "soccer meets kayaking" game being practiced on the water. I think the park would be best enjoyed with bikes because it is so large, so next time we may rent bikes. This time we stuck to the shaded walking paths and yummy Magnum ice cream bars.
One of the parks main attractions is its cable car that transports you from Casa de Campo Park to the West Park right in our neighborhood. It provided a great view of the park and of some of Madrid in the distance and it capped off another fun Madrid park experience. It wasn't what we planned for the day, but Jay told me to turn my frown upside down, (seriously, he literally told me that) and we ended up having a great day anyways.
Click here to view more photos from our park visits and sightseeing around Madrid.