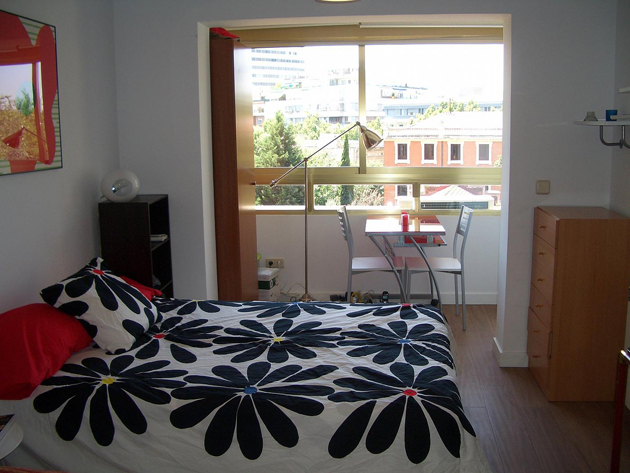 First weeks in Madrid – the challenges
Posted on July 25, 2010 at 10:48pm Madrid / 4:48pm Cincinnati by Kelly Larbes

Thankfully, we've had no catastrophes our first few weeks in Madrid — just our fair share of challenges: such as taking eight hours to open a bank account, getting our eleven large boxes to our apartment, and me repeatedly standing inside elevator doors waiting for them to open automatically.
There is so much to do to get settled into a new country, from finding an apartment and moving in to getting new cell phones, internet, bank accounts and on and on and on. Of course, everything takes longer than expected and is usually more complicated than expected. Overall things have gone well. We've felt blessed to have experienced way more of the good stuff than the challenges. And most of the challenges we've experiences even had a silver lining of goodness.
THE CHALLENGES
Spanish language
It seems more people in the service industry in Croatia spoke English than they do here in Spain, so thank goodness I can speak enough Spanish to get by. I'm constantly asking people to repeat themselves and slow down. "No entiendo," meaning "I don't understand," has been my most frequently used phrase, and I'm pretty sure I usually look like a deer caught in the headlights. I really have been enjoying the practice, but it has been tough, especially while opening up a bank account and getting internet — I don't know many banking and technical internet words in English, much less in Spanish.
Finding an apartment
Finding an apartment mostly challenged my Spanish speaking skills and also my patience. Almost every apartment lacked something important to us. About 90% of the apartments ads (below 1000€ a month) showed no air conditioning, and if I inquired about one, I was always told the apartment didn't need one because it didn't get that hot. Temperatures in Madrid top 100°F in the summer, so, yes, Jay and I need our air conditioning. Some apartment ads promised air conditioning, but when we'd arrive there would be none. Others had windows that offered little light and looked out to a gray cement wall a few feet away. Or there was crazy construction work in the hallway that didn't appear to be ending any time soon.
Luckily, we ended up in an apartment we really like. It is small, but utilitarian and contemporary. Most things feel nice and new. We have air conditioning, plenty of storage, a space for everything we need to do, a wonderfully big window with a nice view, and a shared backyard. And it is even quiet.
Transporting our boxes to our apartment
Eleven of twelve boxes we shipped from Croatia arrived quickly and fully intact. (We are missing a computer screen, which we think should be arriving soon since we just payed $55 in import taxes.) We only needed to move them a few blocks from DNX Group to our apartment, so we didn't want want to pay to have someone move them, but we also didn't want to carry them by hand because several of them weighed nearly 45 lbs. I asked around for a dolly (which itself was a challenge) and we ended up borrowing a rickety old shopping cart from José, who runs the parking garage beneath our apartment. We looked completely ridiculous — kind of like homeless bums — rolling this shopping cart topped high with boxes down the street, but it only took three trips and it was free.
Elevators and doors
I can't count how many times in our first week I stood in an elevator waiting for the doors to open and nothing happens because it is a manual door that needs to be pushed open. You'd think I would learn the first time, but I haven't. I always forget.
I've also had problems with doors, particularly bank doors. Even when the banks are open in Madrid, you have to press a buzzer button to unlock the front door and enter. And it is not a giant yellow button or something that catches your attention. The first three times I tried to enter a bank, I was so confused because I would see people inside, but the door was locked. I would pull and pull thinking it was stuck, and eventually someone inside would take pity on me and press a button to let me in. It took me a while to catch on.
Opening a bank account
The doors of the banks were just the beginning of my tribulations trying to open a bank account. The first day I went out to accomplish this, I found out the banks here are only open Monday through Friday, 8am – 2pm (Jay and I decided we should become Spanish bankers).
The next day, it took me almost five hours and visits to eight different banks to open an account. (And this was after a meeting so I was wearing heels and lugging my laptop around.) I had to wait in a line at every bank and each one had a unique reason it couldn't help me. A few branches just served businesses. A few wanted a foreigner identification number. One said I had to show justification for earning my initial deposit (I didn't understand her at all). Another said they didn't offer accounts for foreigners (he just didn't want to help me). Another wanted to charge me a 60€ fee for "securities" for opening a foreigner's account. Finally I found a very nice gentleman at Santander Bank who helped me. Next up is figuring out the internet banking side of the account and how to pay our landlord. And I'm still waiting for the ATM card to arrive in the mail.
Internet in our apartment
Acquiring internet for our apartment has been highly stressful because it is essential to Jay's livelihood (he cannot work at all without it). We ended up staying two extra days in our temporary hotel to ensure he had properly working internet. After researching many options, we decided to get Vodafone's wireless wide area network internet, which is supposed to work reliably city wide. We considered this our best option because we would have it instantly and it could travel with us. We chose wrong. It was fine for surfing the internet, but unreliable for phone calls — some would sound fine, but others were too choppy. We need reliable phone calls, so that meant standing in more lines and opening up a new account for ADSL internet with Telefónica's Movistar.
The technician came to install the ADSL internet, but of course it didn't work. He said there was something wrong with our central line. He told us it would just be just 24 hours until it worked. Every day for two weeks we were told "mañana, mañana," meaning, "tomorrow, tomorrow." Telefónica sure lived up to Spanish stereotypes.
Luckily we found a wonderfully nice hotel manager at Apart Suites Muralto (a place we almost stayed our first week here) who let Jay use their hotel business center. We were so thankful; I wanted to give her a big hug. And one day the ADSL internet just started working. I was so excited. I did a happy dance and ran around the apartment like a little banshee.
We've encountered new mini-challenges everyday, but that's part of life no matter where we live. I'm just looking forward to more of the good stuff Spain has to offer.