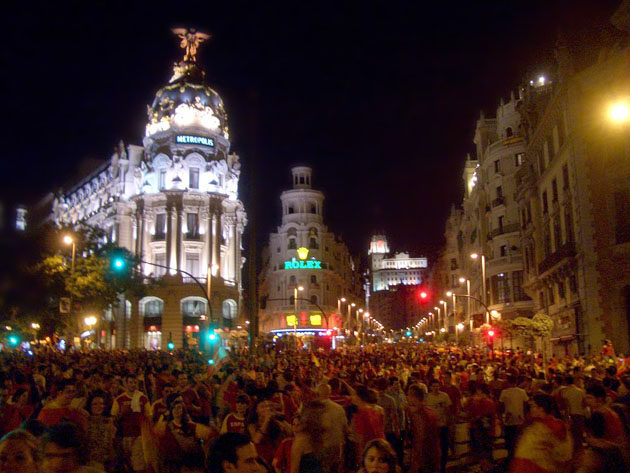 Experiencing the World Cup in Madrid
Posted on July 21, 2010 at 8:46pm Madrid / 2:46pm Cincinnati by Jay Larbes

As I'm sure you all know, Kelly and I had the fortunate timing of moving to Madrid, Spain right as Spain was in the middle of its run to winning its first ever World Cup. And as you'd expect, I jumped right into the mix, cheering on Spain. I absolutely reveled in the experience. Wow, how much fun it was to watch the matches with the locals and partake in the cheering, singing and celebrating. We arrived in Madrid on July 1, just before the quarterfinal round. Here's my attempt to capture the spirit and my memory of our 'viewing experiences'.
Saturday, July 3: Quarterfinal Match vs. Paraguay
As Kelly has already shared in her previous blog, the football match was actually not the biggest happening in town this night – Madrid hosted its annual Gay Pride Parade which culminated in a free Kylie Minogue concert attended by several hundred thousand people. In between the parade and the concert, we watched the match at "Las Delicias del Jamon" – a local tapas bar / deli / butcher shop. The place had a very authentic, down-to-earth feel about it. One side of the restaurant comprised a deli counter and a bar, and about a dozen 2-4 person tables filled the rest of the place. All four walls were covered with about 100 hanging dried pigs legs.
We arrived right at kickoff and grabbed the second-to-last table. We enjoyed watching the match with the locals, and listening to their cheers and jeers. Of course, the place erupted when Spain scored the sole goal of the match, and everyone applauded when the game ended. Later that night, we saw lots of supporters decked out in their Spain apparel – even some dogs!
Wednesday, July 7: Semifinal Match vs. Germany
We weren't sure where to watch this game this time, but about an hour before kickoff, Kelly received a tip from our hotel receptionist to go to Real Madrid stadium, where they were showing the match on giant screens. The stadium was about 25 minutes away (walking and subway). We weren't certain which station to get off, but we figured it out real quick when the entire subway train emptied and everyone started cheering and blowing horns. It brought a huge smile to our faces right away – and mine hardly went away the whole night.
Exiting the subway station placed us right on top of the stadium. The place was buzzing – it had a definite tailgating feel to it. Vendors were selling souvenirs and fans were downing beer – it wasn't allowed inside the gates. After walking through security into the plaza outside the Real Madrid stadium, we found the four giant screens surrounded by mobs of people. I'd estimate we stood with about twenty thousand people to watch the match.
It was a blast to see and hear the crowd wave flags, blow horns, cheer, gasp, moan and applaud throughout the entire match. Fans continually sang several cheers/fight songs, including "yo soy Español, Español Español!" (I am Spanish) and "Este partido, vamos a ganar" (We will win this game). Written down, they don't look like much, but I enjoyed cheering along with them – and I heard them quite a bit the next few days!
We were very amused during the game that a group of college-aged Spanish men accused us of being Germans. They looked at us – about a foot taller than the average Spaniard, blondish hair, fair-skinned, not decked out in Spanish colors – and assumed we were rooting for the enemy! We assured them that we were from the USA, which brought big smiles and enticed them to chant "USA! USA! USA!" (they were among the leaders in starting all chants throughout the match). Later on, they asked us which state, which of course resulted in an "O-HI-O! O-HI-O!" chant! And of course, it must be noted, that these young men were, of course, under the influence of liquid courage.
After the match ended victoriously, we entered into the loudest subway station I have ever been in. Everyone was yelling and hollering and blowing horns. I thought it was great, but felt a bit sorry for the workers who were likely in for a long, headache-filled night. Oh well, it sure beats losing! And during our walk home, all of the cars were honking their horns and people were still singing and chanting. I believe we still heard celebratory car horns the following morning!
Sunday, July 11: World Cup Final vs. Netherlands
We had so much fun watching the semifinal match at the Real Madrid stadium that we returned for the final match – this time of course decked out in Spanish (and University of Cincinnati) red. Only one problem, there was no buzz and no crowd, just a few dozen other fans looking around confused with us. The vendors were still all set up – we spoke with a couple of them, and they informed us that the viewing party was at the Plaza de Colon, "about a 15 minute walk away".
Of course, a 15 minute walk really means about 35 minutes (about 2 miles). We had begun to get worried that we had gotten lost, but we eventually found our way, and found the party. The city shut down the street between two squares and set up at least eight giant screens for everyone to watch. Newspapers estimated 300,000 people watched the match here. And of course the crowd's spirit was just as energized as Wednesday, except that the crowd was a multiple of ten larger! Absolutely awesome.
It was quite a nerve-wracking game, with no goals scored during regular time, leading to extra time. When Spain scored the goal with only a few minutes left in extra time, absolute bedlam ensued. Horns, yelling, everyone jumping up and down. Fireworks, cheering, hugging, singing. Everyone calmed down – just a little – to make sure that the goal held up for the final minutes of the match, and then the celebration began! We spotted a few grown men in tears – this is after all the first time Spain has won the world cup – and right as the game ended, the barricade protecting the drained fountain was pulled down and everyone rushed to celebrate around the fountain's statue. We have since learned that this is a Spanish celebratory tradition, and is likely why this fountain was emptied. We saw photos the next day of other people splashing around in the fountain beds.
After the match ended, the streets became flooded with more than one million revelers, and the largest street party that I have ever experienced ensued. We walked around town for a couple of hours, taking it all in. We made it back to our apartment shortly before 2 a.m., and I'm sure that the party lasted until sunrise.
I feel so lucky that the timing of our move to Madrid coincided with this World Cup run. It was so much fun, and I understand and value how unique and rare of an opportunity it really was — the World Cup is the largest sporting event in the world, save the Olympics. I also have a great appreciation for the rarity of championships, coming from Cincinnati. I joked to Kelly: we have lived in Cincinnati for the last 20 years without witnessing a championship, it only took two weeks for it to happen in Spain!
Click here to view more photos from our World Cup viewing experiences.