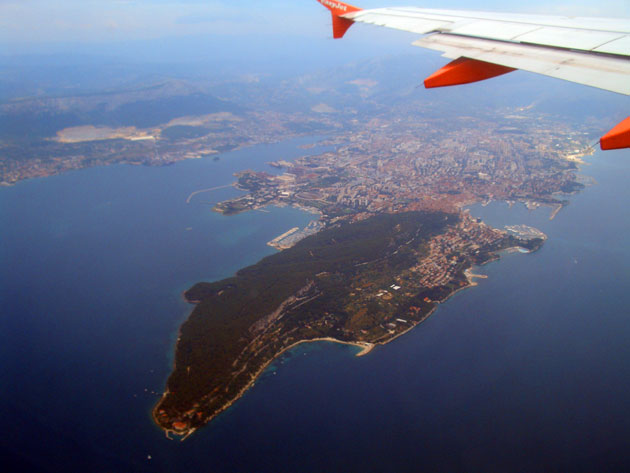 Goodbye Split, Croatia
Posted on July 5, 2010 at 9:39pm Madrid / 3:39pm Cincinnati by Kelly Larbes

As I write this I am sitting in Milan's airport waiting to board our plane to Madrid. One flight down and one to go. I'm too tired to really know how I feel about leaving Split and making Madrid our new home. Right now I am just worried about making it on the plane with our slightly over-sized and overweight carry-ons without anyone stopping us to make us check them instead.
I accidentally (and stupidly) packed my beloved Cutco scissors in my carry-on and thus lost them to the bag screener in Split. I told him they were wonderful and would give him a lifetime of great use. I was sad to see them go, but if the rest of our luggage makes it to Madrid without any hiccups, I will feel very blessed.
Our last few days in Split have been bitter sweet. We've grown to love so much about the city, but we are excited for our new adventure. Its easy to know what we will miss most: the people we've met. We've had the opportunity to meet people from all over the world with fascinating perspectives. I've learned a lot and made some wonderful friendships. We had a going away soiree a few nights before we left and were joined by friends from eleven different countries. It amazes me we all got along so well with such different backgrounds.
Besides the fun people we've met and great conversations we've had, there is a lot more we will miss too:
The Adriatic Sea
I can't really explain why, but like many people, I feel drawn to the water. Especially in Croatia, the sea feels so peaceful and relaxing to me. I'll miss its beautiful colors and amazing clarity. I'll miss being able to take walks along its coast, sitting and listening to its small waves hit the rocks and tumble them together, and taking a swim in its refreshing turquoise water.
The islands
Croatia is one of the best places in the world for island lovers, boasting over 1200 islands (60 are inhabited). There were four larger islands near Split that we could easily get to in less than an hour and a half: Šolta, Brac, Hvar, and Vis. I'm going to miss being able to say, "Oh, we're just going to an island this weekend," like it was no big deal (because it wasn't a big deal when we lived in Split). Šolta and Brac were great for day trips: just a 15 minute walk to the ferry and a quick 50 minute ferry ride. The islands boast the clearest, most beautiful sea water I've ever seen.
Marjan Hill Park and my beautiful running path
I never really enjoyed running, and I still don't consider myself a runner, but thanks to Split's beautiful running paths and lack of women's recreational sports, I am running more now than ever. Marjan Hill is a large pine-forested park on a hill overlooking Split. I'd often run around the base of the park on a path above the sea. I'll miss always having such a beautiful view while I run: the ragged coast line, the sea, the islands, the children swimming, and the slanted trees whipped by the wind rounding the edge of Split's peninsula.
Long Spring and Autumn seasons
Spring and Autumn are my favorite seasons and they lasted so long in Split. I'll miss the perfect mid-70°s F and sunny weather that lasted for months. It was perfect for running and hiking and picnics at the beach.
Narrow alleys and Roman ruins
Split's old town and old neighboring suburbs were always fun to walk in. I'll miss all of the narrow little streets and old worn stone buildings. I'll miss the random little altars and patches of purple flowers seen in the sides of the stone walls in our neighborhood, Varoš. I'll miss walking through ancient Roman ruins full of modern day life. The street were always romantic at night and lively during the day.
Small town feel
Even though Split is Croatia's second largest city, it had a small town feel to me, and there was a lot I will miss about that. I'll miss being able to walk almost everywhere so easily. My work, friends' homes, groceries, restaurants, and recreation were just minutes away. I'll miss randomly running into someone I knew on almost every outing into town. It was easy to see friends and make plans on a moment's notice.
Quarter-loafs of fresh bread
I'll miss that in Split I could buy a quarter-loaf of the most wonderfully fresh bread for just 35¢. We'd buy fresh bread almost everyday for lunch sandwiches. A quarter loaf was just enough for two sandwiches, so there were never leftovers and it was perfectly fresh and so tasty every meal.
Smooth sweet ice cream
Split had the best ice cream I've ever had. It was so creamy and smooth. I loved that I could get half and half: two flavors in one scoop, and that it cost less than a dollar. My favorite ice cream shop was called Hajduk (named after the local soccer team). I'd always get half vanilla and half strawberry or half chocolate chip and half white chocolate. And they'd dip it in chocolate for free. Delicious.
Croatia will always have a special place in our hearts. We'll sing its praises to everyone we know to head there for a vacation. And we'll cheer for them loudly in all sporting events (after the USA, of course.) We'll still be talking about our Croatian adventures when we're old and gray.