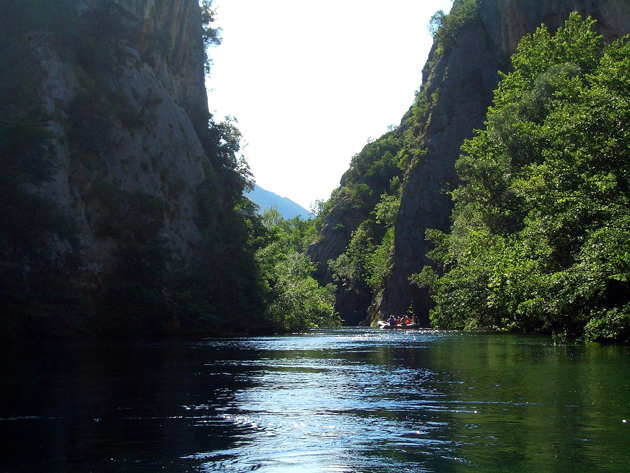 Rafting on Croatia's Cetina River
Posted on June 27, 2010 at 1:00pm Madrid / 7:00am Cincinnati by Kelly Larbes

Last Saturday we headed 45 minutes south of Split to the town of Omiš and the Cetina River for a rafting adventure with Milda and Mario. The weathermen forecasted rain for Saturday all week, but luckily they were wrong and we had beautiful sunny skies. The scenery along the river was captivating as we passed through the tall rock cliffs of the Cetina gorge, and our guide from Adriaturist made the entire 6-mile trip down the river fun.
The excursion had its very Croatian characteristics: we didn't have to sign any forms signing our lives away like we would've had to in the United States, we accompanied our guide and driver to pick up and prepare the raft in its storage garage (which was great because we got to drive through fun little Croatian villages), and no one tried to sell us extra souvenirs like t-shirts or photos. Jay joked that signing your life away in the United States means you are about to have a lot of fun, which I agree is usually the case.
We confronted just a few treacherous rapids on the Cetina River, but they were the best part. After looking at my photos, my Dad commented that it looked like we didn't encounter any rapids at all — we did, but I just couldn't take photos of them because there was water flying everywhere and I was trying not to fall out. On the best rapids our guide yelled, "Bomba!" which meant we had to quickly plop in the bottom of the raft so we didn't fall out or hit our head on tall rocks. Jay and Mario bombad perfectly together — a dramatic bounce up and a plop down all in unison, and we all slid around the floor of the boat as we made our way down the rapids.
We had to get out and walk for about ten minutes of the excursion. We weren't permitted to experience the most perilous rapids. That was a bit disappointing, but our guide assured us it was for our own safety and we saw two other guides face those rapids solo too. Our guide just ignored Jay when he tried to convince him to let us come along.
The extra little unexpected parts of the expedition are what made it memorable to me. Our guide gave us time to get out and swim. The water was cool and refreshing and remarkably clear compared to rivers I am accustomed to seeing. There were several small waterfalls that fed into the river. Our guide led us under the frigid waterfall and into its interior so we could see the back side of the waterfall. Mario held onto the rock wall so we didn't slide back under the water as our guide took a photo of us.
We also had the opportunity to jump off a humble cliff (about 20 or 25 feet tall) into the river, which is something I've always wanted to do. I remember being fearful the few seconds before I jumped, but it was completely exhilarating. I thought the mid-air photo of me was hilarious when I zoomed in; I looked completely petrified.
The trip was over before we knew it; it was hard to believe a few hours had passed. We exited the river at the Radmanove Mlinice Restaurant. We stayed for a relaxing dinner in the shade of the forest. The warm bread baked under coals in their large stone ovens was delicious and it was a nice way to end the day. It's sad for me to think that this was our last fun Croatian adventure before we move to Madrid, but it was definitely a good one to top off 15 months of amazing memories.
Click here to view more photos from our Cetina River whitewater rafting trip.