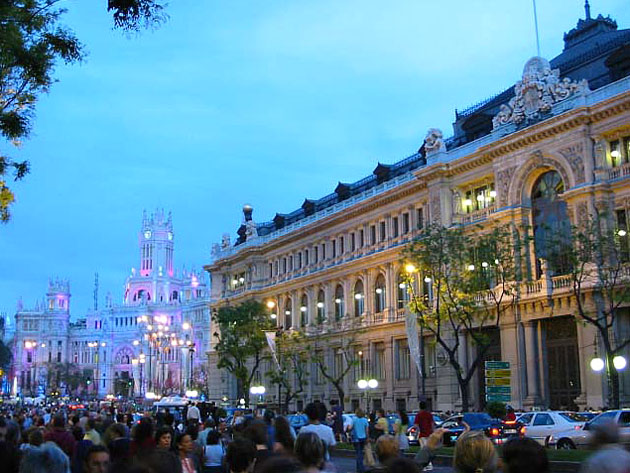 We Are Moving To Spain
Posted on June 13, 2010 at 6:02pm Madrid / 12:02pm Cincinnati by Kelly Larbes

We are moving to Spain. We are moving to Madrid, Spain in July. It just seems crazy to say. I've wanted to live in Spain and to work for a talented innovation and design consultancy for a number of years now. I am so excited that I get to do both! And I know I am super lucky to have a wonderful husband who is enthusiastic for another new adventure.
We have fallen in love with Croatia and we will miss it dearly, but I will save that discussion for another time. For now, I want to share some of the things I am looking forward to most about living in Madrid.
Becoming fluent in Spanish
I studied Spanish at Lakota West High School and Ohio University, but I never reached a very good level of fluency and now I forget half of what I learned. One of my goals is to become fluent in Spanish within the first four months living in Madrid. I know four months is a pretty arbitrary time line, but I figured I needed to set a date for my goal to help motivate me. By fluent, I mean I'd like to be able to speak comfortably and intelligently (even if I still make grammatical mistakes) and to understand anyone speaking Spanish, whether it is in person, on the phone, in a movie, or eavesdropping on the street.
I haven't devised a precise plan on how to accomplish this yet, but I know my biggest obstacle will be getting over my nervousness when speaking Spanish. I need to not worry about how stupid I sound right now.
Working for DNX Group
I am very happy to introduce DNX Group, the design and innovation consulting firm I'll be working for in Madrid once my work permit gets approved. Most of DNX's work focuses on studying how people use all different types of technologies and how to improve those experiences. Their clients include many of Spain's largest companies (Caja Madrid, Telefónica, RTVE, etc.) and Spanish divisions of other worldwide companies (Coca-Cola, MTV, Nokia, etc)
I'll be joining a team of about of about 40 professionals from all different fields including engineers, programmers, sociologists, psychologists, anthropologists and designers. It is a group of very smart people (at least the 10+ people that I have talked with are) and I can't wait to join them. Here is an article about them if you want to learn more. And here is Google's English translation of the article.
Learning about a new culture
I've always enjoyed talking to people with different backgrounds and different nationalities because they always seem to have fascinating stories. Living in Madrid will give us the opportunity to meet a lot of Spaniards and to learn more about their culture.
Learning about a new culture isn't just interesting to me, but I think it also makes me a more tolerant person and gives me insight to appreciate more things in my life I've always taken for granted.
New places to visit
Obviously I love visiting new places and seeing new things. Living in Madrid will open up an entire new region of places that will be easy to visit. Spain has a wonderful train system that will make short weekend trips anywhere in the country convenient. And Madrid's airport hosts a number of discount airlines, such as Easy Jet and Vueling, making travel throughout Europe cheap!
Big city living
I've always thought it would be fun living in a big city. Madrid is a big city, Europe's third largest after London and Berlin. There are over 3 million people in the city and over 6 million in the metro area (similar to Chicago). I'm looking forward to the variety of life: distinctive people, random weirdness walking down the street, and lots of different activities. There will always be fun happenings: lots of cultural entertainment, sporting events, art exhibitions, music concerts, recreational activities and more. And there is an excellent metro system to get us all around the city.
There is so much to look forward to. Surely there is a lot I haven't even thought of yet. Eventually we will return to our true home, Cincinnati, but for now, I am very excited to make Madrid our new home.