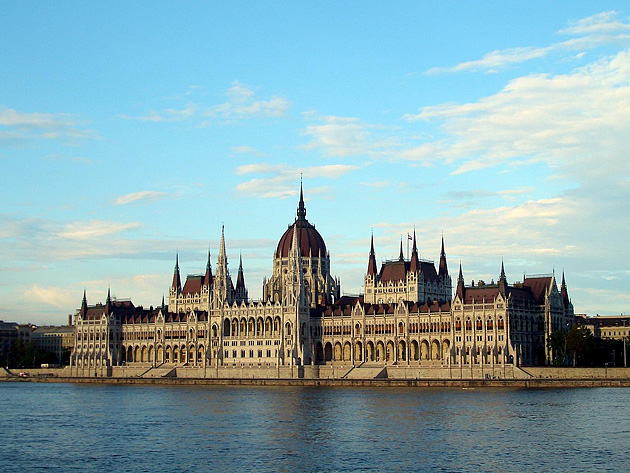 great architecture, food, shopping, and baths in budapest
Posted on June 8, 2010 at 10:48pm Madrid / 4:48pm Cincinnati by Kelly Larbes

Jay, our friend Paula, and I decided to spend America's long Memorial Day weekend in Budapest. Our rental car's GPS only had maps for Croatia, so once we entered Hungary, we were on our own. We were bound to get lost and we did. I swore we followed Google Maps' directions exactly, but somehow we ended up in the suburbs and nowhere near downtown Budapest. We eventually found our way to our hotel, adding 45 minutes to our 7.5 hour drive to Budapest from Split.
We were pleasantly surprised by the high ceilings and tall windows in our hotel room; it was the most spacious feeling hotel room I've ever stayed in. We were at Art'otel, so the entire hotel was appropriately decked out in original pieces of art. They were all by Donald Sultan, an American artist I hadn't heard of but with whom I was quite impressed. And it was appropriate (due to Jay's love of poker) that our room was at the end of a hallway full of playing card paintings. Jay was just bitter that our room wasn't marked by the ace of spades.
Our hotel was in the center of town right along the Danube River across from Hungary's dramatic neo-Gothic Parliament building. As we headed out for the evening, the Parliament was the first sight we took in. It is Hungary's largest building and the second-largest Parliament in Europe. It stands 96 feet tall, and no building in Budapest is allowed to be taller (Budapest's primary cathedral, St. Stephen's Basilica, is the same height, symbolizing equality of government and religion). To me, it is Budapest's most impressive monument. Every time I saw it throughout the weekend, I would just stop and stare (and usually snap a few photos).
We spent the evening walking around the east side (known as the Pest side) of Budapest looking at all of the beautiful architecture and stopping in a few clothing stores. The highlight of the evening was dinner at Kor Cafe, which I found on Trip Advisor. It lived up to its expectations; all three of us agreed it was the best meal we've had in a long time. I had chicken with scalloped potatoes and Jay and Paula both had beef tenderloin medallions with roasted potatoes. Paula was quite happy she chose the beef tenderloin over her second choice, a salad, and Jay said it was the best steak he has had in Europe. We capped dinner off by sharing a scrumptious warm apple cake in sweet cream sauce. We raved about the meal all weekend and would've returned on Sunday, but they were closed.
Sunday we started off the day with a free walking tour, just like we did in Berlin. The morning was warm and sunny, and this was a great way to see the highlights of the city and learn about some of its history. Hungary seems to have ended up on the short end of all of the wars in the 20th century, losing a lot of land and power. My favorite monument (besides Parliament) was the Fisherman's Bastion, which looked like it belonged at Disney World. Our guide claimed that Walt Disney used it as inspiration for Disney's fairy tale castle, but that claim seems more legit for the Neuschwanstein Castle in Germany.
Our next stop was a tour of the interior of the Parliament. We couldn't have picked a better time because it started to rain right before we entered inside. The forecast had called for rain storms the entire weekend, so we were quite happy that we got as much sun as we did. Luckily we made reservations for the tour before we arrived because all of the tickets were sold out for the day by the time we arrived (a tour is the only way to see the interior). The interior was grand and opulent like we expected. The center dome is surround by sixteen statues of former rulers. And in the center floor is the jeweled crown and scepter of King St. Stephen, guarded on either side by ceremonial guards in traditional uniforms. I am always amused by how stoic and still guards are throughout different capitals in Europe. I always feel like one touch would send them toppling over like dominoes. Though I appreciated the Parliament interior, I probably wouldn't recommend it to fellow travelers on short time-lines because there were so many other things I enjoyed in Budapest more and it was quite expensive at $15 per person (unless you qualify for the half-price student discount or you live in the European Union – then it's free).
We spent the later part of the afternoon visiting the Postal Museum (which was housed in a beautiful historic ritzy apartment), seeing the inside of St. Stephen's Basilica, and walking around more of Budapest. We walked along Kiraly Street, which we read was once run down and is now full of artsy boutique shops and contemporary furniture stores. I was disappointed that most of these were closed on Sunday, but the window shopping was still inspiring. We saw unique mirrors and lighting fixtures, plush pillows, wrought iron lamps with hand-made shades, and chunky coffee tables made of salvaged pine wood.
The Hungarian Opera House (which was used in the movie Evita) was our next stop as the rain started to pick up again. We had purchased tickets online for just $2 each to see the Italian opera Serse. Our tickets gave us the privilege of a side alley entry and four flights of stairs to climb to our nose-bleed seats, but I think we had the best seats in the house. We were mostly interested in seeing the interior and not so much the Opera, so our high seats gave us a perfect view. The interior is fantastically ornate with lots of red and gold. And there are many statues representing great composers such as Beethoven, Mozart, Verdi, and Wagner.
Our late night dinner didn't compare to the previous night's, but we enjoyed sitting outside listening to the rain fall under the protection of a large awning and fuzzy green blankets, which the restaurant provided for guests chilled from the rain.
In the morning we stopped in the city's large indoor market and at Heroes' Square before heading to the Szechenyi Bath and Spa. Budapest has been celebrated for its baths since Roman times. Seventy million liters of warm thermal water spring forth daily from its 118 natural thermal springs from below the city. The Széchenyi is the largest thermal bath of Budapest and was built in 1913.
All the baths at Széchenyi Spa are co-ed with swimsuits required, which was ideal so Jay and I could experience it together. The atmosphere was so different than my one previous somber bath experience in Japan. Here it felt like elegant grandeur meets old YMCA.
Jay and I tried out as many different baths as our time comfortably allowed while Paula got a massage. There were 15 pools (3 outdoor and 12 indoor) ranging from 68°F to 105°F. I lasted about five seconds in the 68°F bath; it was painfully frigid after getting comfortable in 105°F water. Being outside was fun; it felt peculiar being in a giant outdoor pool that felt like a hot tub. There was good people watching, and there were even men playing chess in the outdoor pool. I wish we had more time than we did, but we needed to take off so we didn't get home too late.
I am happy to say that we didn't get blown off the side of the road on the drive home. It was the windiest and scariest weather I've ever experienced in the car. Our little rental Peugeot 206 was getting blown all over the road. The electronic signs kept cautioning us of the strong winds, but we didn't need a reminder. They warned us to slow down to 25 mph from the normal 80 mph. My heart raced and I kept holding my breath during one particularly scary stretch winding around the mountains near Sveti Rok south of the capital Zagreb. The further south we got into Dalmatia, the more the winds calmed down and I relaxed. I was sure glad to make it home to Split.
Click here to view more of our photos from our trip to Budapest, Hungary.