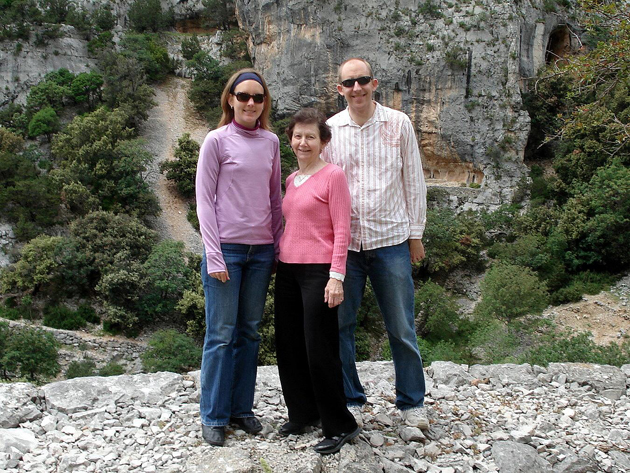 Aunt Christina comes to Split
Posted on June 2, 2010 at 11:36pm Madrid / 5:36pm Cincinnati by Kelly Larbes

Getting to Split from the United States is a lengthy and expensive trip, so we haven't had many guests. This May was an exceptional month because we had two sets of guests: first my family and then my Aunt Christina and her friend, Jean.
Aunt Christina and Jean were here for just three days (following a pilgrimage in Italy), but every day they were here we got to see or do something new.
Touring the Substructure of the Diocletian Palace.
Aunt Christina and Jean did not get to enjoy our typical beautiful Mediterranean weather. It was rainy and/or cloudy every day. The first day was the worst, so my friend, Paula, organized an indoor activity for us and a few other friends: a tour of the Diocletian Palace's basement. This is something that almost every tour group does in Split, yet Jay, Paula and I hadn't done it after being here for over a year.
Our tour guide shared the history of Split and the Palace as he showed us through the maze of rooms in the basement. There were lovely vaulted ceilings and incredibly thick walls. Excavations of the substructure began in the 19th century, but were mostly competed in the 1950s. The excavations taught archaeologists a lot about what life was like 1700 years ago in the Palace.
My favorite part was a room with a statue of Diocletian. If you stood exactly in the middle of the room and said, "hello," (or anything else) there was a strong echo and vibration that only you could hear. Supposedly this was Diocletian replying back to you.
Climbing the Bell Tower of St. Duje's Cathedral
Jay and I love climbing to the top of the cathedral in any town we visit to see great panoramic views of the surrounding area, so why we hadn't done this in Split yet was beyond our understanding. We did it with Aunt Christina though. We climbed 200 steps to the top.
The steps seemed a bit unsafe; at large openings in the tower walls there were just two thin railings keeping us from tumbling to our deaths. We understood why there were signs posted at the bottom warning us to climb at our own risk. I guess they just don't make attractions idiot proof here like they do in the United States. It was nice not to have mesh safety fencing obscuring my photos.
Hiking to the Hermitage of Blaca on the island of Brac
On the island of Brac at the head of a valley in the middle of nowhere there is the Hermitage of Blaca. The hermitage was founded in 1588 by monks fleeing from the Turks. The simple buildings of the hermitage hug the side of a ravine with a beautiful view out to sea.
When we got to the hermitage the inside was closed for renovation, but getting there was the experience. We followed a sign off the main road onto a rocky gravel path, which we drove along for about a half hour winding around hills, through the woods, and past a lot of sheep. It was an obstacle course of large bumps and large potholes filled with water. And we were never sure quite how deep they were.
We eventually made it to the beginning of our hike. There were two signs right next to each other; one said it was 2 kilometers to the hermitage and the other said it was 2.5 kilometers to the hermitage. We don't know which was correct, but its irrelevant because either way, it wasn't the easy hike we hoped for. The hike was rocky and uneven all the way there. And it was downhill, which meant it was uphill the entire way back. Jean was a trooper, but I think she might have been not so happy with us afterwards for the exhaustion we caused. At least the views were great and hopefully she was proud of herself for the effort. Aunt Christina is like my Dad, a little energizer bunny, so I think she could have done the hike twice.
Krka National Park, again
It was the second time I visited Krka National Park in just two weeks (this time with Aunt Christina and Paula), but it was a completely new experience. The park had gotten an unusual massive amount of rain in the last week, so the falls were completely gushing.
I had never seen anything like it. I hadn't even seen photos of the waterfall looking so powerful. The waterfalls I had swam in last year looked like they would surely kill me if I tried again then. It was interesting to compare photos of this visit to prior visits.
From Krka, we headed to the airport. Aunt Christina's visit flew by quickly. We were so happy she got to see some of the places we love, even if it was without the sunshine.
Click here to view more of our photos from Aunt Christina's visit.