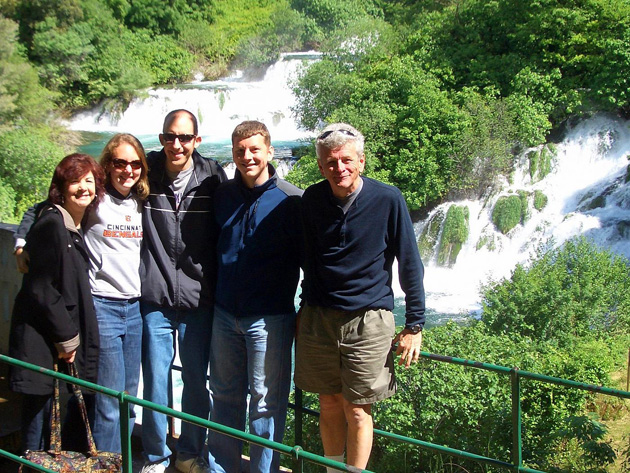 Croatia diary: My family's visit
Posted on May 26, 2010 at 10:55pm Madrid / 4:55pm Cincinnati by Kelly Larbes

Our move to Croatia was hardly a precisely calculated plan. Jay and I carefully decided to move abroad, but the fact that we ended up in Split, Croatia was more a combination of random coincidences and blind luck. Croatia is one of the most beautiful places I've ever been, so I feel very lucky that I ended up living here and I always wish I could share the experience with more of the people I love. That is one reason I write this blog, but there is something special about getting to share it in person. I was so happy that my Mom, Dad, and brother, Kevin, got to spend five days here to see many of the places we enjoy so much. Jay and I even got to see a couple new places.
Here is a diary from their time here in Split with us:
Tuesday, May 4
Our arrival in Split from Berlin was uneventful until we left the airport to find that for some unexplainable reason the trusty airline bus was not running into town. The bus was there and a driver was there, but he was just telling people the next bus wouldn't leave for three hours! Luckily we knew that one of Split's local buses passed in front of the airport and would only cost $18 for the five of us, so we avoided the $60 cab ride. We arrived at the stop at the same time as the bus, and we didn't have to wait at all.
As we walked from the bus terminal to our apartment, I think my dad tried to stop at every bakery we passed (and there seems to be one every 100 yards in Split). He loves his bakery goods and Split is the perfect town for that. My family sure fattened me up while they were here; Dad bought bakery goods every morning, Mom brought from home tons of delicious homemade cookies, and we ate out for dinner every night.
After showing off our apartment and eating our staple lunch of ham and salami sandwiches on fresh bread (plus lots of cookies), we headed off for a hike in Marjan Park. We got to show off our favorite panoramic view of Split. And we hiked through the woods to Bene Beach, the beach on the furthest edge of Split's peninsula. I only got us lost in the woods once, but we quickly found our way again.
Tuesday's dinner was at Konoba Marjan, our favorite local mom and pop restaurant. It has a dull atmosphere, but also the best food in town. The wife cooks and the husband serves. They don't speak any English, but luckily we've been there enough with Croatian speakers that he understands me when I trip over my words trying to tell him something I want that isn't on the menu – like yummy mashed potatoes.
Wednesday, May 5
The weather didn't cooperate with us today. It rained on and off as we drove south along Croatia's coastal highway to Makarska and Biokovo National Park. These places were both new to me and I wished Jay was with us, but he was back at home working. Hopefully we will get to see them again sometime when the weather is better.
Regardless of the weather, the drive was still beautiful and luckily the rain stopped long enough for us to enjoy the little old coastal town of Makarska. We walked along its waterfront promenade and through a seaside park adjacent to town before heading to the botanical garden of Biokovo National Park.
The botanical garden was located high in the hills above Makarska and the drive there was full of crazy hairpin turns on a single lane road on the side of a cliff. It was scary. Dad's driving was excellent, but Mom and I still closed our eyes and held our breath many times as we neared the edge of the cliff.
As we hiked through the botanical garden with our picnic lunch in tow the rain began to fall heavily. We found shelter in the ruined walls of a 17th century castle and enjoyed our lunch there. The rain was relentless so we gave up on our hike, ran back to the car through the rain and headed back north towards Split.
We made a small detour to drive through the town of Omiš and along the Cetina River. Next we decided to head to Klis Fortress, which is in Mosor Mountains overlooking Split. This began our second harrowing driving experience of the day. The GPS was set to avoid highways so that we would stay on the coastal road, but this was disastrous while trying to find Klis. We drove on narrow streets through neighborhoods on the hillsides and up and down steep hills. There were so many little streets, and the GPS kept saying things like, "Turn left, then sharp left and left." It sent us into multiple driveways and dead end gravel pits. We were just happy we made it out of the maze and eventually to Klis. By the time we made it there, the fort was closed, but the beautiful view and suddenly sunny weather made it worth the effort.
We capped off the evening watching Jay and Kevin play soccer with Jay's group of international guys. Kevin even scored his team's first and last (the game winner) goals.
Thursday, May 6
The sun shined on Split and made for a beautiful view as we left on the two-hour ferry ride for the island of Hvar. I was pleasantly surprised that I enjoyed the 20-minute bus ride from the ferry into Hvar town, as it gave us a good look at more of the island. (It was my first time on the bus — last year Jay and I took the summer catamaran ferry directly to Hvar town.)
Once we arrived in Hvar town (and went to a bakery with delicious cherry danishes first), we climbed up to the 16th century Venetian fortress. I'm sure the fortress has all sorts of great history, but I was just interested in the hike and the views over the town of Hvar and the Pakleni Islands.
In the afternoon we walked around town and took a long walk along the coast to the pretty little coved beach that Jay and I had enjoyed last summer.
We arrived back in Split to savor a traditional Croatian Peka dinner with our friend, Paula. A Peka is a meat (veal and chicken) and potatoes dish baked in an iron pot under coals in a fireplace for a couple hours. In many houses here in Dalmatia, especially on the country side, you have a special place in the barn or at the ground floor of the house for preparing the Peka. The slow cooking makes the meat and potatoes so soft and delicious.
Friday, May 7
May 7, Sveti Duje Day, celebrates the patron saint of Split. Last year I really enjoyed this holiday, so I was very happy my family would get to experience it this year. It was a fun atmosphere with what seemed like everyone in Split out on the Riva together.
In the morning we watched the religious procession and the beginning of the large Mass held on the Riva. The religious procession was like a Catholic parade showcasing bishops and priests, children dressed in traditional Dalmatian dress, and men in traditional military garb.
Afterwards Dad, Kevin and I went for a run in my favorite park along the sea, and then the family had Cevapcicis for lunch (everyone except me). Cevapcici is a mildly spicy sausage sandwich and the most popular Croatian fast food.
We spent the afternoon walking around Split and checking out the market and all of the shopping stalls that lined the Riva for the festival. We watched the kids running around with their balloons and pushing wooden ducks with clapping wings. Kevin bought his girlfriend, Kyleen, earrings and a cool chunky wooden bracelet. There was so much fun jewelry I would've loved to buy, but living in Croatia has successfully curtailed my consumerism knowing that I'll have to ship home everything one day.
After watching the start of Tombula, the Croatian version of Bingo, we had dinner at Jugo, which is a restaurant at the ACI Marina overlooking Split. The good food and great view made it my parents' favorite restaurant during their visit last year. Mother's Day and Kevin's birthday is Sunday (when they will be traveling) so we deemed it their celebration night.
Saturday, May 8
We had big plans for the day, but woke up at 7:00 am to torrential thunderstorms, so we postponed our departure until 10:00 am. We rented a car to drive north along the coast to visit Krka National Park and the coastal town of Primošten. At 10:00am the rain was still down pouring, but we headed off anyways. We decided to take the fast highway to Krka and hope for better weather for the coastal drive in the afternoon.
Heavy rain fell the entire way to Krka and we worried our day would be ruined, but as we arrived at the park the rain slowed. Within half an hour the clouds broke up, the sun was shining, and you never would've know we had such horrible weather.
Krka National Park has beautiful powerful waterfalls. The waterfalls are formed as the Krka river fights its way through a long gorge and plunges over numerous steep drops. We came here last year during my parents' visit and it is one of my favorite places I've been to in Croatia, so it was great to share it with Kevin. And we were lucky enough to have the park almost to ourselves since the morning rain kept many visitors away.
We drove back along the coast and stopped in Primošten, an ancient little town that was once located on a small islet but was connected to the mainland during the 16th century. There is a picturesque little church and cemetery overlooking the sea at the town's highest point. I'm always fascinated that the cemeteries in Croatia have the most prime real estate.
We returned to Split just in time to make it to a Hajduk soccer game. Earlier in the week they had won a big tournament, the Croatian Cup, so even though they were playing a horrible team, the fans were out to show their appreciation. Torcida, the group of true die-hard fans, sang and chanted the entire game. I think the fans put on a more interesting show than the team (I know that is such a girl thing to say).
Sunday, May 9
Mom, Dad, and Kevin left early this morning on their flight to Stuttgart, Germany. They were lucky to make it out of Split because Iceland's volcano was once again wreaking havoc on European travel. Both Split's and Stuttgart's airport closed in the afternoon. They are scheduled to leave Stuttgart in the morning.
Monday, May 10
Luckily Stuttgart's airport opened back up again. Their intended 15-hour trip turned into 24 hours with delays and missed connections. It wasn't a pleasant trip home, but it could have been a lot worse. I'm glad they made it home safely.
I miss them already.
Click here to view more of our photos from this week's excursions.