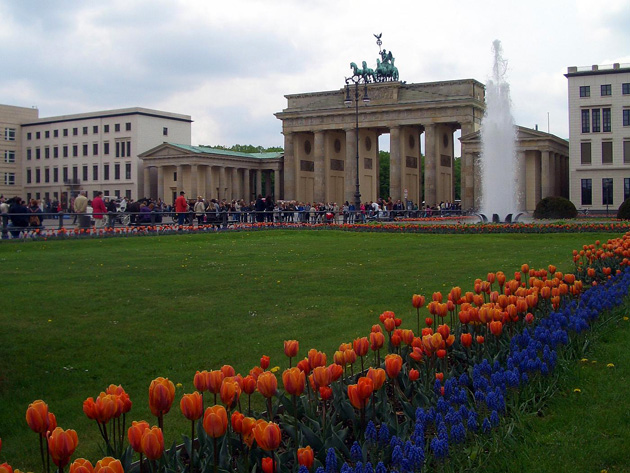 Weekend Away in Berlin, Germany
Posted on May 13, 2010 at 10:23pm Madrid / 4:23pm Cincinnati by Kelly Larbes

We were all ready to board the plane to Berlin, but we had to sit in Split's airport for an extra three hours while a mechanic inspected our plane to insure that the smoke momentarily seen coming from the brakes was nothing to cause alarm. I was too antsy and impatient to pass the time reading. I just wanted to get to Berlin. I paced around, bugged Jay (he was trying to read Sherlock Holmes on his Kindle), and watched two airport employees empty the terminal's trash bins every 20 minutes. We couldn't quite figure out why this job took two people or why they did it so often since usually the cans were still empty from their previous round. At least it added amusement to my wait.
After the three hour flight delay and accidentally taking the long route to our hotel from the airport, we abandoned our original sightseeing plans to scavenger for a good restaurant. We were hungry. The hotel receptionist directed us to a point on our map with lots of restaurants, so we headed there. We looked through windows of the first restaurant we passed, and we decided it was probably too expensive because it looked nice and contemporary. We passed the second restaurant, the third, and then the fourth with the same reaction. We finally realized that these were just normal restaurants. We had gotten so accustomed to the country kitchen feel in all of Split's restaurants, so we were overwhelmed by the abundance of contemporary restaurants.
We decided to save the traditional German meals to share with my family the next two days and settled on a nice little Italian restaurant. After dinner, we took a long walk through the city. Brandenburg Gate was most impressive lit up at night. Our walk was dampened momentarily by a rain shower, but luckily it was a short one because we were an hour walk from our hotel and I wasn't ready to head back via subway.
I decided that my favorite thing about being in a really big city is that I get to see so much random weirdness — such as guys walking down the street pulling a wagon of full beer bottles, a giant hot pink mo-hawk, and a guy dressed as a storm trooper (these were three separate events, unfortunately).
I usually have no problems sleeping in really late, but the next morning I was wide awake with excitement of seeing my family. I went for a short run along one of the river channels running through Berlin. I was pleasantly surprised to find a park and a beautiful tree-lined path. It was a peaceful oasis in the bustling city. Large city parks are my second favorite thing about big cities.
I was so happy to see my family when they arrived at 11:00am. They were mostly moving on adrenaline as they hadn't slept much the night before and their body clocks thought it was 5:00am. We spent the afternoon on a four-hour walking tour. We didn't know what to expect from the tour because it was free, with the guides just working for tips, but we were very happy with it. Berlin has such a fascinating history, and it was great to be told so many stories instead of having to read them in our guide book. We learned a lot about about East and West Germany and the Berlin Wall. Jay had reviewed most of it during his high school German classes and seemed so happy to see it all live. Our walking tour ended at the Berliner Dom, Berlin's largest cathedral, so of course we took it upon ourselves to enter the cathedral and climb up to the cupola – about 300 steps each way! This is becoming one of our sight-seeing traditions.
For dinner we returned to the park I had ran through in the morning and had a meal at a traditional German restaurant set around the woods. I made a safe choice with chicken, but Jay and Kevin had currywurst (pork sausage with curry sauce), which they liked so much that everyone had it again the next day (besides me because I don't like sausage).
On the way back to the hotel we passed a few guys spray painting a portrait of Donatello, the Teenage Mutant Ninja Turtle, on the side of a building. It seemed so out of place to me because it was still daylight and I always think of spray painting as a rebellious nighttime activity. Clearly this isn't the case in Berlin. I have definitely never seen a city with so much spray painting. Most of the paintings are pretty good and some are even quite clever. There was so much all over the city that it made me wonder if it was legal; I googled it, but couldn't find much information.
The next morning we woke up to a light drizzle and the sky indicated it wouldn't be letting up any time soon. Luckily we had planned to visit the DDR Museum (which at first Jay tried to convince me was the Dance Dance Revolution Museum) in the morning so we would be indoors. The DDR Museum was a fun interactive museum that showed what life was like in East Germany before the fall of the wall. The funniest part was that a lot of what Jay and I saw in the museum resembled life in Croatia today, such as the eerily similar work booklet and the small Trabant car that mirrors the Yugos still be driven around Split today. The museum also had an exhibit that portrayed a typical East German apartment. And it looked JUST like so many apartments here – kitchen, bathroom, large wall shelving/over-sized entertainment center, everything. We felt right at home.
From the DDR Museum, we took a short train ride out to the East Side Gallery, an almost mile long section of the Berlin Wall that consists of about 100 paintings by artists from all over the world. They were first painted in 1990 after the fall of the wall and then were restored in 2009. The wall had not yet been covered in graffiti because it was on the East Berlin side, where graffiti was banned. I enjoyed the cleverness and wide variety of style and subject matter among the paintings.
Next was the Kaiser Wilhelm Memorial Church. The original was gorgeous old church, which was destroyed during WWII. Only part of the entrance and spire survived. Instead of rebuilding, the old bombed out church remains and a new modern church was built right next door as a memorial.
As we left the church, the rain started to fall again so we made our way to KaDeWe (Kaufhaus Des Westens), Europe's second largest department store. I almost cringe when I hear myself say that we went to a department store with less than three days to spend in Berlin, but it was a fabulous department store. One floor had every type of food you could imagine, and each section had a bar-like restaurant. The food was beautifully presented and the deserts looked decadent. The fish section was half scary and half intriguing. I felt like an jittery little kid wanting to hide behind my mom so I didn't have to see all of the scary fish heads.
Luckily the rain slowed down, so we left KaDeWe and made our way up Ebert Strasse towards the Brandenburg Gate and the Reichstag (German parliamentary building). We stopped by the Memorial to the Murdered Jews of Europe, an engaging art installation covering 4.7 acres with 2,711 concrete slabs. There is one for each page of the Talmud, a central text of Judaism. The slabs vary in width and height and slightly different angles in a grid pattern along a sloping field. The installation is open to a lot of different interpretations. It definitely gave me a sense of orderliness meeting with confusion and mindlessness.
We thought our next stop would be a visit to the Reichstag, but the line outside was an hour long and the rain started up again, so we decided to come back later. We ended up taking a ride around the city on the above ground train, making use of our full day train/subway passes. It wasn't anything eventful, but it was nice seeing more of the city.
We ate dinner and then returned to the Reichstag, which worked out perfectly because we were there for the sunset. The Reichstag has a unique glass dome that offers a panoramic view over the city and a view down into the main hall of the parliament. It was wonderful for seeing the city lit up at night.
Then we made one last walk by the Brandenburg Gate and headed back to our hotel for a good night's sleep before we left for Split in the morning.
Click here to view more of our photos from our trip to Berlin, Germany.