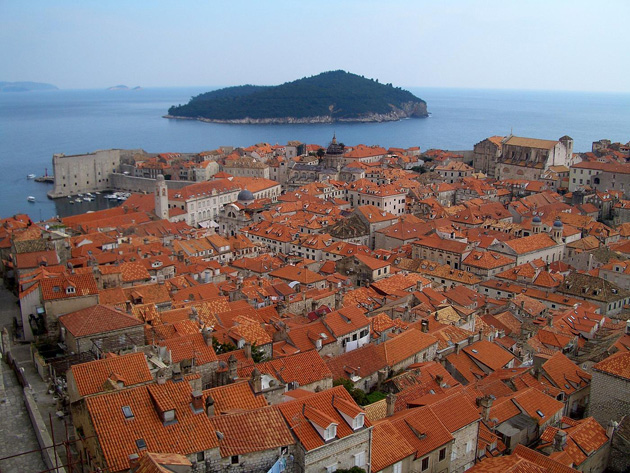 road trip south along croatia's coastal highway to dubrovnik
Posted on April 17, 2010 at 9:32pm Madrid / 3:32pm Cincinnati by Kelly Larbes

Most people in the United States can't name one city in Croatia, and among those who can, it is usually Dubrovnik. Dubrovnik is Croatia's most popular tourist city, and a few months ago CNN hailed Dubrovnik as the new hotspot for U.S celebrities. Visitors have included Beyonce, Jay-Z, Kevin Spacey, Stephen Spielberg, Andre Agassi, Gwyneth Paltrow, Tara Reid, Robert De Nero, Clint Eastwood and Sharon Stone. It is the city my family knew (and loved) before we moved here because they stopped there on their Mediterranean cruise a few years ago after Kevin finished studying in Barcelona. And yet somehow it took us over a year living in Croatia to make it there.
We finally made the visit last Saturday and it was the perfect time of the year; we avoided the insane summer crowds and we still had great weather. The day started out with another great road trip. We were on the same coastal highway we took a few weeks ago, but this time we set off south and we were with our friends, Milda and Mario. The highway hugged the coast the entire four hour drive to Dubrovnik. We stopped twice: once for a photo opportunity and once for short snack break. The scenery made the time pass quickly and I snapped lots of
photos out the car window as we drove along.
Our snack break was actually in Bosnia and Herzegovina. Bosnia and Herzegovina has a short strategic stretch of coast 16 miles long that divides Croatia. It felt odd having to go through passport control twice in 20 minutes. And I think the passport control agents found it odd to be handed one Croatian passport, one Lithuanian passport, and two American passports.
As we neared Dubrovnik, it started to rain and we worried our day might be a wash, but luckily it lasted just five minutes and the sun came right back out. The Old Town of Dubrovnik is crammed full of tiny houses, churches, schools, and winding alleyways. Walking through the town reminded me a lot of walking through Split's Diocletian Palace. But there are two things that Dubrovnik has that separates it from other Croatian towns: It is surrounded by an ancient fortified wall that provides a picturesque walk and almost ALL of the roofs are orange tiles creating an idyllic view.
As we walked through town I noticed that our shoes and accessories dictated our continents and we perfectly fit the stereotypes. Milda carried an over-sized red purse and wore cute ballet flats. Mario carried a fanny pack and wore brown walking shoes. (Fanny packs are very popular among Croatian men, which used to make Jay and I chuckle, but the novelty has since worn off .) Jay and I shared a backpack and wore gym shoes – so American. Classic.
The mile and a quarter walk along Dubrovnik's town walls is one of its main attractions since it provides sweeping views of both the town and sea. The walls were built during the 15th century and around the perimeter there are several substantial forts. The first time the walls were actually used in defense against an attack was very recently during the war in 1991 and 1992. Citizens huddled in the forts as Serbs surrounded and bombed the city. The Serbs thought Dubrovnik would be an easy win, a big hit on Croatia's moral, and a good place to push north to Split. But Dubrovnik's residents resisted the siege better than anyone expected and after eight months of bombing, the Croatian army was able to liberate Dubrovnik. In the end, more than two-thirds of Dubrovnik's buildings had been damaged. Luckily the city decided to rebuild with the same materials and methods that it was originally built. The largest evidence of war that remains is that so many of the roofs look new and brightly colored.
Milda and Mario had walked the walls during earlier visits so they went for a coffee while we continued to the walls. Last year there was a $10 admission fee to the walls and this year they jacked up the prices to $14 per person. Luckily they accepted our student IDs (which are now 9 years old and barely look like us) and we paid just $6 each. Walking along the walls lived up to our expectations. We were happy that it was off-season and late in the afternoon, so we had most of the walk to ourselves. I snapped some photos and tried to figure out from which spot my family had taken their photos years earlier. We saw a guy fishing in solitude among tall rocks at the base of the walls and thought of Jay's dad. We wished he was here to enjoy the good fishing and pretty scenery.
After we met up with Milda and Mario again we headed to a cafe that clung to the outside of the walls and sat atop rocks that dove straight down into the sea. We enjoyed the day's last bit of warm sunshine as it was coming to an end. Before beginning back to Split, we drove to a panoramic view point that overlooked the Old Town. Croatia's new A-1 highway has not yet been completed down to Dubrovnik so we journeyed back the way we came.
We appreciated having time to get to know Milda and Mario a bit more. Mario grew up in Stobrec, one of Split's suburbs, and Milda grew up in Lithuania (former Soviet Union). They both joke about being Communist children and are nice enough to put up with our naive questions about the war and the fall of Communism. I think it helps that they were both too young to understand the devastation of the war at the time. Most of their memories are from those transition years from Communism to Capitalism.
I found it interesting that Mario had similar memories of the war as my co-worker, Maja. He was only eight years old when it began and his parents sheltered him from much of what was going on (which is pretty easy to do when there was no Internet, the media was state-controlled, and Split saw very little action during the war). He remembers the windows being covered so no light would escape and people driving without their headlights, but recalls the air raids almost as 'play time'. During raids he got to stay home from school, eat candy and play in the basement with his friends. That's a good life for an eight-year-old.
The Soviet Union suffered more than Yugoslavia during communism (much of the world supported Yugoslavia because they were anti-Soviet Union) so it seems that Lithuanian had a bigger transition from Communism to Capitalism than Croatia did. Though Lithuania didn't have to brave a war to see it happen. Milda remembers Lithuania being a bit in Anarchy. No one knew what to do or how to successfully govern after Communism fell. Gangs ruled territories and did as they pleased. Her father had a restaurant, but closed it because gangs would come, eat what they wanted, and leave without paying; it wasn't safe. It's hard to believe how quickly things have changed; Lithuania is already part of the European Union – and Croatia still is not, but may join in 2011 or 2012.
People's lives changed so drastically. In communist times, the government would assign new university graduates for work in the most-needed locations – people would not get to choose which city or town to live and work. But now, people could suddenly study what they wanted and work where they wanted. Like most grandma's, Milda's grandma is forgetful and would always ask Milda during university if she had received her "placement" yet. Milda would repeatedly have to remind her that things just weren't like that anymore.
Choices became abundant. People could pick from 10 different cars instead of just 3. Produce showed up in stores that people had never seen. Milda remembers being six years old and seeing a banana for the first time — what a great memory.
My favorite memory Milda shared was that she and her family were part of the Baltic Way (or Baltic Chain) in 1989. The Baltic Way was when two million people joined hands to form a human chain over 370 miles long. The chain spread across the Soviet Union's three Baltic states: Lithuania, Latvia, and Estonia. It was a peaceful protest to draw global attention to the popular desire for the independence of each state from the Soviet Union. Milda was only three years old when she attended the demonstration, so she isn't really sure if she remembers it herself or she's just been told stories so many times that they have become her memories. Either way, I think it was a pretty amazing piece of history, and a good story that made the ride home fly by.
Click here to view more of our photos from our day trip to Dubrovnik.