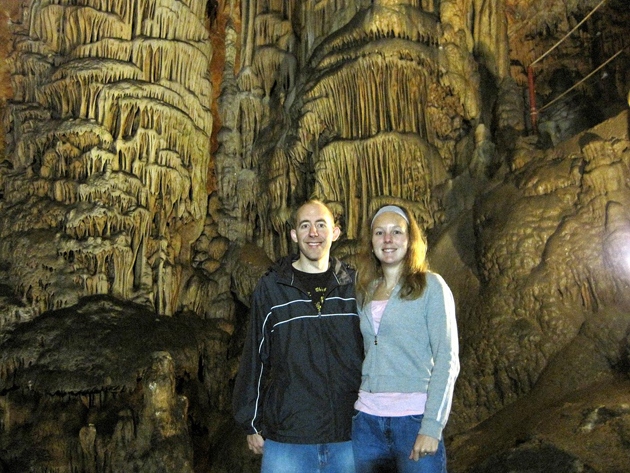 Vranjača Cave
Posted on April 9, 2010 at 8:20pm Madrid / 2:20pm Cincinnati by Kelly Larbes

Last Sunday we visited Vranjaca Cave with our friends Milda and Mario. It is just a 30 minute drive and 15 miles from Split, but thank goodness Mario was driving because Jay and I would have gotten very lost, and I don't think a GPS would've helped. We drove inland from Split and made so many turns that I lost all sense of direction. We passed through the town of Dugopolje, which is a quickly developing industrial town. There was so much construction, all of the streets were torn up (yet we were still allowed to drive on them), and it was a bumpy ride. Mario stopped once to ask for directions and we wound our way up the mountainside towards Vranjaca Cave.
We parked in a small gravel lot next to one other vehicle with Estonian license plates. We followed a path a quarter mile to a small stone hut marked as the ticket booth. There was a tv blaring inside, but no sign of anyone around, so we headed to the cave entrance. As we began our climb down the few hundred steps the temperature dropped quickly and we could see our breath in the air. As we entered the main cavern the sunlight disappeared completely, the temperature rose slightly, and we found ourselves surrounded by beautiful stalagmite formations highlighted by dim spotlights.
Vranjaca Cave's main cavern was discovered in 1903 by the current owner's grandpa. It was opened for tourists in 1929. The total length is 1200 feet and the temperature inside is 60°F year-round. When we entered we heard one other group in the distance that left a few minutes later. The owner of the cave had been showing them around. He found us after a short game of Marco Polo; we were both calling out "hallo" trying to find each other in the maze of the cave. He greeted Mario and Milda with a wave of his flashlight and told them a few stories about the cave in Croatian, such as information about the growth of the stalagmites and their different classifications. They relayed the information to Jay and I in English, but it was quickly forgotten as I was lost in the intricate details of the walls.
This was my first visit to any cave and I felt like a shy inquisitive child. I moved slowly and steadily as my eyes darted quickly all around. Every inch of the cave was new and exciting. Caves are so fascinating to me because they are like nothing you see above ground. I couldn't decide if the stalagmites were gross or beautiful.
The owner left us with his flashlight and permission to take as many photos as we like. We retraced our steps through the cave again snapping photos and pointing out interesting formations before making the tall climb out. I only wish the cave had been bigger, with more caverns. I was ready to see more.