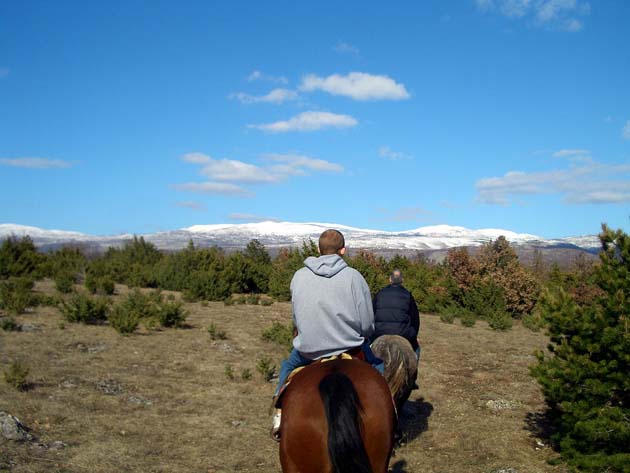 Horseback Riding in Donje Ogorje
Posted on March 26, 2010 at 11:34pm Madrid / 5:34pm Cincinnati by Kelly Larbes

Two weekends ago we joined a group of nine other expats (from Canada, Mexico, France, Russia, South Africa, United States, and Croatia) and headed out of Split for a horseback riding excursion. We drove 45 minutes to what felt like the middle of nowhere in the hills behind Split to a horse farm with over 70 horses. Ivica, the owner, and several other farm hands were there to greet us. Ivica was an animated character full of great stories. He talked loudly with his whole body and elaborate arm gestures. He told us about his summer journeys to Plitvice Lakes where he spends a week with tourists riding through Croatia visiting the famous waterfalls. He said he hates that he has to be so nice to people because usually he only likes about two people in a group of ten. Most of us chuckled, while he insisted seriously it wasn't funny. He once had a lady change her horse eight times in one week because she wasn't connecting with the horse either physically or psychologically. This got us laughing even more. He told us to stop; it wasn't funny. But it was.
Ivica was expecting our group's arrival for a short one hour ride. We assumed the horses would be ready. However, this is Croatia -they weren't ready. The horses were all still far out in the fields, kicking around in the mud. We waited over two hours for our one hour ride, which added to the humor of the day. Luckily it was a picture perfect day: sunny clear blue skies spotted with a few white poofy clouds and good conversations with interesting company. Our friend, Elisa, organized the excursion and we knew about half of the people. The time passed quickly as we got to know everyone.
We were also "lucky" enough to see one of Ivica's stud horses mate with a mare owned by another farm in the area. It was a bit awkward to watch. There were even small children watching, though I think it was the adults who were blushing. The courting process was short, but at least they introduced the horses to each other first.
Our trail horses were eventually brought in, cleaned up, and saddled up, and we were on our way. Most people in our group were beginners. For some it was their first time on a horse, so some people were escorted on a lead rope by one of the farm hands. Jay and I chose to ride alone and just followed the pack. The scenery was lovely with snowcapped mountains as our backdrop. We road along a small road, through fields, past stone houses, and through a forest. Our pace was always a slow walk. I wish we had trotted or cantered and sometimes I felt like just taking off, but I was really just happy to be on a horse.
I love horseback riding. I wish I went more often and had more knowledge about it. There is something so comforting to me about being up on a horse. For a year in high school I worked as a farm hand at a local farm 10 minutes from my home. There were about 30 horses in three large barns. Five belonged the farm owner and her teenage daughter and the rest were individually boarded. I fed all the horses, led them out to pasture or brought them back in, and mucked the stalls of the owner's horses (and sometimes my family was nice enough to come along and help). The best perk of the job was that I got to ride for free sometimes. My heart was so sad a few years ago when the farm was sold to developers for Home-A-Rama; it was covered in concrete and McMansions. I hope that horseback riding finds a regular place again at some point in my life.
Click here to view more of our photos from our horseback riding tour.