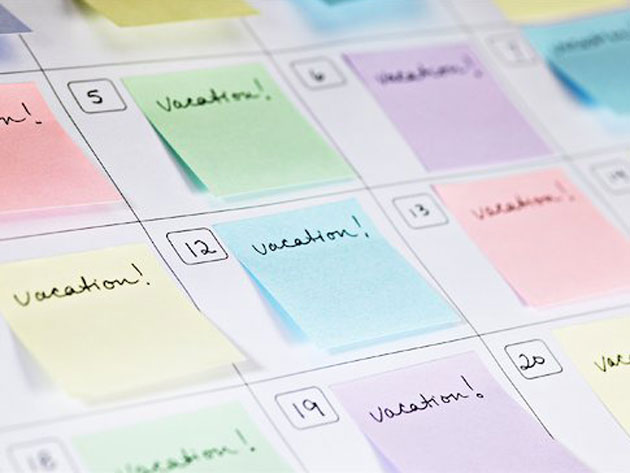 similarities and differences at work in Croatia
Posted on March 9, 2010 at 9:01pm Madrid / 3:01pm Cincinnati by Kelly Larbes

Family and friends regularly ask me what it's like to work here in Croatia, and I usually just say, "It's different." I often find myself lacking the right words to explain how it is different, thinking, "You just have to live in this crazy place to understand." Sometimes I tell the story about how I was flipping through photos of a client's vehicle fleet that I was designing graphics for and I noticed one truck belonged to another company. I figured that photo had mistakenly ended up with these others somehow, so I asked my boss about it. He said it was supposed to be there. That company owed our client money and didn't have it, so they gave them a truck instead. Somehow, for me, that sums up what it is like working in Croatia.
Most of the differences aren't good or bad; they're just distinctive. The more I pondered the differences, I realized that there are a lot of similarities too – and perhaps some of these are universal design studio truths.
DIFFERENCES
Language: Most business is conducted in Croatian (duh), so I am definitely on a need to know basis. Sometimes this is nice because I can really concentrate on design work. I just make sure I ask lots of questions so I don't miss anything important. Luckily the biggest project I work on is with a German client (who owns a castle which houses a hotel and restaurant on a Croatian island) so all business and meetings are conducted in English.

No project briefs: In the United States I was accustomed to getting project briefs containing all sorts of information from project goals to priorities of communication to the target audience. Here I start projects on a wing and a prayer. It would be nice to have more information from the client before the project started, but on the bright side, I find that I am getting the opportunity to learn a lot more about business planning and marketing because we are creating that for the client too. It is something I really love about my job.

Informal pitches: Most project pitches here much less formal than American ones I've seen, and they usually involve many chats over coffee.

Less resources: I miss all of the resources I used to have like large format printers and a library of magazines. I know this just goes with the territory of being in a smaller company – not really a Croatian thing.
Formal work hours: I start work at 8:00am, take a 10 minute break in the morning, take an hour lunch break, take a 10 minute break in the afternoon, and leave at 4:30pm – everyday. Sometimes I find this stifles my creativity, but the advantages of leaving at 4:30 everyday completely outweigh that. It lets me find other outlets for my creativity and enjoy living life here with everything Split has to offer.

Clients are less educated: Jay and I often feel that Croatia is 20 years behind the rest of the modern world in many ways. In the last 20 years design and innovation seem to have become the most popular buzz words in the business world, but definitely not in Split, Croatia. Many clients don't see the value design adds to their business at all.

No eating at my desk: In the United States it was quite common to eat at my desk along with my other co-workers so we could finish a rushed projects or leisurely do online research for a new project. Here I was told that no one eats at their desk. I assumed that was to make sure everyone took a proper lunch break, but it's actually so no one gets crumbs in the keyboards.

Work is more varied, but roles are more defined: I'm enjoying that the types of projects I work on varies a lot from corporate identities to packaging to advertisements to websites. Though I see a bigger variety of work, I find my role is more defined than it would be in an American work setting.

Client payment is tricky: Getting paid by clients is tricky in all Croatian businesses. Clients rarely pay when they say they will and the complications seem to dominate everyday work life in Croatia. Bills can go unpaid for 12 or 18 months, or sometimes forever.

No designated amount of sick days: Croatian companies do not designate workers a certain amount of work days. If an employee is sick, he or she has to go the doctor to get an official note and stay home from work the specified number of days the doctor thinks it will take to get better. To me, this is one of the most illogical Croatian work policies. Almost everyone is friends with their doctor and often employees take advantage of this because doctors usually write them notes saying they need to be off work for a week or more.

No work days off for weekend holidays: If a holiday falls on the weekend, I don't get the Friday or Monday off. Luckily, Croatia does have a few more public holidays than the United States so it makes up for it.

More vacation days: I get 25 paid vacation days a year! And everyone in Croatia gets at least 18 vacation days. I think that is one of the best things about working in Europe.
SIMILARITIES
Write-ups: I still get write-ups – papers with project numbers and due dates.

Crazy client requests: There are still days when clients drive me crazy with never ending and unorganized requests.

Getting the client to pick our favorite: I still strategize with colleagues on how we can get the client to pick our favorite concept option for a project.

Good times with co-workers: I still go out to lunch sometimes with co-workers and we share stories from our weekends.

Sketching: I still start every project sketching in my notepad.

Inspiration: I still find inspiration in everything around me – now my environment is just new and different. And I still keep tabs on my favorite blogs and news web sites for inspiration.

Telling stories: One of the things I love about being a designer is helping a brand tell a story to connect with its consumers. It is not necessarily expected here, but I still find the opportunities to bring story telling into many of my projects.

Work is still work: A lot of people think I am just on an extended vacation here, but I promise that I am not. Work is still work. Some days I love it and some days I don't. I'm still always happy when the weekend comes around. Maybe one day I'll find that perfect job where I don't look forward to the weekend, but I doubt it. I think no matter how much I love a job, my brain will always be ready for a small interlude after five days.