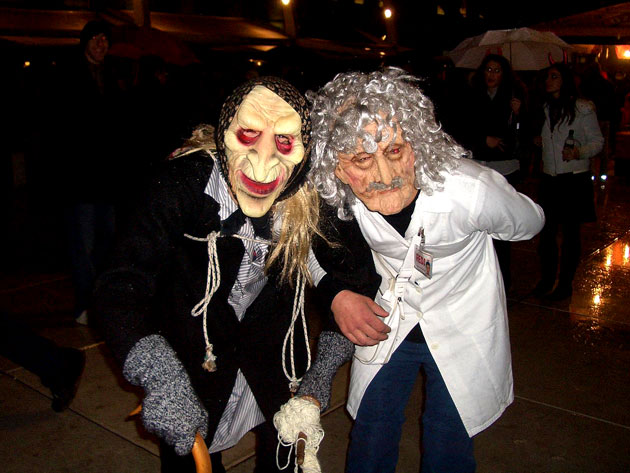 Celebrating Krnjeval (Carnival) in Split
Posted on February 26, 2010 at 9:49pm Madrid / 3:49pm Cincinnati by Kelly Larbes

Last Tuesday people around the world celebrated the pre-Lent festival known as Mardi Gras, Fat Tuesday, Carnival, or Krnjeval here in Split. The people in Split put on an impressive celebration despite the rainy weather. It may not have had the festive colors and elaborate costumes of Rio de Janeiro or Venice, but it sure beat any Mardi Gras I've seen before. It actually reminded me a lot of Halloween at Ohio University (minus some of the drunkenness); the Riva felt like Court Street crowded with people in Halloween costumes. It seemed like almost everyone was dressed up (not us though) and there were a number of impressive costumes. My favorite were a bunch of guys wearing random GIGANTIC furry headdresses. I don't really know what they were – maybe mountain men, but no matter what they were, they were fun to watch as they danced around stomping and chanting. They could be spotted from anywhere on the Riva as their height towered over everyone else. I also loved the Venetian costumes, Mickey and Minnie, and the old fogies chasing everyone around with their canes.
There was live music playing on the Riva and in almost every square in town. We made a few rounds checking out costumes and enjoying the music, but the rain got the better of us and we headed home before one of the highlights of the night: the burning of the effigy. Every year the festival organizers pick a prominent figure or idea, blame all of Croatia's problems on him, create a sculpture and burn it at the stake. Last year it was the Prime Minister and this year it was "corruption".
Even before Tuesday it felt like Carnival season. The previous Sunday, there was a festival for children on the Riva in the morning. There were hundreds of little kids in costumes. I had so much fun watching them running and laughing. I was surprised to observe that a large proportion of the kids had some sort of weapon with their costume – lots of swords, sticks, and nun-chucks.
Kids here go trick-or-treating in February just like on Halloween in the United States, except that here there isn't one dedicated night or time, which I found very odd. We had kids stop by our place several different random nights. We were scrooges and never had candy – but only because it took us a couple weeks to figure out that they could just go out whenever they wanted (how awesome for the kids). We always told them (in Croatian) that we were sorry, but we didn't speak Croatian. When they realized we were Americans, every time they got so excited and would yell, "Halloween, halloween!" in a high-pitched kid squeak. We also learned later that the kids expect money (loose change) if you don't have candy. Our Croatian friend, Mario, said we were lucky we didn't get any eggs thrown at our place by disgruntled kids, but I think they were more amused with us than anything. When Mario was young, he and his friends would map out their plans for trick-or-treating ahead of time, picking a neighborhood for each night, to maximize their take. I would've loved that as a kid – a perfect way to start the Lenten season.
Click here to view more of our photos from the krnjeval celebrations in Split