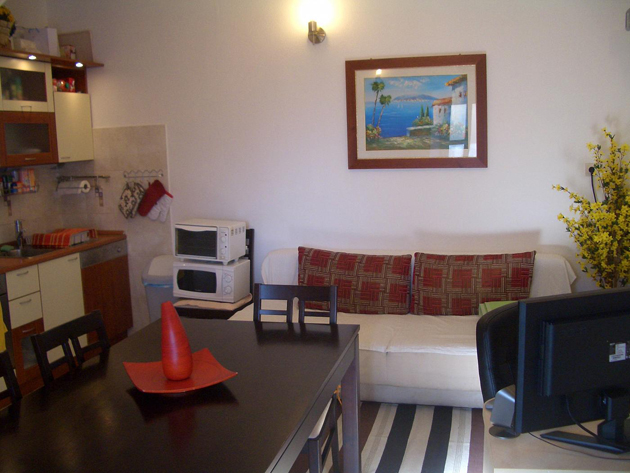 Our new apartment
Posted on January 29, 2010 at 2:19am Madrid / 8:19pm Cincinnati by Kelly Larbes

Last weekend we left our beach house for the city. We decided it was time for a new apartment closer to town, so we moved to Varoš, an old suburb of Split known for its small and narrow winding streets just outside the city walls. The move was bittersweet.
Why we moved
The main reason we moved was to be closer to town. There was a lot we loved about our old place, but without a car, we were a bit isolated in our neighborhood. It was a 20-minute walk into town, and everything that we routinely did was beyond that point. If it were raining we usually avoided going out. And walking to work in the cold wind and rain was miserable. There was a bus, but it only came once an hour and it wasn't consistent. We eventually decided we would be much happier if we were living closer to town. It's only been a week, but we definitely like it here better already.
What we won't miss about our old place
We obviously won't miss walking into town in dismal weather, but there were a few other things that were easy to say goodbye to also. We won't miss how cold our old apartment was. It rarely gets below freezing in Split, so I guess many people don't bother to build houses with proper insulation. We could never seem to get our apartment warm enough and mold had started to grow in the corners of a few rooms.
We also won't miss our awkward toilet that functioned like a faucet; we had to turn a knob to start the flush and wait there to turn it off when it was finished flushing. It was extra obnoxious if I used it in the middle of the night and had to wait for it to finish when all I really wanted to do was crawl back into bed. (Yes, I'd wash my hands while it flushed, but it was really slow.)
What we will miss about our old place
We are really going to miss our gorgeous sea view and beautiful sunsets. It is what kept us from moving sooner. We almost felt like we lived in a vacation home, with our terrace boasting an unobstructed view of the Adriatic Sea and several Croatian islands off in the distance. It was so nice to enjoy a meal on the terrace or even just sit out there while I chatted on the phone. I don't know why, but there is something so peaceful and comforting about the sea.
We'll also miss how much space we had in our old apartment. It was really a bit too big for just the two of us, but it was nice to have room to spread out.
What our new place is lacking
The main thing our new place is lacking right now is internet! We were supposed to have the internet up and functioning before we moved in, but everything seems to take longer than it should in Croatia. We have a line going into the house and a modem, but T-com, the provider, is sooo slow in getting it turned on. We've heard stories that it usually takes them at least a month to come around, which seems like a pretty horrible way to run a business if you consider that they are missing out on month's worth of fees for every customer they have.
Our only saving grace is that our landlord's father has a friend who works at T-com and he is supposed to get them to come on Monday. (This blog won't actually be posted until we get the internet). For now, Jay has had to go back to our old apartment to work everyday. Luckily we overlapped our lease agreements for two weeks in case we had problems like this (because there are always logistical problems in Croatia).
The only other thing our new place is really lacking is space. It is about half the size of our old apartment. The family room, kitchen, dining room, and Jay's office are all in one large square room on the ground floor. And we have two bedrooms and a bathroom upstairs. We are adjusting to the smaller space and it is really only inconvenient when we bring our clothes drying racks inside – then space is tight.
What we will love about our new place
The best thing about our new place is how close we are to almost everything. It takes just 3 minutes to walk to the center of town (instead of 20), 4 minutes to walk to work (instead of 22), 8 minutes to walk to salsa class (instead of 30), and the list could go on and on. And now Jay isn't so isolated since he works at home. I can stop by at lunch or we can run out to do a few quick errands. It is so convenient, and it is still a quiet location.
We are tucked on the backside of a four-story stone building down a typical narrow Croatian alleyway. Our street is about the width of a mini-van. Our kind friend, Joel, helped us move with his mini-van and he couldn't make it all the way down our street. And it is still a two-way street.
We also love that almost everything in our new apartment is newer and contemporary. Everything, including the sinks, toilet, shower, beds and kitchen table, is nicer. We even have a little yard that we share with the four other apartments in the building. It isn't pretty and manicured like American lawns, but it has a few pretty trees and a grill for barbecuing. And we have an outdoor table and chairs for our front porch for when the weather turns nice again. It's not as nice as the sea view, but it will do. And we can't beat the location.
Click here to view more photos of our new apartment in Split's Varos neighborhood.