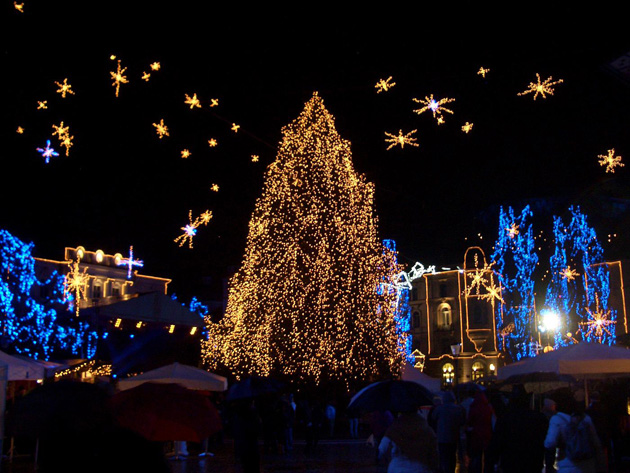 New Year's Weekend: Split, Ljubljana, and Zagreb
Posted on January 9, 2010 at 2:14am Madrid / 8:14pm Cincinnati by Kelly Larbes

A light rain fell on and off all weekend, and some weekends we would've just hibernated, but last weekend we were out and about every day. We definitely didn't let the rain dampen our New Year's weekend. Luckily it was never a hard blowing rain, so an umbrella kept us dry for the most part. I only broke out my bright red poncho once. I looked ridiculous – and so American – but I didn't care because I stayed dry.
We ended 2009 on the Riva in Split listening to Croatian pop star Tony Cetinski and watching fireworks. The fireworks weren't as powerful as Cincinnati's WEBN fireworks, but they were so close to us that they were still impressive. Fire safety was much less of a concern here than it would have been in the United States; city-sponsored fireworks were launched just yards from the crowd, people shot small rockets off their balconies above everyone on the Riva, and children threw M-80 firecrackers in every direction oblivious to almost sparking people's feet. Paula brought two bottles of champagne down for our small party to share, and after a minor issue of breaking off one of the corks and having to sweet talk a restaurant into letting us borrow their wine-bottle opener, we had sufficient bubbly to go around. Other than a little spot of rain, the weather was pleasant enough that I didn't even wear a coat, though I regretted that decision walking home in the strong wind. Of course, Jay was a gentleman and gave me his coat.
The next morning came too early, and we didn't make our departure for Ljubljana, the capital of Slovenia, until 11:00am. We rented a car for the journey because a bus ride would've taken over eleven hours and we could drive there in less than six hours. It rained almost the entire way there. The contant rain, driving a manual car without cruise control, and it getting dark before we arrived at our hotel made the drive exhausting for Jay. I don't know how to drive a manual car, so I was no help, but I did get my first mini-lesson. When the rain let up, we stopped at an empty roadside rest stop and Jay showed me how to go from parked to first gear and into second gear. I didn't stall out once, though I did ride the clutch. I never made it past second gear – we are saving that for the next rental car.
We arrived in Ljubljana shortly after 5:00pm and concluded that we really should've gotten started in the morning an hour earlier so we could've arrived in the daylight. We had a GPS, but it only had Croatia maps (We weren't really sure why a car rental company would purchase a GPS with maps just covering an area about the size of West Virginia, but we've come to expect this type of logic.), so we were on our own once we got to Slovenia. We missed two highway exits, but luckily found our way with just minor hiccups.
After dinner at a pizzeria around the block from our hotel, we walked all over town to see all of the Christmas lights and festivities. We were immediately glad we made the trip while the town was still all set up for the holidays. The Christmas lights were extravagant and unique. There was a stage set up for an evening concert and there were tons of Christmas stalls selling gifts and treats. I enjoyed some warm caramelized almonds, which are a new favorite treat of mine. Even though there was a light rain, the town was full of people.
I read a New York Times article about an area of Ljubljana called Metelkova City, which is full of night clubs, galleries, non-profit groups and artists' studios, so we decided to seek it out. It is located near the train station about a mile north of the main square. As we wandered just a couple blocks away from the main square, the streets became deserted and thus a little creepy. We came to the area I had marked on my map, but everything was dark. We continued around the block and suddenly heard music thumping from inside one of the buildings. We suddenly realized that Metelkova City was inside the city block. There was a small alleyway next to the building with the pulsing music. It was dark and there were a few shady looking characters about, so we debated about whether or not to proceed. My logic concluded that if there was a New York Times article written about that it must be safe, but Jay reminded me that was pretty crappy logic. Still, we decided to proceed and we were glad we did. Even in the dark we could see the area was fascinating and we decided right away to come back the next day while it was light. There was a $12 cover to get in the club, Menza, so we decided against going inside, but looking back, we kind of wish we would have.
The next morning we went on a walking tour of the city. It was the wettest part of our weekend, but much of our sightseeing was inside, so it was good timing. There was a modest castle (by modest, I mean it doesn't look like Disney's castle) overlooking Ljubljana and its tower offered great views of the city. Supposedly on a clear day you could see the alps in the distance. Ljubljana has a wonderful fresh vibe. The old city is very pretty with clean and prim Austrian-influenced architecture and a small river running through the middle.
In the afternoon we returned to Metelkova City. Its storied history is just as fascinating as the artwork gracing every facade. The area used to be army barracks, but when they were abandoned by the Yugoslav army in 1991, a group of artists and activists became squatters in Metelkova City. It is now a self-declared autonomous culture zone. The article I read said it has a loose anarchist system; if you have any idea or project in mind, you can carry it out, but everyone treats each other with respect. It looked like a giant experiment that was always under construction. The Ljubljana city government has a very paradoxical relationship with the area. On one hand the city has sent crews to evict occupants on numerous occasions and demolished one building in 2006, but on the other hand, it gives money to cultural activities there.
After warming up in the hotel, we had a wonderful dinner in the evening along the river; we shared lemon chicken, creamy potatoes, gnocchi bolognese, and traditional Slovenian cheese strudel, and then explored more of the city. The rain stopped, but the temperatures were dropping quickly, so we didn't last long.
The next morning the weather turned gorgeous. The air was crisp, the sky was blue, and the sun was shining. We decided to make one more pass through the old city to see it in the sunlight before heading to Zagreb, the capital of Croatia. We stumbled upon a temporary antique flea market and it made my morning happy. Jay groaned a bit at first, but then ended up finding it really fascinating too. There was a lot of Communist-era relics, which I found so intriguing because the only place you would see those types of momentos in the United States would be in a museum, but here they were just strewn about the tables everywhere. We saw everything from military medals to old money to dolls to furniture. It was so hard to not want to buy everything in sight, but I knew it would be impractical since most of the items I liked were big and bulky.
The two hour drive to Zagreb was pleasant because in the daylight we could see the Slovenian countryside with its beautiful green hills littered with numerous cute little churches at almost every turn. We spent the afternoon in Zagreb walking around the old town, the main square and the Christmas stalls. We enjoyed seeing the cathedral and its tall spires. St. Mark's Church was another of our favorites because it had a unique tiled roof displaying the coats of arms for Zagreb and for the Triune Kingdom of Croatia, Slavonia and Dalmatia.
While we waited for night to fall so we could see all of the Christmas lights turn on we shared lángos, deep fried bread, from one of the Christmas stalls. It was yummy, but too greasy. We couldn't help but laugh when we saw a family of four each eating their own big lángos, including the two young girls, when Jay and I could barely split one.
Pretty Christmas lights add a lot of charm to any city and seeing Zagreb lit up for Christmas was nice, but it didn't match Ljubljana. I actually enjoyed seeing Zagreb's ornate theater lit up at night just as much as the Christmas lights. Zagreb (population: 800,000) was much larger than Ljulbljana (population 280,000) and felt like a major city and commerce center. I really enjoyed the urban feeling and the hustle and bustle, but I don't think I would return unless it was for a specific event. I hope we make it back to Ljubljana sometime again in the summer.
Click here to see more photos (now with captions!) from the weekend.