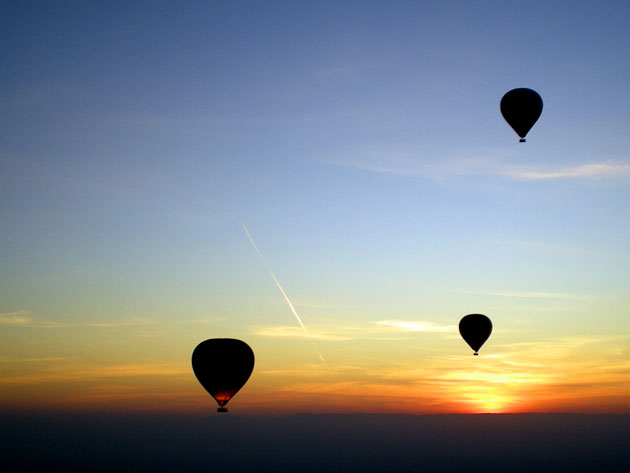 Egypt Diary: Luxor and beyond (and a hot air balloon ride)
Posted on December 17, 2009 at 11:41pm Madrid / 5:41pm Cincinnati by Kelly Larbes

Sunday, November 22
This morning we arrived in Luxor. Luxor is home to the Valley of Kings and Queens and it is full of temples and tombs. Today we visited Karnak and Luxor Temples. Honestly, all of the temples are starting to run together in my head. They feel kind of like churches in Europe; most of them are beautiful, but they can be hard to keep straight. Karnak and Luxor Temples will stand out in my mind because they are huge (Karnak is the largest temple complex in the world), they are in the middle of downtown Luxor (which felt odd after seeing the other temples in isolation), and there were so many tourists (so many!). In Jay's and my mind, Rome is the epitome of large swarms of tourists, and I felt like we were back there. There were thousands of people from all over the world speaking so many different languages and dressed so many different ways. If site seeing was like this everyday it might annoy me, but since this was the first time we felt like a large chaotic herd of cattle, people watching was part of the fun. And the guys surely enjoyed the odd influx of scantily clad women (cleavage, butt cheeks, and bare stomachs everywhere). Maybe this contributed to the improvement in Jay's health, though it was probably the Cipro (I'm so glad my parents visited their doctors before the trip.)
After lunch onboard, we spent the afternoon relaxing in our swim suits on the upper deck by the pool. It was fun watching other boats pull in and out of dock. There are around 300 Nile cruises and all of them stop at Luxor at some point, so it is a busy area. Boats pay for dock space, so many boats share one dock and line up five to ten deep. Passengers must walk through the lobbies of the other boats to exit to shore. Most people's Nile view turns into a view of someone else's room. Luckily the Sonesta St. George owns their own dock and doesn't share. This gave us a perfect view of the Nile all day. Dad and I even went on a run in the security enclosed dock area as the sun set.
Monday, November 23
Today I had another wow, woo hoo, holy camoly, yippee adventure. Now I am certain I won't be able to pick my favorite part of the trip. This morning we went on a hot air balloon ride at sunrise. I know calling something breathtaking can get cliché, but that is the best word I can think of because it was breathtaking in so many way; I was nervous and my knees were wobbly and it was so gorgeous the entire time.
It was another early morning with a 3:30 am wakeup call. Our cruise boat was docked on the East Bank and after checking out, we took a small motor boat to the West Bank and drove to the launching site. Our balloon (and seven others) launched in complete darkness before the sun rose. The balloons glowed bright and colorful in the darkness as they inflated. The baskets were much larger than what I had pictured in my head. They could each hold 24 passengers. We had 20 in ours. The basket was divided into four passenger compartments (five passengers in each – perfect for us) and one in the middle for the pilot. The sides of the basket were chest high with a slightly raised platform inside. There were foot holes in the side to climb in. Some people had to be lifted up and over by the crew, but we all made it in without much trouble. Before launching we practiced our landing positions: holding onto ropes at the side of the basket and squatting so our head was below the height of the basket – just in case there was a rough landing.
I wasn't nervous at first, but we kept getting higher and higher, and I couldn't help but think about someone toppling over the edge to their death. My knees were wobbly and my heart raced for about five minutes. Then I relaxed a bit, felt a rush of excitement looking over a thousand feet to the ground below, calmed down even more, and felt happy and serene. It reminded me a bit of skydiving last year (except that was complete terror the few moments before toppling out of the plane, a huge rush of excitement and adrenaline, and then peacefulness). We passed over temples and tombs, observed the distinct line break from green agriculture to sandy desert, and saw the rugged mountains behind us and the sun rising in front of us. The temples looked like miniature architectural models so far below us. We watched the other seven balloons in the distance rising and falling taking turns at different altitudes and moving across the West Bank with us. The rising sun made the color of the landscape constantly change. The sky burnt a fiery orange as the sun broke above the horizon.
Jay and Kevin snapped photos and I took video (I'll share this in another post). Before we knew it, 40 minutes had passed and we were lowering for a landing. We could see crews of chasers in trucks below following each balloon to help with the landings. We were told that sometimes landings are smooth and light; the ground crew pulls the basket out of the sky and gently places you on the ground. Other times landings are quite bouncy and very rarely the basket topples over on the landing. It all depends on the weather and wind. After seeing another balloon land before us, our pilot warned us we would have a bumpy landing and we did. We hit the ground a few times as we bounced up and down, tilted about 45°, and then thumped to a landing.
We waited about a minute for the crew to arrive; they came flying through the desert in their pickup truck. We exited the basket and watched the crew work to deflate the balloon and pack it all up. They were a frenzy of action the entire time as the crew leader yelled orders and encouragement to work fast. I know one word in Arabic: yella, meaning "let's go!" or "hurry up!" It was the crew leaders favorite word. As the last part of the balloon got stuffed into a giant bag, the adventure felt officially over. I just wished it had lasted longer.
We spent the morning and early afternoon visiting the Colossi of Memnon, the Valley of the Kings including King Tut's Tomb, the Valley of the Queens, and the Temple of Hatshepsut. The Valley of the Kings and the Temple of Hatshepsut were my favorites. The Valley of the Kings is a valley outside of Luxor where kings and powerful nobles were buried over a period of 500 years from 1500-1000 BC. 63 tombs have been discovered, with the most famous being King Tut's in 1922. The tombs are decorated with elaborate scenes of Egyptian life and burial rituals. I found it most fascinating that these tombs came after the majestic pyramids.
Along with Abu Simbel, the Temple of Hatshepsut will be one that I will always remember and be able to picture in my mind. It was built into a cliff face the rises sharply behind it. It displays significant advances in architecture with its series of terraces and colonnades. Its colonnaded structure is perfect harmony with exact symmetry (and built nearly one thousand years before the Parthenon).
We were supposed to visit the Tomb of Nobles, Temple of Ramses III, and Ramesseum Temple later in the afternoon, but decided to bypass them for an afternoon of laying by hotel (Sonesta St. George Hotel) pool overlooking the Nile. We were exhausted from the 3:30 am wake up call, and with even more temples and tombs, they were really starting to run together. Plus, we have two more temples tomorrow. It ended being like a great decision; the weather was perfect (like it has been the entire trip) and the Nile was always bustling with interesting activity. Plus, we ate Pizza Hut, which we haven't had in over eight months – yum.
Tuesday, November 24
Today we took a day trip to Abydos to see the temples of Seti I and Ramses II and then on to Denderah to see the Denderah Temple. The three hour drive through rural Egypt was fascinating and made the drive pass quickly. The temples were all massive and beautiful, but I know they will fall in line with many of the other temples I have seen; I will be able to picture them in my head, but I won't know one from the other. I particularly enjoyed the colorful scenes and intricate carvings at Abydos, but what I will probably remember most is the tourist police at Denderah telling Jay to watch his head and then asking him for a tip. Sometimes the constant pressures to give tips is obnoxious, but sometimes it is just funny.
We returned to our hotel, said a final goodbye to our guide, Sayid, and enjoyed a delicious and pleasant dinner at the Italian restaurant there before heading to the airport for our flight to Sharm El Sheikh. When we arrived at the airport, about seven guys (who didn't work for the airport) rushed down from the hills somewhere, grabbed our bags (one for each of them) before we could get out of the van. It was a comical scene. They rolled them about 10 feet across the driveway to the airport entrance and, of course, they each expected a tip. And my Dad was way too nice and gave them tips. He figures it's easier to give them a small tip so they will go away than to have them hound you. I can see his point, but out of principle, I wouldn't have tipped them because I didn't ask for their help. Once inside, some guy lifted our bags about six inches onto the scale at the check-in counter and wanted a tip for that. He got one. At least all of the hounding makes for good stories (and we knew to expect it coming in).
The night ended on a sour note for two reasons: getting to our hotel and our hotel room. Once we left Luxor, it was the official end of our tour with Sti Travel and we were on our own. Trying to get a taxi to our hotel was a mess because the taxi drives kept changing their prices every few seconds. Eventually they told us they couldn't even drive us all the way to our hotel due to security, but could just get about five minutes away and could walk the rest. We finally went back inside the airport to a classier looking hotel shuttle provider. It was pricier, but worth it.
Transportation was a minor hiccup. When we go to our hotel, the Iberotel Lido, they showed us to our rooms, but they had no sea view (we could see a staircase and a bit of the pool). We specifically reserved and payed for sea view rooms and had our printed reservation to prove it. We were told that they were out of sea view rooms so this is what we got. They had no plans to compensate us for the mistake. We were just supposed to accept it. I was not happy about it. This was our first accommodations on the trip where we were disappointed in our rooms and the staff seemed incompetent.
At least the sea looks inviting and beach looks soft and sandy. That is all I will need to make me happy tomorrow.
Click here to view more of our photos from Luxor and our hot air balloon ride.