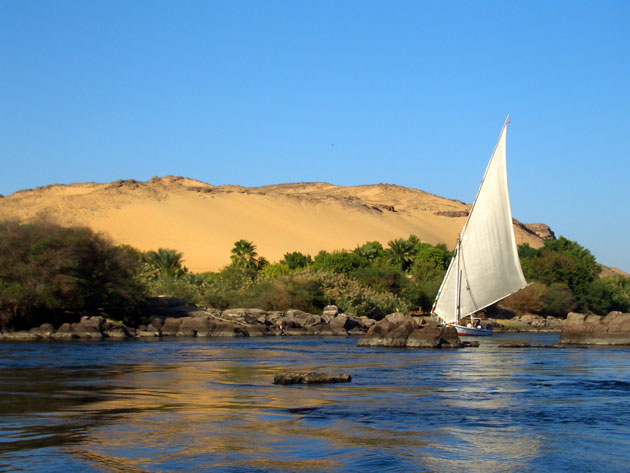 Egypt diary: Aswan and cruising the Nile
Posted on December 13, 2009 at 8:56pm Madrid / 2:56pm Cincinnati by Kelly Larbes

Honestly, I wasn't so great at keeping up on my diary for the second half of the trip. I was so good in Cairo, but much of the second half of my diary was written when I got home. Luckily it was still fresh in my mind.
Thursday, November 19
When you have an action-packed two week vacation, I know not every day can be magical. Today was a non-magical day (except for the awesome camel ride), which I guess is fair since yesterday was amazing, out of this world, unbelievable, super great. Like I mentioned in my last post, our overnight train to Aswan broke down. Luckily they fixed it, but it turned a twelve hour journey into a fifteen hour journey. I was happy to get caught up on my diary, but I guess I didn't get as much sleep as I originally thought because I was ready to crash halfway through the day (and we didn't get time for lunch). Those of you who know me, know that lack of sleep and lack of food means I was cranky.
The low points of the day were visiting a Nubian school and home. The Nubian school was not on our itinerary and our new guide, Sayid, added it to be "nice." It consisted of some guy barking Arabic and Nubian numbers at us for fifteen minutes and then wanting a big tip. It really annoyed me. The Nubians are a unique ethnic group in Egypt (who in ancient times were enemies of the Egyptians) and the visit to a Nubian home was supposed to be a cultural experience where you got to meet a Nubian family, have tea with them, and learn about their customs. It ended up being just a big tourist trap. We visited a large home with about ten other groups of tourists. We had tea with our guide, saw sad and angry crocodiles that were kept in concrete boxes way too small for them, and bypassed the souvenir store they had in the home. I wish I had spent this time watching the boats on the Nile go by or swimming at our awesome hotel (Pyramisa Isis Island Resort) that overlooks the Nile that we aren't going to get to enjoy because we leave before 3am tomorrow. Luckily my Mom was there to hug me and make it all better.
There was a very bright spot in the first part of the day though: a camel ride through the desert to visit St. Simon's Monastery. There was no real road leading to the ancient ruins of the monastery so camels were a perfect option. To arrive at the camels we took a motorboat ride on the Nile. It felt very remote, though in one direction we could see Aswan in the distance. But the other direction it was just desert as far as the eye could see. The desert was so magnificent. I felt like I was in a movie. It gave me a little better understanding of how getting lost in the desert would be so devastating; it was a bit scary just thinking about it. The ride was beautiful and serene, but at the same time, fun and giggly. Riding a camel is like riding a horse (for us amateurs), except a bit more awkward. And I was trying to snap photos the entire time I was bouncing around, so that probably made it even more blundering. Getting on and off you feel like you are on a giant seesaw that you might just fall off (as the camel stands or sits). Luckily none of us did.
After a visit to the Nubian Museum (which was actually very interesting, but I was ready for the day to be over), McDonald's (Don't judge. We were starving, the price was right, and the food was good.), and a convenient store to buy bottled water, we returned to our hotel for a quiet night before our early morning tomorrow.
Friday, November 20
2:15 am is not a good time for a wake-up call, but we did it to see Abu Simbel, along with hundreds of other tourists in Aswan. Abu Simbel is a three hour drive south of Aswan and is a deservedly popular side trip from there. Tourists wanting to visit Abu Simbel from Aswan are required to go with one of two daily convoys, leaving at 4:00 am or 11:00 am. Like many others, we agreed to the early departure so we didn't miss time (plus lunch and dinner) on our three-night Nile cruise. The police-escorted convoy is suppose to keep tourists safe from terrorists on the long remote drive through the desert (They've had a few problems in the past, but nothing in the last few years). Clearly it is just for appearances, just like all of the metal detectors you have to walk through when entering hotels or tourist sites. Half the time the tourist police we see are asleep (not joking – well, maybe 20% of the time, but still I've never seen so many on duty police sleeping – ridiculous).
Abu Simbel is two massive rock temples, one to Pharaoh Ramses II and the second to his queen Nefertari. Even with the early wake-up call, it was worth it. The engineering and historical significance of all of the sites in Egypt is just mind-boggling. Abu Simbel was originally built around 1257 BC. It's colossal size is most impressive. The entire site was relocated in the 1960s on a hill 200 feet above its original site due to flooding dangers when the Aswan High Dam was built. The efforts cost $40 million. Staring up at the four 65 foot statues of Ramses II carved directly from the stone, it was hard to imagine how this possibly could've been created thousands of years ago, and also just as hard to imagine how they moved it.
The interior of the Ramses II temple was adorned with large statues and intricate carvings telling great stories. One of the most interesting interior features was the sanctuary in the back with four statues of gods that was positioned by ancient Egyptian architects so that just twice a year, October 22 and February 22, the sunlight would shine through the entire length of the temple to illuminate the gods of this innermost shrine – genius!
After the three hour journey back to Aswan, we checked into our Nile cruise on the Sonesta St. George, and it was only lunch time. We couldn't have been more pleased with the boat. The rooms were gorgeous and fancy. The best part was the bathroom: beautiful teak wood (I think it was teak) everywhere and a futuristic shower/jacuzzi tub that had so many options, including a rainfall shower and the ability to call other rooms. It came with an instructions page and we will be testing all the options the next few days. Not only were the rooms great, but the food (especially the chocolate desserts) and the service was excellent too.
In the afternoon we were back out visiting sites: the Granite Quarries, the Aswan High Dam, and Temple of Philae. I thought the Granite Quarries with the unfinished obelisk was a waste of time, but at least it was short. The Aswan High Dam wasn't anything special to see (nothing like Hoover Dam), but it was fascinating because it provides irrigation and electricity for the entire country. Its construction created a 30% increase in agricultural land and doubled Egypt's available supply of electricity. The Temple of Philae is on a small island in the Nile so approaching it by boat added to its beauty. Like Abu Simbel it had to be moved in the 1960s to rescue it from flooding when the High Dam was built. It was a good site to cap off a great day of site seeing.
On a random side note: We were accompanied by a heavily armed police man for our afternoon touring. It was very bizarre. He rode in the van and tagged along to all the sites with the five of us and our guide. We were never given a sufficient explanation for his presence. We were just told that police accompany American tour groups sometimes to keep them safe. I would think that he should tag along with groups of 40, not a family of five, but we just went along with it (not that we had a choice). I was just pleasantly surprised when he hopped out of the van and didn't expect a tip at the end.
Saturday, November 21
Today was a lovely day for me, but not so much for Jay. He definitely has a stomach virus (we suspected this yesterday) and today was a bit rough on him. My parents brought prescription Cipro and we are hoping that takes care of it. He was a trooper and didn't miss a site. Luckily, it was an easy day because we had three short excursions spread throughout a day of sailing on the Nile, and he could enjoy that part from our room.
In the morning we sailed to the botanical gardens on Kitchener's Island by felucca (traditional Nile sailboat). It was a small boat and a one man operation. It was fascinating to see our captain in action. He had to steer and operate the sails; we curved sharply back and forth across the width of the Nile to make our way back against the flow of the Nile. It was quite impressive, and he was one of the few people that has had his hand out for a tip that deserved a good one.
The other two sites of the day were the Temple of Kom Ombo in the afternoon and the Temple of Horus at Edfu in the evening. Both were impressive in their own ways, especially getting to see the Temple of Horus all lit up at night. Even getting to the Temple of Horus was fun: we took a horse carriage ride with a crazy driver and shared the roads of Edfu with cars, donkeys, carts, and horses.
The best part of the day was sitting on the upper deck of our cruise boat sailing down the Nile. We could see lush green farmlands with a desert backdrop in the distance, forests of palm trees, small villages, trains passing by, locals fishing and children waving at us from the shore. It made me wish we had more days of sailing (even though it's a three night cruise, we only sail during the day today). I know everyone else does too, especially Dad. I think this has been his favorite part of the trip. He sat at the bow of the boat most of the day taking in the views.
Click here to view more of our photos from Aswan, Abu Simbel and Cruising the Nile.