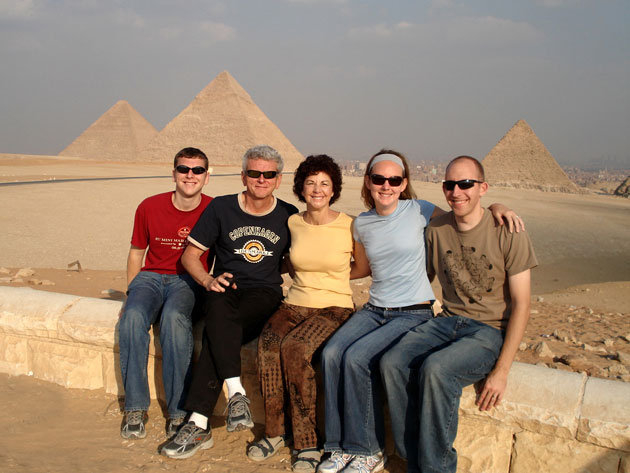 Egypt diary: Cairo and beyond
Posted on December 5, 2009 at 2:52pm Madrid / 8:52am Cincinnati by Kelly Larbes

I just returned from a wonderful two week journey in Egypt with Jay, my Mom and Dad, and my brother, Kevin. I kept a diary during the trip, which I'll share in a few installments, as well as my tips for planning a trip to Egypt.
Sunday, November 14
I'll never understand why some women travel in tight pencil skirts and stiletto high heels. Obviously, it is not comfortable. I understand the need to look professional if you are stepping off the plane and into a business meeting, but it was Sunday morning at 6:00am so there was no way all of these women were going to business meetings after the flight. Clearly it was a cultural thing; most Croatian women got dolled-up for taking the flight, even though they had to get up at 4:00am. I couldn't decide if it was admirable or sad. All I knew is that I would be sticking to my valor pants and soft cotton shirts.
We left Split for Cairo, Egypt early this morning. If we were able to fly directly it would've taken about two hours, but Split isn't the most well connected city, so we ended up on three flight over seven hours. Luckily the flights were pretty uneventful, other than almost vomiting after stepping onto the Austrian Airlines plane because the decor colors were so nauseating. All of the seats were bright teal with red, yellow, and white alternating head rests. The carpet was a lime green. And the flight attendants wore head to toe candy apple red: red suit jacket, red shirt, red skirt, red tights, and red shoes. And this ensemble was topped off with a light blue scarf. It all looked ridiculous.
We arrived in Cairo, got Egyptian Pounds out of an ATM, bought our $15 travel visas, went through customs and immigration, and were met by our "handler" from Sakarra Travel Group who took us to our hotel, Le Meridians Pyramid. Just getting to our hotel was the start of a fun adventure. There are 17 million people in Cairo, so there is so much traffic and so many people everywhere. Vehicles are often loaded past capacity and no one follows traffic lanes. It's a free-for-all with lots of horn honking. Every car has at least one noticeable dent. It was an odd paradox to be surrounded by such chaos, and then suddenly look up to see two pyramids in the distance with the sun setting in a bright pink sky behind them.
Our hotel room is nice, yet pretty standard, except for the view: We can see two of the large pyramids from our balcony, and the tip of the third pyramid too. I look forward to waking up to this view tomorrow morning. We spent the evening exploring the large hotel and the surrounding area and waiting for my parents and Kevin to arrive. I was ridiculously excited to see them, so I was quite impatient and antsy as we waited. I even called the concierge to see if he could check if their flight had arrived, but right when I was asking, I heard a knock on the door. They finally arrived around 9:00pm with great big bear-hugs, good conversations, and goodies from home.
Monday, November 15
Luckily we did not plan much for today. We figured having a nice relaxing day to start would let my family recover from jet lag (their travel time was around 20 hours and they also had to combat a 7-hour time change) and enjoy the trip even more. This was a great idea. We slept in, had breakfast around 10:00, and went for a walk. As soon as we left the hotel, all of the locals around wanted to talk to us, or really just wanted our money. They wanted to take us in their taxi, show us to their store or restaurant, walk with us to our destination, or help us cross the street. It was amusing for about two minutes, but then it got a bit annoying. I could see right away one of the advantages to seeing Egypt with a guide: you are hassled just a little bit less.
Close by, we visited the Mena House, a grand high-brow hotel founded in 1869 close to the foot of the Great Pyramid. The interior was opulent and lavishly over-the-top featuring lots of rich jewel-tone colors and golds, detailed metal and glass works, and intricate fabrics. The gardens were a perfect extension of the hotel: perfectly green and manicured.
Just across the street, we walked to the Giza pyramids' visitor entrance. We would be visiting them with our guide in two days, but couldn't wait to get a closer look. Their immense size and architectural precision can't really be felt from a photo.
After returning the hotel and working out, we spent the rest of the afternoon swimming and lounging in the heated pool with the pyramids in the background. It was wonderfully relaxing.
And in the evening we returned to the pyramids for the Sound and Light Show, which honestly I found mediocre. For about 45 minutes a deep booming cheesy fake voice explains some of the history of the pyramids as laser lights depict some images on the pyramids. I would have much more enjoyed seeing moving artistic lights set to music, or even just sitting and seeing the pyramids brightly lit up.
We had dinner at the Nubian Village Restaurant poolside at our hotel. We each ordered a meal or appetizer and shared everything. It was a delicious sampling and a great way to be a bit adventurous with our food since we knew there would be something among the five meals we would like. My favorite was the Sambusak with cheese – fluffy cheese fried in a sweet dough – of course that was good.
Tuesday, November 16
Some cities I fall in love with after just a few hours and some I don't think I could ever love. Honestly, Cairo falls in the latter group. We spent the day in Cairo with our guide, Sam, visiting the Egyptian Antiquities Museum, the Coptic Hanging Church, St. Serguis Church, Ben Ezra Synagogue, a perfume shop, the Citadel of Salah El- Din, the Muhammad Ali Mosque, and the Khan El Khalili Bazaar. The sites were lovely, though not overwhelming (King Tut's collection was the exception.). The city was overcrowded and chaotic. It felt like it took forever to get anywhere in the congested traffic.
The highlight of the day for me was seeing the King Tut collection at the Antiquities Museum (no cameras allowed). For having one of the smaller of the royal tombs, it was amazing to see how much stuff he took to the afterlife. I almost couldn't believe the great condition it was all in after almost 5,000 years. The famous gold sarcophagus and mask were exquisite to see. The rest of the collection was new knowledge for me and it was just as fascinating. I was really impressed with King Tut's royal chair and also the four very large gilded boxes that his sarcophagus was placed in to help protect him from thieves.
My second favorite site was the Muhammad Ali (not the famous boxer) Mosque. The interior artistic patterns and colors were mesmerizing. I have only been inside two mosques in my life, but their architecture and decoration seem to have a such a special lure. I really enjoy seeing all of the domes on the exterior and the detailed patterns on the interior. They have a timeless attraction to me.
Actually, my favorite part of Cairo wasn't a site at all, it was seeing the mix of the new and old, the urban and the rural. We would see a BMW driving alongside a guy riding a cart-pulling donkey. Across from a McDonald's would be a farmer selling live sheep. And less than a block from a tall modern sky-scraper you could buy a live chicken. There would be a lady covered head to toe in black loose fabric with just their eyes peeking out walking next to a young women wearing skin tight jeans, high heels, and huge hoop earrings with her long black hear blowing freely in the breeze. There were so many intriguing dichotomies.
After a day full of historical stories, facts, and dates I know I will probably forget most of them, yet I'll remember some of the random stories that our guide, Sam, shared with us about her life. For example, when I asked Sam why we weren't asked to wear head scarves in the mosque, she told us that she didn't see head scarves being worn in Egypt until she was a teeny bopper. Her grandmother, a muslim who died just a few years ago at the age of 87 didn't even wear one. According to Sam, head scarves became fashionable (I'm not suggesting that head scarves are about fashion, but Sam was very opinionated about them.) when she was a teenager so she asked her father if she could wear one. Sam wasn't a devout Muslim, so her father said she would have to start praying more first if she wanted to wear a head scarf. She considered the idea until he told her she couldn't wear her bikini and go swimming in the summer if she wore a head scarf. She never brought it up again.
Our day in Cairo was capped off on a high note with a Nile dinner cruise. We enjoyed a couple hours of good food, amusing entertainment, and Cairo lit up at night. I'm looking forward to the pyramids tomorrow.
Wednesday, November 17
This is why I wanted to come to Egypt: the pyramids. We started our day in Dahshur at the Red Pyramid and Bent Pyramid, and the Red Pyramid may end up being my favorite site of the entire trip (though that is yet to be seen). Places always feel more special to me when I can enjoy them alone or just without hordes of tourists. I didn't expect to find any of the large pyramids to be "off the beaten track," but these were. Up until 2007 Dahshur was a military base and no one could get near the pyramids. Since they've opened up to the public, I guess the large tour groups haven't changed their itineraries to include them yet. This completely baffles me, especially considering the Red Pyramid is one of the few you can enter inside and it is only a 20 minute drive from Memphis and Sakkara, which are teeming with hundreds of tourists.
Unlike the impressive Giza pyramids, which are surrounded by gates, ticket houses, and souvenir peddlers, the Red Pyramid is alone in the middle of the dessert. The five of us (plus our driver and tour guide) shared the site with just one other group of about ten travelers who left shortly after we arrived, and a few tourist police, one which was on a camel. We climbed up stone steps a third of the way up the pyramid and entered into a long descending tunnel 3 feet high and 200 feet long (which felt VERY long in our awkward crawl) that led to the burial chamber. The guys chose to squat and waddle like ducks all the way down, while mom and I chose the wiser form and climbed down backwards (Our legs weren't quite as sore the next day). There were railings on the side to steady your descent and every couple feet there was a rod to step down on. Jay joked that he wished there weren't rods and he could just slide all the way down, though I don't think he would've made it in one piece. As we entered the tunnel, we noticed that lights lined the floor, but they weren't on (maybe they were installed when the pyramid opened to the public, but it doesn't get enough use to justify the cost of turning them on.). As we descended further and further our light eventually disappeared and we were in complete darkness. I couldn't see my hand a foot in front of my face and I had to carefully feel for the next rod, considering they were not evenly spaced apart. It felt primitive and adventuresome. Thank goodness none of us were claustrophobic, and luckily they did have a light working in the burial chamber. The burial chamber was undecorated, but had an interesting step shaped corbel-vaulted ceiling ceiling. It was hard to believe we were standing inside the middle of a 5000 year old limestone pyramid.
After climbing out of the Red Pyramid, we walked around its circumference enjoying views of the far-stretching desert and the Bent Pyramid. The single road leading to the Bent Pyramid was closed under construction so we couldn't get as close as we hoped, but it was still impressive shortly off in the distance. If our small bus wanted to go off-roading through the sand we could've made it, but that wasn't on the agenda.
We continued on to visit the sites at Memphis, including a giant 35 foot statue of Ramses II, and then to Sakkara to see the Step Pyramid of Djoser, the first pyramid ever built. This pyramid most likely started as a mastaba, or flat roofed tomb, but as more mastabas were added on top it gained its impressive pyramid shape and went on to influence architecture for thousands of years to come.
Before visiting Giza we stopped at a carpet school, which was not originally part of our itinerary. Like the perfume shop the day before our guide added this stop in hopes of earning commission from us buying stuff (though we didn't). This is common practice among guides in Egypt, which we knew before we came, so we should've just declined all "free" additions to our tour, but we were too polite.
The carpet school was at least fascinating, but I was not sure how I felt about it. According to our guide, Sam, carpet schools offer opportunities for the poorest of children to learn a skill and escape desperate poverty. We were told that the children, supposedly ages 12 to 20, go to school half the day and make carpets half the day. Children are ideal for making the carpets because of their tiny fingers. As the boys fingers get too big, they become teachers and shop owners. When the girls get older and get married, they get a loom in their home and make carpets there for additional family income. This program was once abused and the children worked long hard hours, but now it is supposedly a beneficial program regulated by the government. I've yet to decide if I think it is an escape for poverty or child exploitation. I plan on doing my own additional research before making any conclusions.
After leaving the carpet school, we capped off our day at Giza seeing the pyramids of Cheops, Khafre and Menkaure, and the Sphynx. The size of the Giza pyramids is most impressive with Cheops Great Pyramid measuring 455 feet tall. Each stone weighs about three tons. The heaviest stone, which is in the King's chamber, weighs 80 tons. Standing at the base and looking up the pyramid seems to go up and up forever. We entered in the Great Pyramid. The first part of our climb was in a narrow tunnel like at the Red Pyramid, but it wasn't nearly as daunting because it was well lit and full of other visitors. The ceiling opened up for the second part of our climb, and though there were a lot of steps, it felt like a piece of cake after climbing all hunched over for the first part. Like inside the Red Pyramid, the burial chamber was nondescript and uneventful; climbing there was the fun part.
There was an eerie number of young children (8-12 years old) peddling postcards and wooden figurines. As a young girl tried to show my mom a booklet of ten postcards a young boy stepped in front of her trying to sell the same thing. He was promptly yelled at in a Arabic by an older man and he sauntered away. It all reminded me a bit too much of the children begging in Slumdog Millionaire and collecting money for their 'caregiver,' and I hoped that the situations had few similarities. It was sobering to think about all of the great opportunities I've had in life (like visiting Egypt) and to wonder what their life situation was really like and what their future held for them. As with many other Americans, traveling often reminds me of how blessed I am.
Seeing all three pyramids at Giza together is an unforgettable site, and we had fun taking photos, doing silly poses, and watching other people trying to pose so their photos would look like they were holding one of the pyramids. After visiting the Great Sphinx, we had dinner and headed to the train station for our overnight train to Aswan. The town was even noisier than usual, as Egypt was to play soccer that night against Algeria in their final chance to qualify for the World Cup. People were wearing red, chanting, and carrying flags or had them hanging from their car windows. Somehow there was even more horn honking than the days before, but this was to a musical tune. It reminded me of the Ohio State cheer where someone yells O-H and every fan around will yell I-O, except it was with car horns, which you can imagine made it more fun, but quite obnoxious too. Sadly, Egypt ended up losing 1-0.
The overnight train (with private sleeping cars) was a good way to get from Cairo to Aswan (Flying was the other option.) because it allowed us to see the country landscapes and saved on a night in a hotel. The train was bumpier than the overnight trains I had been on in Europe, which I guess I should expect in Africa, but I was still able to get a good bit of sleep. The train broke down at one point, so the trip ended up being 15 hours instead of 12, but I didn't mind too much. We had a small, but comfortable room and it allowed me to catch up on some sleep and my daily diary. And seeing the changing landscape from city to deserts and remote farms along the Nile is a perfect set-up for the next part of our trip, which centers on the Nile.
Click here to view more photos from our trip in Cairo, Giza, Dahshur, Memphis and Sakkara.