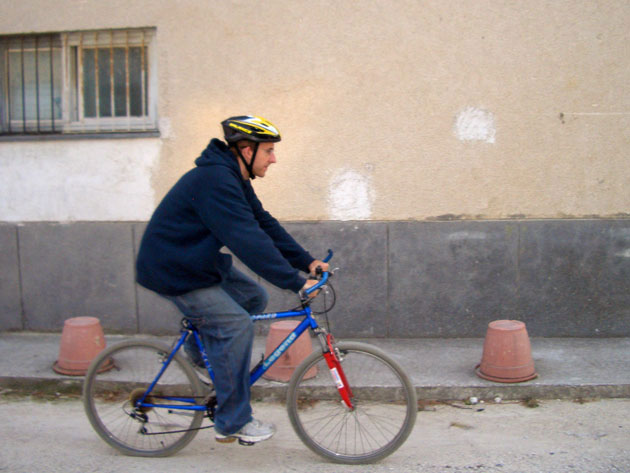 we just have to laugh (if we aren't crying)
Posted on October 20, 2009 at 9:26am Madrid / 3:26am Cincinnati by Kelly Larbes

Tears started to well up in my eyes. "What do you mean he can't stay?" It was the end of May and we were sitting in the foreigners' office at the police station trying to finish up the last of our official paperwork. The lady didn't answer my question; she just pointed at Jay again and said, "He can't stay," and then muttered a hodgepodge of Croatian to Maja. Maja turned to us and explained that Jay was not eligible for a residence permit because there was a law that said I could not bring any family member with me until I had been working in Croatia for at least two full years. My mind began to spin, thinking, "What the hell type of law is that?! How do they expect to attract intelligent foreign labor to help grow their county with such ridiculousness?! Why are we just finding out about this law now, considering all of the questions we asked and Elevator asked?! We sold our house and changed our lives, and now we have to leave?!" We were devastated.
The next weeks were a roller coaster of emotions and events. We sent a lot of our clothes home with my parents when they came to visit. We were at the police station more times than we could count. One day we would think we found a solution, only to have our hopes squandered the next day. It was very overwhelming. There were so many more implications than we wanted to think about, let along put in writing on our blog. We eventually found the person who had the power to make an exception to the law. Elevator wrote an eloquent (and a bit exaggerated) letter about the impact I had on their business and about the necessity for my skills for them to stay in business. It was what we needed. We were granted an exception and Jay could stay.
Most days I love being in Croatia, and I really think Split is a wonderful city. And that is what you usually read about on our blog, but honestly, every once in awhile Croatia seriously gets on my nerves. Living abroad seems to heighten my emotions: the highs are really high and the lows are really low. Some days the littlest things make my smile beam from ear to ear and other days the littlest things really frustrate me. Luckily there are many more highs than lows.
Our obstacles to getting Jay's residence permit were by far my biggest frustration, but there are plenty of little ones. And I find that some things that frustrate me about Croatia are the same things I love about Croatia. Here is a list of things that drive me crazy. The second, third, and fourth things on this list will would also make my list of what I love about this place.
BUREAUCRACY
I know Croatia is a relatively new country with a communist past and they still have a lot to learn, but I have never heard of a country having so much unnecessary bureaucracy and paperwork. I know foreigners in every country have bureaucracy problems, but I wish they would get it under control here. I could write pages and pages about the ridiculous bureaucracy that we went through to get Jay's residence permit and even more pages about the paperwork that has gone into me working here. And every single foreigner we have met here has their own crazy story of bureaucratic problems. We often think that there is so much bureaucracy so the government can employ more people in made-up unnecessary jobs and collect more money from foreigners.
Of course, the Croatian government doesn't just extract money from foreigners. It also drains as much money as it can from its own citizens. While most countries in the world sent out stimulus checks to its citizens or enacted tax credits to help stimulate the economy during the recession, the Croatian government enacted a crisis tax and automatically started taking an additional 4% out of everyone's paychecks. This bumped Croatian to #1 in the world for highest taxes. Not only is income tax almost double U.S. rates, but sales tax is 23%.
NO CAR
Sometimes it's so frustrating that we can't just jump in our car (because we don't have one) and get to where we want to go quickly. It makes everything take longer. For example, on our anniversary weekend we decided to visit the sandy beaches south of Split in Duce, and if we had a car, it would've taken about 40 minutes to get there. But it took us two hours because we had to walk to the main bus station, wait, and then take a local bus that stopped way too often.
Taking the bus is inconvenient. One comes by our apartment just once an hour. They are slow because they stop so frequently. Bus schedules are often hard to figure out because they are rarely posted at the stops, and when they are posted, they indicate times for when the bus leaves its starting point. We don't know if it will arrive at the stop where we are located 15 minutes later or 45 minutes later.
Planning outfits for work takes much more consideration of the weather since I walk more than a mile each way. I can't wear whatever shoes I want, and I have to wash my nice clothes after every use in the summer because I sweat so much walking home up the hills.
Not having a car also makes grocery shopping very inconvenient. The nearest grocery store is a 10-minute walk down a big hill, which isn't a big deal until you are carrying a bunch of heavy groceries back up that big hill. There is definitely no stocking up on a trunk full of groceries.
WORK
Work can be frustrating because I am engulfed in an entirely different culture, and not in small doses. Sometimes I just feel confused. Office culture and client interactions are shaped by the Croatian culture. People are much more private. Many clients just don't get design. It is still a growing field here. (Picture how business viewed design in the U.S. 20 years ago.) And sometimes I feel lost because of the language barrier. So much can be happening right next to me, but I don't have a clue what it is.
APARTMENT
We are used to the creature comforts of our home in the U.S., but we don't have all of them here. We know in the grand scheme of things, none of them matter, but some days we just want to cuddle up on a cozy leather couch and watch football on a 60″ TV. Here my butt starts to hurt if I have been sitting on the couch for two hours and we can barely watch any sports on our 19″ TV because we can't follow the tiny ball.
We miss our clothes dryer. I don't mind hanging up my clothes outside, but hanging up 40 socks that take two days to dry is annoying. And even if we do our laundry every week, we have to do about seven loads because our washing machine is so small.
We have two toilets. They both flush weird. One works like a sink faucet that you turn on and off. The other one you have to hold the handle down as it gushes water until you think it is completed flushing. I just want to press a lever and walk away.
SLOWNESS
Doing anything here just seems to take longer than if we were in the U.S. Some bills have to be paid at the post office and, of course, there is always a long line. Purchasing items online and having them delivered to your home seems to be a rare concept.
The service industry is not the hustle and bustle that we often see in the U.S. Waiters at restaurants are always so slow and seem to work with blinders on. They rarely notice you if you need something. (Jay is too nice and still loves to give them good tips.) Check-out clerks at the grocery store don't think twice about finishing up their five minute conversation with the person in front of you or organizing their entire area while you wait.
SHOPPING
I've come to realize that we came from a culture of instant gratification. With a little effort I could get almost anything I wanted in the U.S. at almost any hour, but not here. Many stores are closed at lunch, close early on Saturdays, closed on Sundays, and closed on all holidays. (Grocery stores are even closed on smaller holidays such as Labor Day.)
The selection at stores leaves much to be desired. I need new running shoes and I was so excited to find out that there is a New Balance store in Split. I thought they would certainly have the shoes I wanted, but, of course, they didn't. They didn't even have the older version. Plus, the sales lady was the most unknowledgeable person I have ever seen working at a specialty store (and it was not because of the language barrier). Shopping at the grocery store can be frustrating because they will have something in stock for a month and then maybe not have it for another three months. I find this very odd.
I miss not being able to buy almost any food I want, especially deli sliced turkey. (Oh, how I miss yummy deli sliced turkey.) Mac and cheese, good Italian bread crumbs, good granola bars, Pam cooking spray (we found this here, but it cost $18 for a can, and I am not exaggerating), cheddar cheese, and good american cheese burgers are also missed.
CROATIAN LANGUAGE
The Croatian language is very difficult to learn. Not being able to communicate with people properly, such as at work, or at the post office, or ordering a pizza is so frustrating, but we know it's mostly our own fault. We honestly aren't putting in the proper effort to learn the language because our situation here, like most foreigners, always feels a bit precarious, and we are enjoying spending our free time doing so many other things.
NICKELED AND DIMED
I think you have to pay for everything in Croatia. Many of these fees are insignificant, but they are just obnoxious. The paper you fill out to pay your bills at the post office costs 4¢. Some restaurants charge a 60¢ sitting fee per person or 40¢ for a ketchup packet. I had to pay $4 for an official work booklet to show my working history in Croatia and then another $4 for a new one because of a new Croatian law (Croatia loves to make up new laws every month) that says the official work booklet lady now had to fill out my personal information with her special blue pen (more silly Croatian bureaucracy). And banks charge you for everything: $12 to open an account, $2 a month for online banking, 80¢ a month to send your balance to your phone via text message, etc. I even had to pay money to close a bank account I never used and had already payed $12 to open it (another long story – I wouldn't have even closed it if Maja hadn't insisted it would be embarrassing to her if I left it open).
Though my ranting and raving may make it seem like we are fed up with things here, we aren't. There are too many things we love and we are adjusting to those we don't. We are getting better at laughing at life and solving problems by being persistent. It doesn't make the frustrations go away, but it makes them a lot better.
We've learned to keep plowing forward with the bureaucracy. We bought used bicycles to get us places quicker. At work I've learned to ask lots of questions so I am not so lost. Our apartment didn't have a shower when we moved in – just a tub – so we engineered our own makeshift shower by standing a shower rod vertically and attaching an adjustable shower nozzle. I get Jay to tell me stories about his day while we wait at slow restaurants. We make sure we get our shopping done when the stores are open. We are gaining more courage and confidence with what Croatian language we do know, and we are bit less shy about trying to communicate with locals. I am not really adjusting to being nickled and dimed for everything – I just get over it quicker, so I guess that is sort of adjusting.
Jay says so many crazy, illogical, and unbelievable things happen here that nothing surprises him anymore, but I still feel surprised everyday.