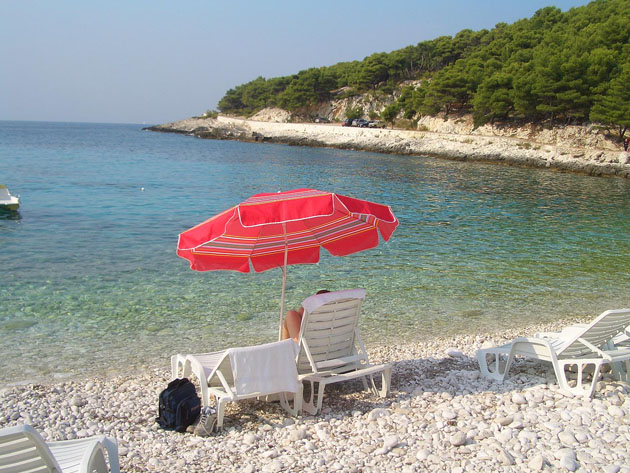 Exploration and Relaxation on Hvar
Posted on October 7, 2009 at 8:51am Madrid / 2:51am Cincinnati by Kelly Larbes

We spent last weekend on the island of Hvar, and we arrived without booking accommodations. We stepped off the ferry to the now accustomed barrage of little old ladies saying: "Do you need room?" "Apartment! Very close, very close. Come with me." "Accommodation? Accommodation?" We hesitated just long enough that they knew we might be interested, and we were surrounded within seconds. We were expecting the swarm of offers and we were even counting on them for a place to stay, but it didn't make it any less intimidating. Everyone wanted our attention. They were yelling at us, grabbing my arm, shoving photos in our faces – seriously lacking any sense of personal space. I was immediately drawn to those who were not as aggressive. A lady speaking quite good English and holding a binder full of photos caught our attention. Her English skills gave her quite an advantage over the others at the dock. The photos of her place looked nice and clean. She said it was just a five minute walk away and it would be just $32 total for the night. Sold.
We walked a couple minutes with the lady and her elderly father and arrived at her car. That should've been our first clue to walk away; clearly her place was further than a 5 minute walk if she was going to drive us. But she assured us that she just had the car because she had driven other guests down to the ferry with luggage earlier in the morning. Of course, our first instinct was right, and the place was really a 20 minute walk from town. And there wasn't the fabulous view she promised, but it still ended up being a great find for the weekend. It was clean, contemporary, and cheap! And it led to us enjoying a fabulous beach the next day.
During all of the commotion at the dock, I had heard someone shouting my name. I ignored it at first figuring that no one here could possibly know me, but then I saw Vesna. Vesna was one of my and Jay's first "friends" in Split. (When we first got here we dubbed anyone who was friendly and would talk to us as our friend.) She was the real estate agent that helped us find our apartment. She went to college in the United States playing volleyball for the University of Central Florida. Earlier this summer, she gave us tickets to a Croatia national volleyball team match when they were in Split. She spent the summer working in Hvar for a tourist agency, and it was a pleasant surprise to see her. She knew we couldn't talk amidst the swarm of accommodation offers, but told us to give her a call and we could catch up over drinks later.
We spent the afternoon walking around and exploring Hvar Town. It is like many of the other primordial towns in Croatia: stone houses with terra-cotta roof tiles, endless narrow alleyways, laundry hanging on lines from the windows, and cats bathing in the warm sun. There is a lovely monastery right on the water's edge and an ancient fort overlooking the town. We climbed a few hundred steps and wound our way up a path to the fort. It offered great views of the town and of the Pakleni islands, a small chain of twenty islets off the coast of Hvar.
As we entered the fort's prison, we heard an American voice behind us ask if we were from Cincinnati; a Denver couple noticed Jay's Cincinnati recreation sports t-shirt. The wife grew up in Cincinnati in Mt. Washington. Her husband played football at the University of Cincinnati in the early 1960s and was a graduate assistant coach when Greg Cook was UC's quarterback. (Jay told me Cook was famous, though I had never heard of him.) They had been bicycling through Italy and Croatia for the last two weeks and were happy to receive UC football updates from Jay. Experiences like this always make the world seems so small.
We got lost trying to find our way back to our apartment from the fort, but eventually found our way and enjoyed an hour of reading on the terrace as the sun started to set. Jay found a turtle in a large bin on the terrace and let it stretch its legs before returning it to its home. Jay said a turtle would make a good pet because he thinks they are fun to play with and easy to take care of. I think they are a bit boring, but they are cute.
We had a nice dinner on the Riva (waterfront promenade) and then met Vesna for drinks. It was good catching up with her and seeing Hvar come to life at night. Hvar was mostly quiet during the day because it is the tail end of tourist season, so I was surprised by the hustle and bustle of the night. A good number of small gulet cruise ships had pulled in to dock for the evening, and the bars were full of revelers.
Hvar is Croatia's most popular island because of its great sunny weather, crystal clear waters, and world class (i.e. expensive) accommodations, and it is always crowded during the summer. In the past few years it has become a popular destination among celebrities such as Beyonce, Jay Z, Gwyneth Paltrow, Bill Gates, Kevin Spacey, Steven Spielberg, Andre Agassi, Pierce Brosnan and Sean Connery. On a typical July or August day the population of 3,000 swells to over 30,000 visitors, which is the precise reason we waited until the last weekend in September to visit. The weather was still perfect for a swim and we didn't have to fight any crowds.
The next morning we headed to a beach the apartment owner directed us towards. It was a beautiful beach nestled in a small valley of rocky hills. It was a quarter mile hike down the hill to the pebbly beach. Overall I prefer soft sandy beaches, but pebbly beaches also have their advantages: you don't get dirty with sticky sand and the water stays much clearer. We rented two beach chairs (which I, of course, bargained for) and spent the next few hours soaking up the sun and reading our books.
We went for a swim in our sexy goggles. (Yes, we looked ridiculous.) We bought the goggles in the middle of the summer, and they made swimming much more enjoyable since we could open our eyes underwater. We swam out about 100 yards to the buoys and could see all the way to the sea floor the entire way. There were hundreds of little fish below us. They aren't as pretty as the colorful fish in the Caribbean, but they are still a lot of fun to watch. The water was nice and refreshing; it was much better than I expected for the end of September. I hope we have one more beach weekend left this season, but if not, this was sure a perfect way to end the summer and our Hvar weekend.
Click here to view more photos from our weekend trip to Hvar Town.