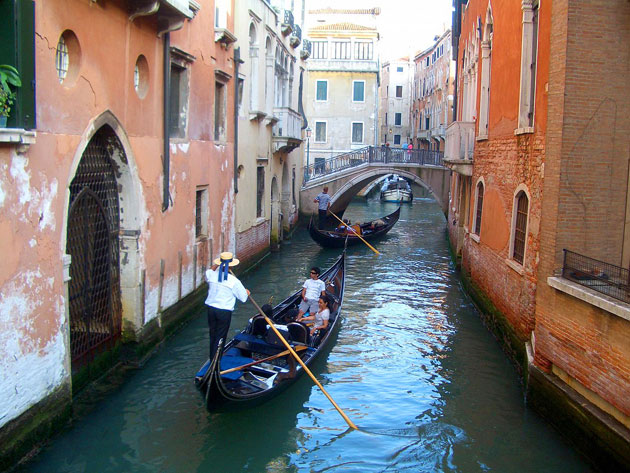 a stop over in Milan and Venice
Posted on August 24, 2009 at 8:59pm Madrid / 2:59pm Cincinnati by Kelly Larbes

I can't decide if I love Milan for its high-end design, attention to detail, and copious amounts of eye-candy or hate it for its pretentiousness and conspicuous consumption. I only had two day to make my snap judgments, but I am leaning towards loving it. For a designer, being in Milan is wonderfully inspiring. Whether it's walking among the nearly 700-year-old pinnacles and spires on the roof of the Duomo, checking out some of the latest design breakthroughs at the Triennale Design Museum or just people-watching, there is beautifulness everywhere.
Jay's and my trip home to Cincinnati for the wedding in July actually began in Italy almost by chance (or luck). We had been keeping an eye on plane tickets home to Cincinnati from Split for months. The prices were exorbitantly high and we kept hoping they would lower, but they never did. Luckily we found tickets to Cincinnati from Venice for about half the price, and once you priced in the cost to get to Venice and a few days vacation, it was a wash. It made a perfect reason to check out more of Italy. We decided to get a small taste of Milan and Venice, spending a day and a half in each city.
To get to Italy, we took an overnight ferry from Split to Ancona, Italy and then caught a four hour train to Milan. The overnight ferry is great because you depart at 8:30 pm, have dinner on board, go to sleep, and then wake up at 7:00 am in Italy. We were quite pleased with ourselves when we got a great online deal with Blue Line Ferries, in which the first few rooms on each sailing are just $35 per person. It was much more affordable than expected and we even got a cabin with two bunk beds, a toilet, a sink, and a shower.
The first thing we did in Milan was head to the Duomo i.e. Milan's cathedral. To me, the Duomo alone might just be worth the trip to Milan. It is the most impressive cathedral I have ever seen, with 135 spires and 3,500 statues (I know I haven't seen enough cathedrals to make a full educated assessment, but it is definitely extraordinary. Let me know if there is one you have seen that you think I shouldn't miss).
The Duomo is one of the largest churches in the world (between number 2 and number 7 depending on what list you are looking at). It took over 5 centuries to build and walking on the rooftop you can see why. The intricacies of every detail are amazing. Here we got an up-close look at many statues, pinnacles, spires, and the graceful flying buttresses.
After the visit to the Duomo, we spent the rest of the afternoon and early evening walking the streets of Milan (in particular Via della Spiga, Via Alessandro Manzoni, and Via Sant'Andrea) people-watching the wealthy and checking out the stores of the world's most famous designers. I always seem to end up around these types of stores when I look just a touch too touristy. One day I will have to go back looking like I fit in (or at least try to) and be more adventurous in my perusing.
The evening concluded with one of my favorite Italy dining experiences: a late dinner at Pizzeria Spontini. This family friendly restaurant frequented by locals only serves one thing: cheese pizza, and somehow they seem to do amazing business. I guess it is because the pizza tastes so good, and unlike most Italian restaurants, the staff here is working hard and moving fast. Its not the place to go if you are looking for a nice long slow meal, but if you are just looking for great affordable pizza, it is the place to be. The pizza was nice and hot with a deep dish crust and very cheesy. A slice and a half each was more than enough to fill us up. We left full and happy.
The next day we spent a good amount of time in Sempione Park, a 116 acre park in downtown Milan. I always appreciate a big green oasis among sprawling urban architecture. The park is situated between Sforza Castle and Arco della Pace, which were pleasant architectural surprises we hadn't planned on coming across. It was a Sunday, so Sempione was full of families enjoying picnics, kids delighting in the few amusement park rides, friends sun bathing, couples walking their dogs, young urbanites jogging, and even a group participating in a boot-camp style work out with two Herculean men yelling and blowing their whistles. Jay and I walked along all of the paths and laid in the grass under a sprawling tree before heading to the Trienalle Design Museum just on the edge of the park.
The Trienalle Design Museum is a fairly new museum in Milan – it opened in 2007 – and is dedicated to awe-inspiring design (mostly industrial design) with Italian origins. We enjoyed seeing the range of work and styles from the 1930s until today, including everything from vehicles to furniture to household goods. My favorites were the Alfa Romeo sports car prototype that looks like an old spaceship, the sketches and process work shared from some contemporary chairs and lights, and the distorted mirrors that Jay and I played in front of to see how silly we could look. We managed to take a couple photos before we were caught and scolded by the curators. I'd love to see this museum share even more new technology advancements and design breakthroughs. I certainly hope to visit it again one day.
We arrived in Venice in the evening and took a vaporetto (Venice's water bus) to our hotel as the sun set. It was a beautiful way to see Venice for the first time. We stayed at the NH Manin Hotel, which was a renovated old palace overlooking the Grand Canal. We booked the hotel by bidding on Priceline, which worked out great. We ended up in a beautiful hotel at a good price. Compared to our hotel in Capri, this was like the Four Seasons. We delighted in walking right out the front doors of our hotel and seeing the flurry of activity on the Grand Canal, and we appreciated not having to haul our luggage all around town and up and over bridges like we saw so many other tourists doing.
That evening we had dinner in a small piazza and then walked around the city to see all of the sights lit up at night. It was nice being able to enjoy the city without the large crowds present during the day. The canals looked peaceful and glistened under the evening lamp lights. I savored holding hands as we walked over small bridges and through the still back streets. The area surrounding St. Mark's Basilica snapped me out of my enchanted mood. It was still buzzing with crowds and souvenir vendors. We were a bit disappointed that the basilica and other churches in town weren't lit up as beautifully as everything we had seen during our night stroll in Rome, although they lived up to their beauty in the light of the next day.
The next day was blisteringly hot and Jay was feeling a bit under the weather, so this combination seriously under-minded his enjoyment of Venice. He was a good sport though and trekked through all of the main sites with me and would find a step in the shade to sit and rest while I wandered through the mask shops. There were several parts of Venice that really fascinated me: the canals and gondolas, St. Mark's Basilica, the Venetian mask shops, and the logistics of a city functioning almost entirely on water.
Some may argue that they are smelly, overrated and expensive, but I thought the canals and gondolas in Venice were beautiful. And the fact that there were no cars around was just an added bonus. We didn't take a gondola ride because the $120 price tag for a 40 minute ride was quite a turn off, and I really just took pleasure in seeing all of the unique gondolas and people-watching as couples and families were serenaded through the narrow water alleys. They created so many picturesque moments.
St. Mark's Basilica wasn't as impressive to me as the cathedral in Milan, but I surely wouldn't turn my nose up at it. The interior was breathtaking. The ridiculous amounts of gold seemed appropriate for a basilica in a city once known for its grandeur and riches. The ridiculous amount of pigeons outside the basilica was not appropriate and it was a bit disturbing. I couldn't believe how many people were feeding them from their hands, letting them swarm all around them and land on their arms and head. Eek.
I think I inherited my love of masks from my mom. She has always been fascinated with masks and when she taught art her students always got to make fun creative ones. Venice is obviously the perfect place for a mask lover, as they seem to be sold in almost every shop. My favorite mask shop was Ca del Sol in the Castello district. The store is bursting from the seams with unique, high-quality handmade Venetian masks. I'd love to visit Venice during the Carnival to see the costumes and masks being worn in all the streets, though I imagine Venice to be a logistical nightmare during the festival.
Besides walking the streets and touring the sights, seeing the coordination and engineering it takes to run a city on water is intriguing. It is such a novelty to see postal service boats, trash collecting boats, and police boats. I know it's an obvious conclusion that almost everything in Venice must run by boats, but that fact certainly didn't deter my enthusiasm for seeing is all. The police boats were especially fun to to see because they reminded me of the chase scene at the beginning of The Italian Job. I just wanted to see them push the throttle forward and kick it into high gear, though it is probably for the best that I never saw that happen.
After two nights in Venice, we headed to the airport for our flight home to Cincinnati. It's hard to fully enjoy a city when your companion isn't feeling well, but I still absolutely loved Venice and I hope we can visit again some day during their off season when their won't be so many tourists or during the Carnival. Of course, there are so many other places I want to visit first.