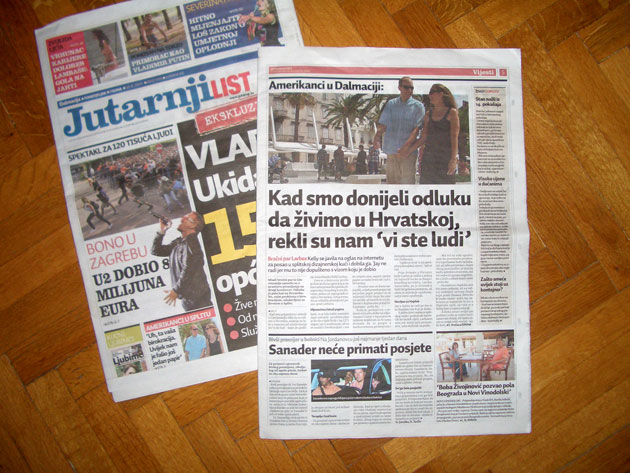 Our Fifteen Seconds of Fame in the Jutarnji list
Posted on August 16, 2009 at 11:03pm Madrid / 5:03pm Cincinnati by Jay Larbes

"Young couple from Cincinnati discusses the adventure of moving to another continent. We don't know why they chose Croatia. However, besides problems with bureaucracy, they are fascinated about life in Split."
The above sentences are the introductory paragraph (at least, a rough translation of) to a newspaper article about Kelly and I that just ran in this past Monday's (August 10, 2009) Jutarnji list daily (here's the full translated text). The Jutarnji list is a daily Croatian newspaper with a national circulation of about 115,000 issues. Why were we in this newspaper, you might be wondering? Well, quite honestly, so are we. Here's the story…
Last Thursday, I received the following message in my Facebook inbox:
"Hi, my name is Ivica Profaca, and I am a reporter with the Jutarnji list daily newspaper. After seeing your blog, we are interested in an interview with you and your wife about your living in Split. Please reply on this message, or you can reach me on a mobile 098 5555 555 (number masked).
Looking forward for your reply, and hopefuly your "yes" for this idea."
Take care, Ivica Profaca
I read it once, and then read it again. And then thought to myself: "Someone wants to interview us – because of our blog – really? I wonder how he stumbled upon the blog." Kelly and I had a conversation about it, and decided 'why not?' We were a bit concerned with drawing unwanted / unneeded attention to ourselves, but decided that the novelty and fun of the idea was worth the risk.
So, after some back-and-forth with the reporter Ivica, it was decided that he – and a photographer – would come to our apartment Sunday morning at 11am to chat. That's right – a photographer. We still didn't know how he found our blog or what exactly he wanted to interview us about.
Right on time, Sunday morning, Ivica showed up – dressed in his Sunday best of shorts and a Seinfeld "Master of my Domain" t-shirt. The photographer showed up a few minutes later (he got lost – our place isn't the easiest to find). We chatted for just a few minutes and then let the photographer do his thing. He took some photos of us out on our balcony* and then in our living room. And I guess he decided that those weren't good enough, because then we left our apartment and drove down to the Riva for photo session part two. This was pretty funny, because he had us hold hands and walk towards him a half-dozen or so times, while he was snapping away. The super cheesy photo heading up this article is the photo that ran in the paper.
*Of course, since it was very bright and sunny, I was my usual moronic self and couldn't keep my eyes open. For those of you who don't know me, I have a much bigger problem than most people in opening my eyes normally while in sunlight photos. I've ruined quite a few good photos with either the squinty-eye or one-eye. Let me take this opportunity to apologize to everyone who I've done that to, and also to everyone who I'll do it to in the future – I'm sorry, I can't help it!!
Once the photographer was satisfied that he could get all he could out of what he was working with (talking purely about me of course – it's not much of an effort to get beautiful photos of Kelly), he headed on his way and then Ivica, Kelly and I headed to a coffee shop to conduct the interview. We did get in a couple of our own questions first – how he found the blog and why he found us interesting: he said that someone else told him about the blog and he enjoyed seeing Split from an outsider's perspective and thought it would be a fun idea for an article. Kelly and I think that news has just been slow or something.
For the interview, he basically asked us the same types of questions that our friends and family have asked over the past few months. Here's a brief sampling, with some of our answers:
Why did you decide to come to Croatia? We were ready for a new life adventure. We wanted to experience life outside of the US, and wanted to move somewhere with a good climate – preferably by the sea since we have lived in Cincinnati our whole life. And Croatia just worked out – Kelly found a graphic design job here.
What did people think when you told them that you were moving to Croatia? We received a range of reactions, from 'no way – that's awesome – I'm so happy/jealous/excited for you!!!' to 'no way – you're crazy – why on Earth would you want to do something like that?!'
Kelly, where do you work? I work for a graphic design studio in town, Elevator
At this point, Ivica looked at us, and said "Elevator – Tony's Elevator?" When we confirmed, he told us that he has known Tony for many years, since they were in high school. He shared a couple fun stories about Tony.
How do people treat you here? Overall, we feel that we are treated very well. Our landlord Petar and his wife Anna go out of their way to be kind to us. When we go to the grocery or out to eat, we get some people who are nice and smiling and friendly and other people who are just dull and indifferent. Very rarely have we run into people who are mean or rude.
What do you think about prices here? That's one thing that has surprised us a little bit. We knew going in that housing was expensive. Our monthly rent for a two-bedroom apartment is similarly priced to those in Cincinnati. But, we were surprised to find that groceries seem to be more expensive. We feel we pay up to double for groceries versus at home.
After conversing for about an hour, Ivica took us back home. Before departing, we asked him if and when we should expect to see the article published – and he said "tomorrow!" Wow, I was expecting an answer along the lines of "in the next few days, depending on what comes up and where it can fit."
But sure enough, we jumped online at 7am Monday morning and were greeted by our smiling faces! Since the newspaper is only in Croatian, we relied on the http://translate.google.com website (one of our most frequented web sites here – we use it daily) to make sense of the article for us. It does a pretty good job of translating for overall content, but not a very good job of word-for-word translation. So, we can get the gist of the article. We were a little disappointed that it's nearly completely mentioning negative things, since during the interview we talked 90% positive and 10% negative, but oh well – we're over it. We had a feeling it was heading that way, because some of his comments indicated he wanted to get some dirt from us. Overall though, we're just amused with the whole experience. We're also enjoying reading the translated article comments, up to six total now – even though they make even less sense than the article itself, because they are only a sentence or two long and probably less formal.
Kelly also purchased a couple copies of the print paper – we're even featured on the front page, just below U2's Bono (U2 held a big concert in Zagreb Sunday night – the first time they have ever performed in Croatia). We have nearly a full page dedicated to our article on page 5 of the paper, ahead of Bono and U2! (They did get a full two-page spread, though.)
To wrap things up, here are links to the translated article and the original newspaper article:
UPDATE – a few days after the newspaper article ran, Ivica Profaca also posted a blog article on his personal blog, Split Personality titled Torcida Cincinnati, which is the unabridged version of his newspaper article (before his editors revise for space considerations). Here are links to the translated blog post and the original posting: