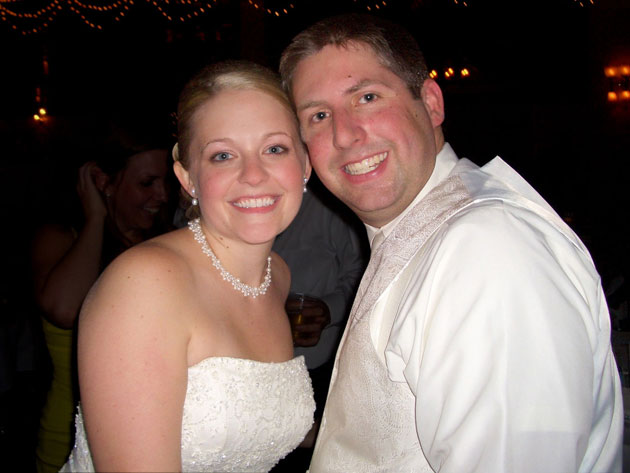 Happy Wedding of Jenny and Chad
Posted on August 9, 2009 at 4:55pm Madrid / 10:55am Cincinnati by Kelly Larbes

I've decided that the first dances at the reception are my favorite part of a wedding. It's the part the makes me feel all mushy and girly inside. I always think back to my own wedding and my heart melts a little. The nervousness from dancing in front of so many people seems to melt away quickly for most newlyweds as they get lost in each other in a special moment truly made just for them. They always seem so blissful and in love.
I think the father/daughter and mother/son dances may make me feel even more gooey inside. It's the only time I almost cried at my own wedding (I'm not a happy crier) and the dance gets to my heart at every wedding. The parent always looks so proud and emotional. He or she is so happy for their child and for all of the great lifetime memories yet they are just a little sad that their baby is all grown up. It is so bitter sweet. It always feels precious to be able to stand back in the shadows around the dance floor and see two people share such a special point in time.
On July 25, 2009, Jay and I were in Cincinnati celebrating Jenny (Jay's sister) and Chad's wedding. Jenny and Chad are two very significant people in our lives, so of course, I loved seeing their first dances, but the day began well before that. My morning began at 6:00 am as my mom came rushing into our room slamming shut our windows as the rain poured in from a powerful thunderstorm. Jay and I rolled out of bed a couple hours later, cleaned up the window sill and carpet still wet with rain, and packed our things for the day as we hoped the persistent rain would soon stop. The forecast and weather radar did not look good.
I arrived at the Larbes home around 9:30 am and then we headed to the salon to meet all the girls in the wedding party and to start getting beautiful. Jenny's girls included her mom, Julie (maid of honor and sister), Carlye (Chad's sister), Becky (childhood friend), Katie (high school friend), Michelle (friend from year in Atlanta), and me (matron of honor and sister-in-law). There was lots of teasing and hairspray. Rain or shine our hair was going to stay beautiful. The elderly ladies who were Saturday regulars at the salon fawned over us as they asked who was the bride and gave us best wishes for a sunny afternoon.
The rest of the morning and early afternoon was for makeup, food, and relaxing. Katie, one of the bridesmaids, did Jenny's makeup. They went to Sephora the weekend before the wedding to pick out her look and colors. The consultant had Jenny in bright blue eyeshadow, which isn't quite her style, but by the big day everything was worked out. Jenny looked radiant in soft pinks. Her look was accented by the beautiful array of pinks from the roses in her bouquets.
As the finishing touches for makeup were applied and all of us bridesmaids got into our dresses, the clouds started to break up, the rain stopped and the sun even came out. By some miracle the rain stayed away for the rest of the day. We heard jokes from people all day about how they called in a favor to God for Jenny and Chad.
The photographer arrived at 2:15 pm for "getting ready" photos before she headed off to meet the guys at Mt. Echo Park for group photos. Mom Larbes, Julie and I helped Jenny into her dress, jewelry and shoes. Jenny's dress was elegant and beautiful. The bodice was covered in lace with two small bows that accented her waist. The body was an a-line silhouette with smooth satin that fell to her feet with a small a-train in the back. Jenny's necklace was elaborate pearls, which belonged to Grandma Maley and was worn for her 50th wedding anniversary. Jenny's look came together perfectly. She looked stunning.
The only malfunction while getting Jenny ready happened when I accidentally stuck my finger in the moving ceiling fan as I helped with the dress. Luckily there was only a little blood, but it was quite painful. I still have a nice scar that is slowly healing.
The limo picked all of us girls up for photos at 4:15 pm. Mt. Echo Park provided a great backdrop. I tried to take a lot of photos throughout the day for Jenny, and Jay snapped photos of us at the park. We left the park and arrived at Our Lady of Victory Church shortly before 6:00 pm. We visited with Grandma Maley, Grandma Larbes and a few other family members who snuck back, and Julie and I helped Jenny go the restroom one last time before the walk down the aisle at 6:30 pm.
Have you ever thought about how a bride goes the restroom in that big poofy dress? If you have ever been a bride or bridesmaid you probably have. It seems to be the exact same ritual for almost every bride and it is a good laugh for everyone involved. You start by looking at the poof of the dress to determine how many bridesmaids are needed. For Jenny, Julie and I were sufficient. Then you all squeeze into a bathroom, preferably the handicap stall for extra room. The bridesmaids pick up the poof; there are layers and layers of fabric overflowing from their arms. They are extremely careful not to drop any fold of the dress into the toilet. At this point, the bride can't see anything except the layers of white fabric and she is usually quite unbalanced as she tries to lower her undies (sometimes assistance is needed for this part too, but luckily Jenny could handle it on her own). The bridesmaids eye the toilet and the bride and tell her to shimmy backwards until she is perfectly positioned over the toilet. She has no choice but to trust her bridesmaids as she plops down and hopes she lands properly. Then she has to go the restroom with people standing just a few inches from her. Luckily she has the privacy provided by her poof. Somehow this all usually goes off without a hitch and is just an afterthought in a day full of great memories.
Now to the actual ceremony. Jay had lots of duties early; he escorted his mom, both of his grandmas and me down the aisle. It was nice to get to walk with Jay. He looked so handsome. The girls got to sit in the pew right next to where Chad stood waiting for Jenny. He looked a little nervous, but mostly eager. It was fun to watch his face as Jenny walked down the aisle with Dad Larbes. Surprisingly there was no flood of tears – just glossy eyes and super big smiles. My head probably looked like I was at a tennis match as it moved back and forth: looking at Jenny, looking at Chad, looking at Jenny, looking at Chad. I think Jenny won my attention in the end, but I didn't have to decide long because Dad Larbes passed Jenny's hand to Chad and they were together from then onward.
Jenny and Chad had a nice short Catholic wedding ceremony, which means no mass was given, but there was still plenty of substance. We listened to readings, a homily, and music sung by Jenny's friend, Megan; we said a few prayers and offered peace to each other; they said their vows; Chad kissed the bride (very nice – passionate, but no excessive tongue – thank you), they received a blessing and walked out of the church hand in hand as Mr. and Mrs. Chad Noward!
We had family and bridal party photos at the church and again at Mt. Echo Park before we headed to the Benchmark reception hall to get the party started. Jenny and Chad started the fun by entering to Black Eyed Peas' "Boom Boom Pow" and then cutting their cake. They had a "tight pact" not to smash the cake, but egged on by Dad Larbes, Chad smashed a big handful of cake in Jenny's face. She was ready for it though and made sure she got him good by using both hands to smash cake all over his face. It was all in good fun. Luckily Jenny wasn't too much of a mess. With a quick trip to the restroom, her face was easily made back to its original beauty and Mom Larbes helped clean out all the cake that had fell down her cleavage into the dress.
After a delicious dinner, Mark (best man), Julie, and I gave our speeches and wedding toasts. I really don't mind talking in front of people, but still speeches are always a bit nerve racking. I told this to Jay as I was preparing my speech and his idea of consolation was to tell me not to worry about it because no one would remember it the next day anyways unless I bombed it. I don't know if this made me feel better or annoyed me because it's true, yet I spent so much time trying to make it good, sincere and thoughtful. I know Julie was very nervous because it was the first time she had given a speech, but I thought she did wonderfully. She had everyone in the audience laughing. So did Mark. Here is a video mix of our speeches:
The first dances were next and they did not disappoint. Jenny and Chad looked so happy and at ease as they danced to Michael Buble. Chad even showed off his moves by spinning Jenny. Jenny and Dad Larbes danced to Tim McGraw's My Little Girl and I think this has to be one of the best songs ever made for a father/daughter dance:
You're beautiful baby from the outside in.
Chase your dreams but always know the road that'll lead you home again.
Go on, take on this whole world.
But to me you know you'll always be, my little girl.
Now that has to make you smile just a little. Chad and his mom danced to Rod Stewart's Forever Young. I'm sure it's a moment Chad's mom will always remember.
After the bouquet toss and garter toss, we spent the rest of the night shaking our booties on the dance floor and visiting with family and friends. Jay and my time in Cincinnati went by so quickly and the wedding day went by even quicker. We really appreciated that our last night in town was so special and we got to see so many people we love. I think Chad described it best when Jay asked him how the night was on a scale of 1-10. He said it was definitely a 20.
A few more of my favorite photos from the day: