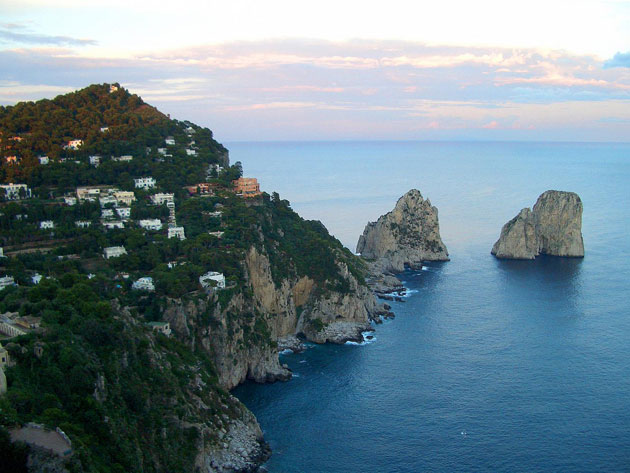 Italian Sun in Pompeii, Sorrento, and Capri
Posted on August 5, 2009 at 12:01am Madrid / 6:01pm Cincinnati by Kelly Larbes

As the train doors opened we grabbed our luggage and pushed our way forward along with dozens of other tourists and locals. Like most transportation in Italy, the train to Pompeii was standing room only, and you were bound to get to know your neighbor, whether in a conversation or just their body smell. Jay and I quickly stood our ground in a small corner near the entrance and watched dozens more people rush in behind us. One young couple with oversized luggage got separated in the scramble and the woman stopped by us with her arm stuck between the door and an oblivious man leaning on it. Jay gave the man a good shove and she was free. There was just enough room next to her for a stout smelly old Italian man who grabbed the bar above her as the train took off leaving her face squarely in his armpit and no where for her to turn. It was quite pitiful, but it did make for good conversation later and helped us make some new friends: Helen and Anthony.
We arrived at Pompeii around noon and spent a gorgeous sunny afternoon exploring the ruins before continuing on to Sorrento. Pompeii is a ancient town that was completely buried in volcanic ash in the eruption of Mount Vesuvius in AD 79. Due to the lack of air and moisture the entire town is amazingly well preserved. It contains so much information on how people lived nearly 2000 years ago. The immense volume of things to see here was almost overwhelming. There is an entire town to explore. It really made me wish I could time travel 2,000 years back and walk about the town's some 20,000 inhabitants.
As we left Pompeii for Sorrento, Jay and I shared the best fresh lemon and orange icee we've ever had. The south of Italy grows lemons and oranges the size of cantaloupes. We saw lemons everywhere we went after leaving Rome and heading south. Later we sampled some of the popular local liqueur, limoncello. We even bought one large and one small bottle to take home to share with friends and family, but we were foolish and packed them in our carry-ons on the way home to Split. The large bottle ended up in the trash can at airport security. Luckily security didn't see the little bottle, so we have just a bit to share still.
Arriving in Sorrento we were happy to find that our hotel, Carlton International, was clean and pretty with a very polite and helpful staff. It wasn't anything fancy, but it was first-class compared to our other accommodations throughout the trip. We wished we had more than just one night there.
We had bumped in to Helen and Anthony several times in Pompeii and made dinner plans, so after freshening up at the hotel we met up with them. We walked through the pedestrian-only streets in town and settled on a restaurant in a small side street with just the type of outdoor seating you'd picture in a little Italian town: small tables with cloth table clothes arranged just far enough apart for the waiters to slip by, wrought iron chairs with cushions, and a striped awning with the restaurant's name in hand-written script. Dinner didn't disappoint either. I enjoyed a creamy spaghetti carbonara, Jay had a ham and cheese calzone and we share a bottle of white wine with Helen and Anthony. We were entertained by a lively and talented quartet of musicians. Their rendition of That's Amore brought the lady at the adjacent table to tears as she told us that she was on her honeymoon and this was played at her wedding. It was the perfect Italian moment for her.
After dinner we continued our conversation over gelato. Helen and Anthony are from England (a few hours from London). They both have traveled a lot, so they had many good stories and recommendations. We will definitely have to make it to Vietnam and the South Pacific one day after hearing how beautiful and unique it is. Jay and I don't usually make random friends on trips, so this was a fun treat.
The next day Jay and I walked through more of town to see the sites and enjoy the beauty. Sorrento is situated up on cliffs overlooking the sea offering many gorgeous views. The town definitely caters to tourists, but it never felt overly crowded and everyone was very friendly, so it was quite delightful. Before heading out on the ferry for Capri, Jay and I bought drinks at a small shop and a pizza-to-go from the restaurant we ate at the night before and we shared it in the public gardens overlooking the sea. My family (sans me) had done this a few years ago when they visited Sorrento during a cruise and recommended it to us. It made for a very enjoyable lunch.
I think the beauty of Capri made it my favorite stop on our trip, though its hard to pick because each place had its own charms. Capri looks like a mountain that someone stuck in the middle of the sea. There are no flat areas at all and this makes traveling around the island interesting. It is only 4.5 miles long and 1.5 miles wide, but it can take 30 minutes just to get between the two towns on the island, Capri and Anacapri, as the road winds back and forth up and down the mountain.
We stayed in Anacapri, the town further from the Marina where we arrived, so that meant taking the local bus to our hotel. This was an adventure. The buses on Capri are very short in length so they can make all of the hairpin turns on the mountain sides. They are also always very crowded. Not only were we standing and trying to hold our luggage and ourselves up, but every couple minutes we would make a quick whipping turn throwing us off balance as we would try not to fall over on top of other riders. It was quite a good workout.
Our hotel in Anacapri, Hotel Loreley, was the biggest disappointment of this part of our trip; it was a dive. Not only was it a dive, but also it was a $120 a night dive. In the United States, $120 can get you a decent hotel in almost any city, but not on Capri. In hindsight, we should've splurged for a nicer place or stayed in Sorrento and made day trips (the ferry ride is just 20 minutes from Sorrento). The worst part of our room was the shower. It was old and grimy and had the worst water pressure I've ever seen. It was like trying to shower in a drinking fountain. I never felt clean.
I also never flushed the toilet while I was there; I had Jay do it for me because it wouldn't flush when you pressed the handle. You had to lift up the lid of the toilet and pull the lever up in the tank. We told the front reception that the toilet wouldn't flush when we arrived, and that is what she did to fix it. She didn't speak much English, so we weren't quite sure if she thought she fixed it or expected us to do this too. Everything was very old and just a bit gross. At least the sheets seemed clean and there were no bugs.
Beyond the bus and the hotel, Capri was amazing. It was just so beautiful and romantic. The first night we walked through the city of Capri and to the public gardens. We saw a couple in wedding attire with their photographers and I thought what a wonderful place Capri must be for a destination wedding. We followed our map to different scenic spots as the sun set. The last spot we visited appeared close on the map, but ended up being a hike. We just kept climbing up and up, but it was worth it. It was the best view we saw of the island. It overlooked the town of Capri and Fragoli (the iconic rocks jutting from the sea). Best of all, there were no other tourists. We only saw one older lady, who was from Venice and vacationing at her friend's vacation home on the island. She started a conversation with us about Capri and said she was surprised to see us there because very few tourists know about the spot. She said she likes to walk there every night for the view. It was just a lucky find for us.
For dinner we headed back to Anacapri and chose the restaurant, Barbarosa, above a shop close to our hotel. It ended up being a great choice because the food was excellent and reasonably priced and there was a large flat screen TV showing the USA vs. Spain soccer match in the Confederation Cup's semi-final. Jay was very happy to find this. It was an exciting match and the USA pulled off an upset to win.
The next morning we hiked an hour to the famous Blue Grotto. Most days small boats row groups of tourist into the grotto through a small opening in the side of the cliff. The day we went, it was closed due to rough waters. It was disappointing, but the hike we took next made up for it.
We took a four-hour hike following the ancient forts along the cliffs looking out to sea. Capri is full of tourists, but during the entire hike, we only saw four people. We guess people don't feel like venturing out on a long hike and it isn't promoted much, but people don't know what they are missing. It was the most picturesque and romantic hike I've ever been on. The forts dated back to 700 AD and were used by Napoleon during the Napoleonic Wars in the 1700s. The path we followed took us through a lot of different terrain from white rocks with goats to grassy dirt paths. We only got lost once and by the grace of God, we somehow found our way pack to the path.
Later in the hike, we came upon some cement steps that seemed to lead down to the sea and followed them down. We found a small pool formed naturally by the rocks. We took a dip in the water that was about chest deep. It was cool and refreshing. The rocks protected us from the strong powerful current, yet there was just enough of an opening for the water to continually circulate as the stronger waves crashed just below us. We know it wasn't, but the view felt like it was made especially for us just for that moment.
The hike ended at a picturesque lighthouse and the view reminded me a bit of photos of Maine and the United State's northeast coast. We were happy to see the lighthouse as the heat from the sun picked up and the refreshing feeling from the water wore off.
The next day our first trip to Italy ended. We left early from Capri not quite ready for the long journey. Four buses, one ferry, two trains, and one plane later we arrived in Split. Jay and I both felt like coming back to Split was such a good feeling because for the first time here, it felt like we were coming home. Cincinnati will always be home, but now Split is too.