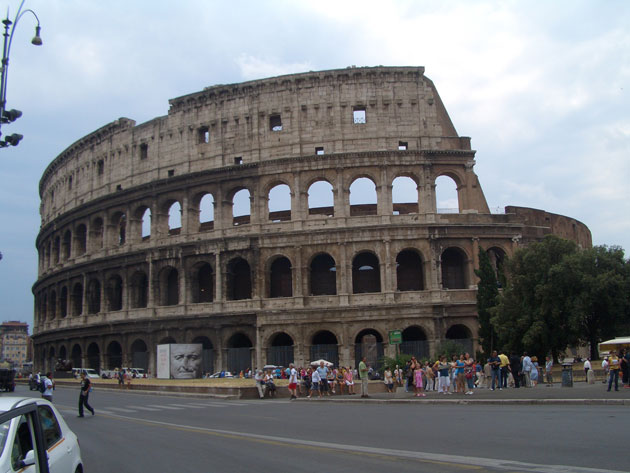 Exploring History in Rome, Italy
Posted on July 31, 2009 at 10:37pm Madrid / 4:37pm Cincinnati by Jay Larbes

* DISCLAIMER: This blog entry was written in mid-July. We didn't get a chance to publish it until now. This past month, we've been extra busy. This weekend (August 1 and 2) is the first full weekend we'll have spent in Split since the middle of June. Since our last post, we've made two trips to Italy, one to Bosnia and most importantly, went back home to Cincinnati for my sister Jenny's wedding to her new husband Chad! So, please pardon the now out-of-date references to Cincinnati and the wedding!
As usual, we're behind on our blog posts. We have so many stories we want to share, but these things take time, and we always seem to keep ourselves quite busy* with little downtime. So, sorry for our usual lateness, but don't expect any huge changes. If you're living and dieing by our updates (crazy person), then follow us on Twitter at @PondJumpers – we do a much better job of staying up to date there!
Anyway, as you may have already seen from the photo gallery* that we published a couple weeks ago, Kelly and I took a vacation to Italy for seven nights, visiting Rome, Pompeii, Sorrento and the island of Capri. I'm covering our four nights in Rome, while Kelly will be following up soon with the three other nights.
*Don't know what I'm talking about regarding the photo gallery? In addition to writing blog articles, we publish photo galleries of our adventures. You can view them by clicking the links in the "our recent photo galleries" section on the right-hand column of the site.
The galleries are actually posted on larbes.com, which is another web site that we maintain. We have been running that web site for a few years and it used to have photos going back to 2002, but we had to temporarily remove the old galleries when we moved to Croatia. I'll get them back up and running, some day (soon, hopefully). Anyway, you can keep an eye on the "our recent photo galleries" section – new galleries are denoted with bold text – or just directly visit larbes.com/photos to view the galleries. The photo galleries usually contain many more photos than we include on our blog entries.
This is actually our first of two Italy trips we have planned for this summer. We're actually back in Italy right now visiting Milan and Venice for four nights, before flying home from Venice to Cincinnati for my sister Jenny's wedding. We are very much looking forward to the wedding and seeing our families and friends back home! (And I'm excited to eat some Chipotle!!)
Both trips were somewhat last-minute decisions. In the beginning of June, we found out that Kelly had two work holidays at the end of the month and that she was encouraged to take vacation days the other three days of the week so the office could close down for the week. So, we wanted to take advantage of her week off and travel somewhere. We did some research, and the cheapest flight we could find was a flight to Rome.
Also, we had been keeping our eye on flights home to Cincinnati for the second half of July for Jenny and Chad's wedding on July 25. We were discouraged that the prices of flights from Split to Cincinnati weren't getting any cheaper (actually they became more expensive), but this led to us searching for flights elsewhere in Europe. Lucky for us, we found a flight from Venice to Cincinnati that was almost ½ of the price of the flight from Split to Cincinnati! So, we booked that ticket! And that's how we're fortunate enough to visit Italy twice in a month.
Getting to Rome
Our trip started Friday afternoon – I met Kelly near the Split marina, where we caught a bus to the Split airport for our flight. A day or two before we left for Rome, I had a conversation with my dad and he asked me how long our flight was. He was guessing under an hour, and I thought it was a little over two. Of course, he was right. Our flight was only about 40 minutes long from takeoff to touchdown*. We were amused by the fact that it took just as long to get from the Rome Fiumicino Airport to Roma Termini Station, the main train station in the middle of Rome.
*We flew on Croatia Airlines, which we think runs a fantastic short-flight airline. During this 40-minute flight, they had time to make two full rounds providing beverages and a snack to everyone on the flight. The snack was even a sandwich – small, but much bigger than a bag of peanuts which you might get elsewhere (if you're lucky).
Once we exited Termini Station, we staggered by foot around the streets near the train station to find our hotel. We found our hotel's (Hotel Kennedy – yes, named after JFK) street easily enough, but were thrown off because we found ourselves in the middle of an Asian district! We did find our hotel after a couple wrong turns (it sits just outside this district) and checked in.
Hotel Kennedy – Our Interesting Room
We have a couple of interesting stories to share about our hotel room. First of all, we found that hotels in Italy are quite expensive and generally not the best quality. So, in our effort to get the most value for our money, Kelly researched hotels on Trip Advisor (don't know what we'd do without this site!) emailed a dozen or so hotels in Rome and asked for discounts. We were lucky and a couple gave us decent offers, and we felt that Hotel Kennedy's was the best.
Of course, since we asked for a discount, we were given a special room – we had a triple room with both a twin and a queen bed, which worked out very well because it gave us room to spread out our stuff. However, the catch with the room was that there was no toilet (we did know this up front) – it was down the hall! We did have a rest room with a shower, a sink and a bidet but had to exit the room and go to a separate rest room with just a toilet and sink when it came time to relieve ourselves. This separate room was only for us – we had a separate key for it – and it was clean, so it was only a minor inconvenience.
The hotel did come with bed+breakfast service, so we certainly took advantage of that and filled ourselves up each morning with croissants, rolls, cereal, juice and hot chocolate (our non-coffee and tea drinking alternatives – yes, we know that we act like we're twelve sometimes! Most of the time?). We also tucked away rolls and yummy cheese that we brought with us into Rome and ate for a free lunch!
Our other interesting story, and really our misadventure, happened on our last day in the hotel. We stopped back in the middle of the afternoon to drop off our backpack and found that our room was cleaned and our towels removed, but had not been replaced with fresh towels. So, we stopped by the front desk and let them know, and they said that they would take care of it.
Of course, when we returned later that evening after our dinner, we still had no towels. So, we (Kelly) phoned the front desk and again asked if we could have some. We were shocked at their response – "It is too late (9:30pm), I cannot help you! You shouldn't ask for things this late. You must ask again after 7:00am in the morning". Well, we were checking out at 7:00am and catching an 8:00am train to Sorrento, so that wouldn't help us very much. Eventually, we asked if there were any empty hotel rooms that had towels in them that he could get for us. He agreed to this – under the condition that we walk down to the front desk, get the appropriate room key and get the towels ourselves! So, it all worked out for us, but was a funny episode.
Okay, on to the sights in Rome.
Friday Night
After arriving in Rome, checking into our hotel, and eating dinner*, it was starting to get dark. So we experienced many of the Rome attractions by night, which we really enjoyed – even though we were dragging our feet by the end. We started off by walking to Michelangelo's Santa Maria degli Angeli church. It was a very impressive-looking church. We didn't get to go inside or see it during the day, but will definitely do so if we ever return to Rome.
*Eating out in Italy has increased our appreciation for our food in Split. We were rarely super-impressed with our meals in Italy – our food ranged from okay to very good, but the portions were usually small and the prices were very high. In Split, we get giant portions – some times one meal is big enough for the two of us to share, and the prices are half of what we paid in Italy! And we have found meals that we find to be excellent! The same goes for ice cream / gelato – we get bigger scoops for one-third the price in Split – and we like it better! (Heresy, I know, but it's true).
After gazing at Santa Maria degli Angeli, we wandered the streets of Rome and eventually made our way to the insane spectacle that is Trevi Fountain. Before researching Rome, I had never heard of Trevi Fountain and didn't really think much about it – it's just a fountain. So, when we arrived at 10:30pm to a throng of hundreds of people observing the fountain, I was taken aback! This was one of the experiences I'll remember most about Rome – all of the tourists, everywhere. And Trevi Fountain had the most! Don't get me wrong, the fountain is gorgeous, but still, it's just a fountain. I'll never wrap my head around why hundreds of people visit it at all times of the day and night, why random couples enjoy making out amidst these crowd, and will always be amused by the obnoxious gypsy men trying to force roses into the hands of all the female tourists.
Once we somehow pried ourselves away from Trevi Fountain, we continued our night tour and walked down Palatine Hill, past The Forum and a half dozen or so colossal buildings and ended at the Colosseum. The Colosseum was very cool to see lit up at night, except for the fact that a giant advertisement was projected onto the face of it – whose grand idea was that to spoil such a historical icon?
We had a great time wandering Rome by night, but were completely exhausted by the time we made it to the Colosseum. So, we made our way back to our hotel and crashed for the night. Oh, I almost forgot – during this walk back, someone tried to pickpocket me! We had paused to consult our map, and I raised my hands in the air stretching, when some little twerp gypsy guy patted me on the butt and then took off in a trot in front of us and darted into a closed ice cream shop. Lucky for me, Kelly had encouraged me to put my wallet in my front pocket, so the guy didn't get anything. As we walked past the shop, I peered in at him, and he yelled something to the effect of "did you like that?" to me. That was our closest encounter with pickpocketers, and I guess we were lucky to walk away losing nothing more than our nerves.
Saturday
Saturday was our walking day. I'd be surprised if we didn't eclipse 10 miles total* over the course of the day. We started the day off by revisiting our final destination from Friday night, visiting the Colosseum. It is such an impressive structure, and cool to think that it had stood more than 2,000 years old, and is still the basic model for stadium design, even today. Kelly was delighted to see brides and grooms getting shuffled around outside the Colosseum posing for photos – I guess it does make for a wonderful wedding photo backdrop! After the Colosseum, we headed into the Forum and wandered pretty aimlessly through its ruins, pausing now and again to listen in on English-speaking tours that were also touring the park. I think if we started our tour over again, one thing we would do differently is get some kind of audio guide at the Colosseum and the Forum ruins, we think we would have had a higher appreciation for them.
*We carried a pedometer around with us during the trip (it's my newest nerdy toy). I don't think we have it calibrated correctly for my pace because we think it exaggerates mileage a good bit, but we think it does an accurate job at counting our footsteps. Here are our daily totals for the trip, as well as my mileage guesses.
| | | | |
| --- | --- | --- | --- |
| Day | # Steps | # Miles | Location |
| Friday night: | 18,246 | 8.3 | in Rome |
| Saturday: | 25,761 | 11.7 | in Rome |
| Sunday: | 16,240 | 8.4 | in Rome |
| Monday: | 19,204 | 8.7 | in Rome |
| Tuesday: | 22,898 | 10.4 | in Pompeii and Sorrento |
| Wednesday: | 22,470 | 10.2 | in Sorrento and Capri |
| Thursday: | 25,136 | 11.4 | in Capri |
| Friday: | 9,578 | 4.4 | in Capri and traveling back to Split |
| Total: | 159,533 | 73.5 | |
After leaving the Forum, we trekked back to Trevi Fountain to get a daytime view of the spectacle. Of course, we weren't let down – it was still buzzing as crazily as the night before! Then, we continued on to Piazza Navona where Kelly was happy to run into a People to People tour group (she toured the British isles with the People to People when she was 13). Next we visited the Pantheon, which was quite cool to see. In case you don't know, the Pantheon is famous for having an oculus atop its domed roof, allowing sunlight (and rain and snow) to pour in. I remarked to Kelly that it would be interesting to be here when it rained – we actually ran into some people later in our trip who were at the Pantheon on Sunday in the rain! We finished our day by visiting the Piazza del Popolo, relaxing for a bit in a park and walking down the Spanish Steps. Then, it was time for dinner and ice cream and a good night's sleep to rest our weary bodies.
Sunday
On Sunday morning, Kelly and I ventured to Vatican City to await Pope Benedict's noon appearance and wave from a window in St. Peter's Basilica overlooking St. Peter's Square. Of course, after waiting around with hundreds of other good Catholics making their pilgrimage to get blessed by the Pope, noon rolls around and the Pope doesn't show. Instead, we're treated to a giant video screen mass, where the Pope is presiding over a service at some other town in Italy. So, we missed out on getting to see the Pope. Oh well. I wasn't exactly enthralled with the idea of standing around for a couple of hours just to see him in a window and wave to everyone, so I was a bit amused when it turned out that he wasn't there!
Once we were done waiting for the Pope to turn up, we visited the biggest church in the whole world – St. Peter's Basilica. This place is massive. First, we had to wait in line to get checked that we were dressed properly – ladies must have their shoulders and knees covered, and men, the same I guess. Then we walked through the Vatican Grottoes, which holds tombs of the deceased Popes, including Pope John Paul II. That was sobering and interesting to see; many people would leave small prayers or letters near the tomb of Pope John Paul II. We then explored the inside of the Basilica, which as I said, is impressive, incredible and gigantic. Finally, we walked up 550 steps to the top of the dome, where we were treated to a wonderful view of Rome and St. Peter's Square as well as the Vatican Gardens. We didn't get to visit the Vatican Gardens because you have to make private reservations ahead of time, but they looked beautiful and we would definitely like to do that in the future.
While we were above the dome, it started to rain on us. But, by the time we had climbed back down to ground level, the rain had stalled. Unfortunately for us, it only stalled for a few minutes. As we began to leave Vatican City, it started to rain again. And the rain turned into a deluge! We did have umbrellas, but they only helped so much because it was quite windy. Since it was pouring outside, we decided to go see a Hiroshige art exhibit that we passed a couple days earlier. We crammed ourselves into a jam-packed bus which took us most of the way and then walked/ran for a few blocks, getting soaked, until arriving at the museum.
The Hiroshige exhibit was very intriguing, and a nice transition from the hustle and bustle of Rome. It seemed that everywhere we went was overflowing with tourists, but this exhibit was not crowded at all – since it's not a regular tourist attraction. Hiroshige – who I had never heard of but Kelly was familiar with – was a Japanese woodblock-carving-printing artist from the early 1800s. The prints that were on display were mostly of Japanese landscapes, and the lighting and music and art put us in a nice and peaceful mood.
Once we had made our way through the exhibit, it had stopped raining and we had mostly dried out, so it was time for another dinner and ice cream evening, and a good night's rest.
Monday
On Monday, we returned to Vatican City to go through the Vatican Museum – one of the largest museums in the world. The museum has on display works of art collected by the Roman Catholic Church throughout the centuries. We visited room after room filled with works of art. Kelly's favorite room from the museum was the Map Room, a long hallway room with giant paintings of the Italian region. It was fun to see Dalmatia, including Split and its neighboring islands on these maps! The tour concludes with Michelangelo's Sistine Chapel, which is so amazing to see. Of course, we viewed the chapel with a few hundred other people, so the buzz and bustle in the room takes away from the experience, but only a little bit.
This concludes my mega journal of our adventures in Rome. Sorry that I'm so long-winded, but I guess if you didn't give up and made it this far, you don't mind too much! Kelly will be following up with the second half of our trip soon. Until then, ciao!