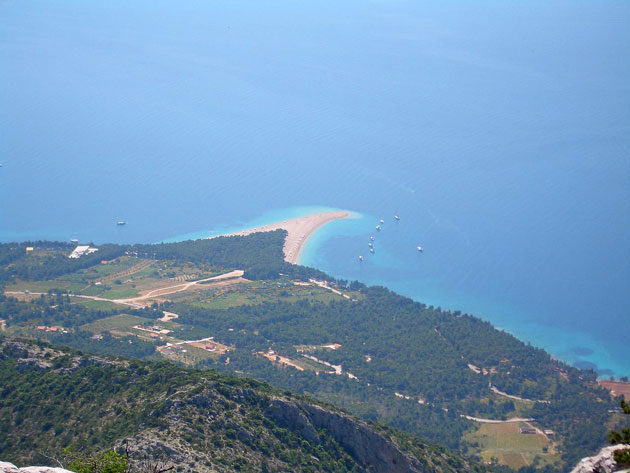 Visiting Bol and Zlatni Rat on the island of Brac
Posted on July 1, 2009 at 10:35pm Madrid / 4:35pm Cincinnati by Jay Larbes

On Kelly's parents' last day visiting us in Croatia, we decided to take a ferryboat back to the island of Brac. Kelly and I have visited Brac one other time and really enjoyed it, so we wanted to return to see more of the island. Last time, we only traveled by foot from the town of Supetar, so we didn't get to explore the other side of the island, where there is the town of Brac and the famous Zlatni Rat (Golden Horn) beach.
This time, we rented a car in Supetar so that we could drive around the island. I had volunteered that morning to be the driver for the day, since Kelly's dad drove to and from Krka and Plitvice Lakes the two days before. I was looking forward to it, because I knew it would be a manual transmission and I usually enjoy driving a stick shift. We hadn't made reservations in advance, so we ended up with a rather interesting car to drive around – a very small, white, two-door 1990 Peugeot convertible that had around 200,000 kilometers logged on it and a passenger seatbelt that was not functional (much to Kelly's dismay – I guess she didn't trust my driving skills!!).
My excitement for being the driver was diminished quite a bit in the first few minutes of our exploration. In order to see the first few sights – Kelly and I wanted to revisit a cemetery and show some sea views that we had found on our first Brac trip – we had to figure out how to get to the part of Supetar where we could park. To do this, we drove up a hill around the outside of the town, and then snaked our way back toward our destination. This was unnerving, because we were rarely sure of the correct way to head (a very common occurrence for us on our vacations and adventures) and many of the streets in the town were either up and down steep hills, cobble-stoned and/or dirty/rocky paths. My ability to drive a stick – which I haven't done with any regularity in several years – was certainly put to a test right away! But, we ultimately successfully navigated our way, parked, saw our sights, and then continued on our way.
After leaving Supetar, we drove up to the highest point on the island, which had great views of the Zlatni Rat (Golden Horn) beach another Croatian island, Hvar. The drive up was only a little challenging, because we were on wider (and paved) roads. There was still a little nervousness in the car, because we weaved our way back and forth around the island's mountainside to climb towards the top. Once we arrived, the view was spectacular. I'm not eloquent enough to describe it in words, but lucky for me we captured some photos that depict our view quite well. The Zlatni Rat beach is so famous because of its shape. It juts out into the sea so that when you are standing on the beach you have the sea on both sides of you and its shape continuously changes with the tides.
Once we had seen Zlatni Rat from afar, we wanted to experience it up close and personal. So, we piled back into our car, drove back down the opposite side of the island, and headed to Bol. Before heading to the beach, we stopped in Bol. Of course, before finding our way correctly, we drove down a very narrow and steep road only to have to turn around and retrace our route because we reached a dead end. But, we again made it safely. We had lunch in Bol, purchasing grilled sandwiches from a small shop and a big Coke and bottled water from a nearby supermarket.
Hunger and thirst quenched, we continued on to the beach! It was only a couple minutes' drive from the center of Bol, which we managed to travel without event. We were definitely ready for the beach – it was a hot day and our convertible ride had left us in direct sunlight most of the time, so we all got a bit sunburned (only a little, though). The sea was still very cold, since it was only the end of May, so we didn't spend too much time in the water. But it was nice to get in and cool off.
The Zlatni Rat beach is also renowned for wind-water sports. Since the beach sticks out into the sea, it is more exposed to the winds out in the water. It is the most popular spot in Croatia for wakeboarding and kiteboarding. We had fun watching the boarders ride the waves and perform stunts.
Before we knew it, it was time to leave the beach, drive for an hour back to Supetar and catch a return ferry back home. I'm happy to say that I didn't wreck the car at all (I did stall it out once or twice, though)! But before catching our ferry, I treated myself to a Cappi orange juice sports drink (this is my Gatorade, I love it!) while Kelly and her parents had ice creams.
Once we arrived back in Split, we headed to our favorite restaurant – Jugo, at the ACY Marina – to have one final dinner with Kelly's parents, before they headed back home after a very fun week-long visit (at least for Kelly and I – we hope they enjoyed it too)!