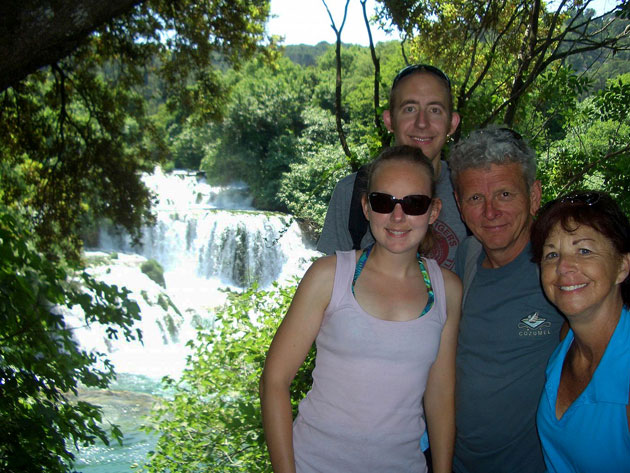 Life Update, Twitter Style
Posted on June 17, 2009 at 10:02pm Madrid / 4:02pm Cincinnati by Kelly Larbes

You may have noticed that we added a new section on the right column of our blog called "twitter updates". Considering how far behind Jay and I are with blog entries, we thought it would be a good idea to start twittering. We'll be using twitter to fill in the gaps between our blog entries, since we can publish thoughts and updates in a quick and easy format there.
So, I thought a good way to provide an introduction to how we'll use twitter is to give you a summary of what we have been up to (at least what I can remember) since Sveti Duje over a month ago, twitter-style. (Note: we will never actually twitter this much, but it was fun for this blog entry.)
Excited for the Severina (Croatian pop star) concert tonight on the Riva. It's free – sponsored by some guy running for mayor. -Kelly
7:24 AM May 15th
Maja says Severina was popular in the 1990s and then got popular again a few years ago when a sex tape was "accidently" released, ha. -Kelly
12:10 PM May 15th
Severina is wearing a sexy romper with a giant Obama face on it. Love it! -Kelly
9:34 PM May 15th
Even though all the songs are in Croatian, this concert is a lot of fun because we are close to the stage and the crowd is very engaged! -Jay
9:40 PM May 15th
Hiking in Marjan Hill – we just climbed up 250 steps just to get to the base of the park. Why didn't we bring any money to buy a water? -Jay
3:40 PM May 16th
I do so much physical activity here, but always stay the same weight – bitterness. -Kelly
3:42 PM May 16th
We are hiking almost directly above our house now. Kelly keeps thinking that we'll find a more direct path down. I don't. -Jay
4:09 PM May 16th
I may not have found a new path down, but I discovered a really sweet hidden dirt bike trail in the woods. -Kelly
4:35 PM May 16th
I think all water fountains here are made for short children. They are all just nozzles (not actually fountains). -Jay
5:18 PM May 16th
Our realtor, Vesna, Skyped me and offered us tickets to the Croatia vs. Belgium world vball championship qualifier match – fun! -Jay
11:49 AM May 17th
Mom and Dad are coming tomorrow! We are cleaning like mad. This place looks better than before we moved in. -Kelly
3:50 PM May 17th
We can't figure out the bus schedule. We think we missed the #8 – guess we are walking to volleyball – 45 minutes. It's hot out. -Jay
5:12 PM May 17th
It's a fun match to watch, but this makes us miss playing volleyball even more. -Kelly
6:45 PM May 17th
It figures, the day after we spend 5 hours cleaning, contractors arrive to install our new balcony doors. -Jay
9:32 AM May 18th
Mom and Dad arrive today around 2:30! I'm so excited. I can barely concentrate on work. I'm bouncing off the walls inside my mind. -Kelly
11:13 AM May 18th
Drilling into concrete walls makes a HUGE mess. This place looks like a disaster. All that work for nothing – how frustrating. -Jay
1:10 PM May 18th
Yey! Mom and Dad finally arrived (the bus into town was late). I'm so happy to show them Split and our apartment. -Kelly
3:29 PM May 18th
I just went swimming in the Adriatic Sea for the first time! It was cold. I love the sea. -Kelly
6:13 May 19th
I wish I was with Mom and Dad in Hvar (island 2 hours away) today, and not going to work. -Kelly
7:40 PM May 20th
No electricity in much of the city center today (mysterious rare problem). We worked the best we could outside at a cafe bar. -Kelly
3:35 PM May 20th
Mom, Dad, and Jay came to lunch with Tony, Maja and I today. It wasn't so awkward. Dad can talk to anyone. -Kelly
1:45 PM May 22nd
We are headed to Krka National Park today and Plitvice National Park tomorrow – looking forward to many awesome waterfalls. -Jay
7:50 AM May 23rd
I don't know how to describe these waterfalls in 140 characters. There are so many and so blue and so pretty – amazing! -Kelly
11:11 AM May 23rd
We just went swimming in some waterfalls! It felt like the cleanest best water I have ever been in – so exhilarating. -Kelly
1:26 PM May 23rd
Swimming in the waterfalls: so cold, but so awesome. -Jay
1:34 PM May 23rd
Finally arrived at our bed and breakfast – cute and quaint and right next to a small waterfall that we can hear at night. -Kelly
6:40 PM May 23rd
We arrived back from dinner to find the guy staying upstairs taking a crap in OUR bathroom – gross. -Kelly
9:58 PM May 23rd
At Plitvice: I didn't know water could even be this teal and turquoise. People are going to think I photoshopped my photos. -Kelly
10:47 AM May 24th
The waterfalls are never ending. It just keeps getting better. Everyone should come here. -Jay
12:55 PM May 24th
Mom just made us pose like the "see no evil, hear no evil, speak no evil" monkeys. Random, but fun. – Kelly
1:27 PM May 24th
I volunteered to drive today on Brac. Maybe a mistake – driving this old, old convertible up and down the tiny town streets. -Jay
9:50 AM May 25th
Looking over the famous Zlatni Rat (Golden Horn) beach on Brac. It juts into the ocean changing shape with the tides, wind, currents. -Kelly
11:20 AM May 25th
You may have seen the Playboy girl Bridget visit Zlatni Rat on her Travel Ch show. The show is lame, but the beach is very cool. -Jay
2:13 PM May 25th
Just had a last vacation dinner with Mom and Dad at Jugo (a favorite): pizza, carbonara, and pasticadu (roast beef) – yum. -Kelly
9:48 PM May 25th
At the Hajduk vs. Dinamo game: I've never seen a crowd this crazy, and and it's not even sold out. I could get used to this! -Jay
8:47 PM May 28th
We are going to the small historic town of Trogir (hour from Split) today – lots of small alleys and fun old architecture. -Kelly
10:30 AM May 30th
We just climbed to the cathedral's steeple – great view of Trogir, but we understand why they said to climb at your own risk! -Jay
2:19 PM May 30th
Off to hike in Marjan again. We are going to try to make it to the top where the flag is, straight above our house. -Kelly
2:05 PM June 6th
There are constant 30mph winds today. Windiest day since we've arrived. The flag looks and sounds awesome whipping in the wind. -Jay
4:28 PM June 6th
We just climbed up a viewing station that we think (pretty certain) is closed to the public. The wind made it super scary. -Kelly
5:10 PM June 6th
There are a few random churches and houses built right into the side of the mountain. They look pretty sweet. -Jay
5:22 PM June 6th
My legs are very sore from today's hiking escapade. I think we covered 6 or 7 miles today! -Jay
6:10 PM June 6th
We just bought our plane tickets home for Jenny's wedding. We arrive on July 15th in the evening and leave July 26th. -Kelly
11:45 AM June 7th
Now we need to plan 3 days in Italy on our way home in July – It was cheaper to fly from Venice (and only a little more after vacation expenses) -Jay
11:47 AM June 7th
Random – In Croatia, it's illegal for grocers to sell reusable grocery bags with their logo on it. -Kelly
1:42 PM June 8th
I am being strongly encouraged to take vacation the week of June 22 so the office can close because there are two holidays that week. -Kelly
3:05 PM June 8th
$230 roundtrip flight to Rome leaving Friday night, June 19th – looks like we are headed to Italy twice. We are super excited. -Kelly
10:13 PM June 8th
It's a Croatian holiday today (I don't even know for what), so I am off work. Yey! June is the month with the most holidays here -Kelly
6:07 PM June 11th
Off to see the Picigin Championship, a popular beach game here where teams try to keep a small ball in the air and look good doing it. -Jay
9:45 AM June 13
Erin (from Girls on the Run) and Carter are visiting! They have great travel stories – like trying to build a well in Mali, Africa. -Kelly
11:55 PM June 13
Maja told me about living here during the war as an innocent child, seeing the nights spent in bomb shelters with friends as fun. -Kelly
2:34 PM June 16
We just realized we threw away a Cutco knife two days ago with a pizza box
-Kelly
7:33 PM June 16
Working on our next blog entry – this Jay and Kelly life update. -Kelly
7:56 PM June 16
We will be sure to go into some of these adventures in more detail on the blog in the coming weeks. In the meantime, you can see a lot of our photos at www.larbes.com/photos.
We hope you will follow us on Twitter. To do so, just follow these simple instructions:
That's it! Now, when you're logged in to Twitter, our updates will be included on your home page!