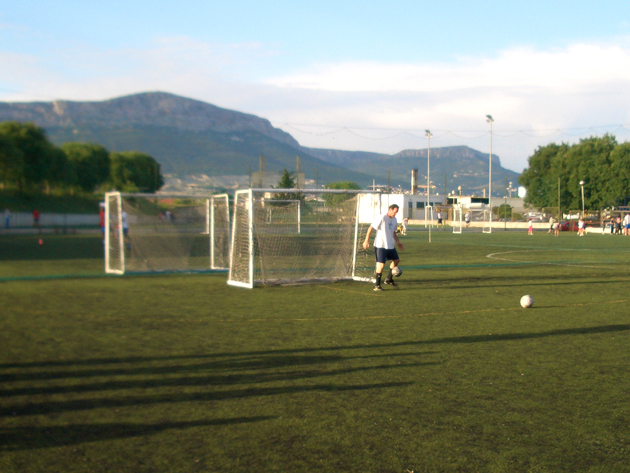 Just Call Me David Beckham, Jr.
Posted on June 12, 2009 at 10:34pm Madrid / 4:34pm Cincinnati by Jay Larbes

For the past few weeks, I have been playing (well, trying to play, anyway) "pick-up football" (soccer – but I'll call it football going forward, since that's what everyone else here calls it!) with a group of other foreigners who are currently living here in Split, Croatia. My new friend Joel, who Kelly and I met at a free concert performed by the United States Europe Army Band and Chorus*, invited me to play and introduced me to the group about a month ago.
*This was on the Sunday night of Sveti Duje weekend (read Kelly's Top 10 Sveti Duje Moments for all details!). During the concert, Kelly and I noticed a boy wearing an Indiana Wesleyan hat standing next to us, with what appeared to be his two brothers and his mother and father. Once the concert ended, Kelly was brave enough to introduce us and ask if they were from Indiana, and to tell them that we're from Ohio!
It turns out that Joel (the father) and his wife went to school at Indiana Wesleyan University. We chatted for a few minutes, and Joel invited me to play football. I was a bit hesitant, because frankly I'm not-so-good, but he said it didn't matter and that it's just for fun, so I thought I'd give it a shot! So far, I'm very glad that I did – it's been a lot of fun.
The games are very informal. There are about ten to twelve guys who get together on Mondays and Wednesdays at an outdoor football facility. We play for about an hour or so each day, just split into two teams of 4, 5 or 6 and play. It's very informal, no referees or anything, and we all take turns playing goalie. It's a small field, so the running isn't too bad. The facility splits each regulation size field into two smaller fields (basically, sideline to sideline instead of endline to endline) with smaller goals – even smaller than indoor goals – for recreational / pick-up football.
Of course, most of the guys are way more skilled than me, but I haven't felt too much out of my league yet – hopefully it stays that way! Everyone has been very nice so far – and yes, everyone speaks English, though I'm sure most of the guys speak other language(s). I know that out of the group, there are guys from England, Ireland, France, Denmark and Australia as well as a fellow American from San Diego and a Croatian who also just returned to Split in the past couple of months after living in Los Angeles for many years. Also, I just learned that one of the guys used to play professionally in the US – he apparently has a newspaper photo showing him playing with Pele that others have seen (he's a bit older than me)!
I hope to make some friends from this group, and think that we will.