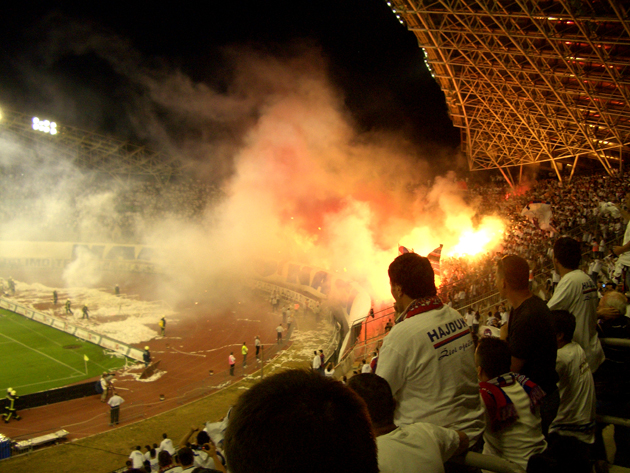 Hajduk Split vs Dinamo Zagreb – Croatia Cup Final at Poljud Stadium
Posted on June 9, 2009 at 10:54pm Madrid / 4:54pm Cincinnati by Jay Larbes

On May 28th, Kelly and I attended our first football match (soccer game) here in Croatia. We had a blast; it was a very fun time. A month ago, the match was shaping up to be a huge deal, but Hajduk hasn't performed as well in the past month, causing the match to lose some of its luster. But, it was still a match between the top two football clubs in Croatia, so we were still excited to go, and were not at all let down.
In addition to sharing our experience in journal and photo format, Kelly and I also captured video footage of the crowd – our favorite part of the night. Kelly then took the captured clips and merged them together to create the final video embedded below:
DISCLAIMER: I'm about to go into some Croatian football history, so if you don't care at all, just skip over the next few paragraphs. I'll let you know when I'll continue about our game experience.
Hajduk and Dinamo have a very intense rivalry. Historically (going back into Yugoslavia times), Hajduk has been the premier football club in Croatia with a total of 15 league championships, but Dinamo has challenged that position in recent years. Since 1992 – when Croatia declared itself an independent nation, with Zagreb named the capital city (and also a new Croatian National League was established, previously the Hajduk club played in the Yugoslav Football League), Dinamo has won 11 league titles and Hajduk only 6. Prior to 1992, Dinamo apparently was not much of a football powerhouse. Hajduk fans will tell you that Dinamo has surged to their present state of power because they are in the capital and have much more money to spend on players (and referees?) than Hajduk. Whether there is truth to this, I don't know.
Croatian History / Soccer History lessons aside, the game we attended wasn't even part of the Croatian National League. It was the final round of the "Croatian Cup", which is a national tournament that runs parallel to the Croatian National League season. The Croatian Cup is secondary in importance to winning the league, but it seems to also be a big deal. Each round of the cup involves home and away matches between two clubs – the team with the most aggregate goals scored (away goals count as two) advance to the next round. (The UEFA Champions League matches that have been on ESPN this Spring followed a very similar format.) Hajduk and Dinamo had already played the first leg of the finals, with Dinamo winning 3-0, so the Hajduk fans didn't have much hope of coming back and winning, as they would have to outscore Dinamo by at least three goals to force overtime*.
*I didn't find out most of this until during or after the game. Kelly informed me at the beginning of the game that this was for the Croatian Cup (her boss Tony told her), not a league game. She also told me that she thought Dinamo won the first leg 3-0, so we knew the Hajduk needed to outscore Dinamo by a lot to win. I have never attended a sporting event without knowing so much of the particulars. We had to base the significance of things by the excitement of the crowd.
END FOOTBALL HISTORY, RESUME GAME EXPERIENCE: Okay, hopefully I didn't put anyone to sleep by that. If it didn't make sense, it doesn't really matter. Basically, what matters is that Hajduk/Dinamo is a big rivalry, but this particular match had lost a bit of significance because Hajduk had lost a couple of lead-up matches.
We took the bus to Poljud Stadium, and stepped off into a sea of white shirts – just about everyone was wearing Hajduk apparel. It was cool to see. We also noticed right away a major gender disparity – we're guessing that for every thirty men, there was one woman. This didn't really shock us, but still is a little bit of a surprise to see live and in person. There were also some families, but they were also the vast minority.
We walked from the street down some steps toward the stadium, and spotted about a dozen men relieving themselves in the nearby bushes – not by any means out of sight! This surprised us a bit, to say the least. Beer was flowing on the concourse outside the stadium. The place had almost a festival atmosphere, because the concession stands, if you could call them that, were just rectangular folding tables with tabletop grills cooking sausages and burgers. Surrounding each concession stand area were plastic-folding chairs occupied by everyone enjoying their food and beverage. We had just eaten, so we didn't try the food, though it smelt good – maybe next time.
After walking around outside the stadium, we entered our gate and were handed free t-shirts! I was also handed a newspaper program, but didn't really want it since it was all in Croatian, but held onto it anyway because I didn't see a garbage can. Inside the stadium, we didn't see any concession stands or souvenir shops or anything. This surprised us. Not sure if you could exit to buy food and re-enter, but there didn't appear to be any available in the stadium.
After unsuccessfully asking an usher (I think he was an usher) where to locate our seats (he didn't speak much English – but I think he more or less told me to sit wherever), we managed to find our seats on our own. As we sat down, we noticed the seats weren't very clean, and that many people were using the newspaper as a seat cover – so, we followed suit. They didn't seem terribly disgusting to me, but whatever. Apparently, the stadium doesn't get cleaned very often or something.
We arrived at our seats about 30 minutes before game time, and already you could feel a buzz in the atmosphere. The crowd would sing to the songs playing and chants would break out. It made the pre-game fly by. Before we knew it, it was time to begin – just before the game started, the big cheering section (named Torcida) threw a bunch of streamers in the air and lit off some flares and M-80-sounding firecrackers. The streamers filled in the track area behind one of the goals.
The game was very exciting. The whole crowd seemed to be into it. As I said before, it wasn't a sellout, only about 60% full (20,000 people or so), but those who were there were definitely emotionally invested. The whole game, people cheered and chanted and sang and carried on and waved big flags. Whenever there was a call that didn't go Hajduk's way, the fans would let the referees hear it, whistling loudly. And of course, we had the random flares and fireworks. I've never witnessed a crowd this into a game before – it blows NFL away. And to think, that this wasn't even a huge game!
No goals were scored in the first half, but just a few minutes into the second half Hajduk got on the board, sending the place into a frenzy! Lots more flares, some thrown onto the track – causing fires that had to be put out by the firefighters diligently waiting with backpack fire extinguishers (they had to be summoned three or four times – never on the field, just on the surrounding track) and lots more fireworks and chanting and singing.
Only a few minutes after the first goal, Hajduk scored again! The place erupted this time. So many fireworks and flares this time, that the whole stadium filled with smoke. They had to stop the game for a few minutes while the smoke subsided – we couldn't even see the field. I loved it! So now, we could tell that everyone was excited, but we weren't sure if Hajduk needed one more goal or two more goals to matter, but everyone was on the edge of their seat the rest of the match. Especially the guy to Kelly's right. He was quite animated, and eventually Kelly and I switched seats so he wouldn't inadvertently drop her with a left hook.
Hajduk scored a third goal with about ten minutes left in regulation, and the funniest thing happened – no more flares or fireworks! I can only assume that they ran out! Still, the place went wild, just a bit more safely, I guess! After this third goal, the pace of the game slowed down. It didn't seem like either team was trying to score with any urgency, and we couldn't figure out why. So, nobody else scored in regulation, and Kelly and I still weren't sure what happened next. Nobody seemed to be leaving, so we stayed put as well.
After a few minutes, the teams lined up for penalty kicks! As we figured out, Hajduk's 3-0 win matched Dinamo's 3-0 win from the first leg of the final, so the tie was to be broken in penalty kicks. I'm not a huge fan of PKs, finding them akin to deciding a game with field goals or free throws, but it's definitely better than ending in a tie. Unfortunately, Hajduk lost in PKs, 4-3 (out of a possible 5), so they lost the Croatian Cup to Dinamo. We were a little disappointed, just because we wanted to see the place go bezerk one more time, but it was very cool to see that the crowd didn't just file out once the game ended. They still continued to cheer and chant and applaud their team for several minutes after the game ended. Kelly and I thought it was a great display of sportsmanship.
The 2008-2009 Croatia National League season ended on Sunday, so I guess we'll have to wait until next season to attend more games. But, we definitely plan to, because we both had a great time. We'll just have to wait until the next season starts in August.
If you've managed to read this far, and are somehow still interested (bless you!), we have posted a photo gallery from the match as well. Check it out!