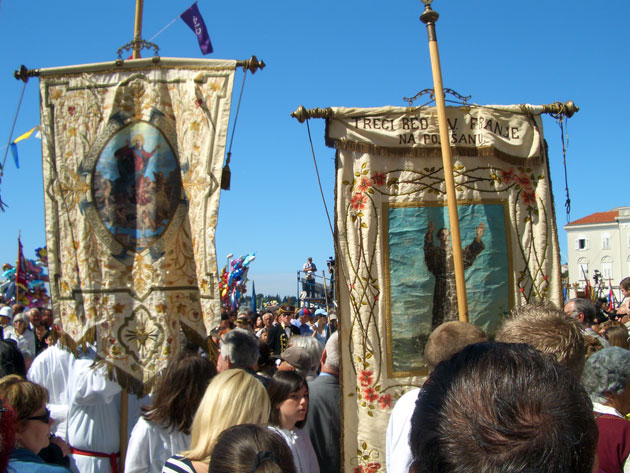 My Top 10 Sveti Duje Highlights
Posted on May 15, 2009 at 7:29pm Madrid / 1:29pm Cincinnati by Kelly Larbes

Thursday, May 7, was Sveti Duje Day (or St. Domnius Day), for the official patron saint of Split. The town came out in full force on Thursday; I kind of felt like I was back at Ohio University's Halloween party because of the massive dense crowds (minus the drunkenness and scandalous costumes, plus old people and children). The celebration went on all weekend. Jay has been working just about every waking hour these last two weeks (including the weekend) on a huge project, so I was a lone adventurer most of the time (yes, that is bitterness you hear in my voice.). I still had an amazing time enjoying the festivities though.
Here are the top 10 highlights from my weekend:
Tombula (some type of Bingo) – All day Thursday workers were selling Tombula cards for 10 kuna a piece (about $2) and at 7:00 the madness started. Supposedly Tombula is like bingo; Maja told me the first one to have all numbers in a row called out wins. I honestly have no good understanding what was going on. First of all, the cards have a lot of blank spots, so it doesn't seem like bingo to me. Also, there were literally thousands of people playing this one game. The Riva was edge to edge people; you truly couldn't move. There was someone announcing numbers over a microphone, but I never saw anyone actually win, and I don't know how anyone could've been heard among the crowd if they had won. I was completely lost, but very amused by the chaos.
Sveti Duje Religious Procession – Thursday morning I took a break from work to see the saintly procession (I am not sure of its official name). It was mostly a parade of religious people in full ceremonial dress. The elaborate costumes, beautiful intricate banners, and tacky larger than life cardboard cutout saint were fascinating. My favorite part though, had to be the very elderly pushy ladies ready to knock people over so they could get a good view of the ceremony following the procession. They clearly took Sveti Duje very seriously.
Dance! Split – Saturday night Jay and I watched a show in the main piazza celebrating dance in Split. It was supposed to start at 8:00, but it didn't start until 8:45 because there was a wedding ceremony running longer than expected at Sveti Duje, the cathedral in the piazza. Most of the show felt like a dance recital, but overall it was very entertaining. We saw different different styles: traditional Croatian dancing (honestly kind of boring); teenage girls doing a synchronized latin dance number (they were so stiff and awkward); preteen girls doing a hip hop routine in what we think was suppose to be hip hop gear, but really just looked like oversized pajamas (there were adorable and actually pretty talented); belly dancers (always fun); and break dancers (also always fun).
United States Europe Army Band and Chorus – Sunday night Jay and I enjoyed a free concert performed by the the U.S. Army Band and Chorus that is stationed in Heidelberg, Germany. We were curious what the members' everyday jobs were because it seemed like they just traveled around and played in the band; what a sweet gig (we do realize this probably isn't the case)! The conductor opened the performance by saying that she hoped everyone enjoyed their show of american music, but we think they were just playing to the crowd because the mostly Croatian audience seemed to know way more of the songs than Jay and I did.
Spli'ski Akvarel (Opera) – I had never been to an opera, but I went to my first one on Thursday night in the Croatian National Theater Split. Just being inside the 19th century theater was a stunning experience. It felt cool, dark, lavish and intimate. The ground level had your typical theater seating rows, but the next three floors were all similar to box seats with about six chairs per section going just two deep. I was on the fifth floor (cheap $10 seats), where there were two rows of seats going around, and I still felt like I had an excellent view. The performance was beautiful, even though I felt lost most of the time. I did figure out it was a comedy; I just wish I gotten all of the jokes.
Street break dancers – I grabbed a sandwich for dinner on Thursday and started to head back to the Riva when I came upon three break dancers getting ready for a street performance. It was such a fun surprise. All three appeared thin and lanky, but their strength was astounding. I really admire all of the physical and technical prowess it takes to hold the poses they do, and of course, all of the spinning around is just fun to watch.
Dinner and new friends at Fife – Saturday night Jay and I had a later dinner at Fife where seating was cafeteria style with long wooden tables and benches. We sat with two men in their 60s, Damir and Gale, who ended up making the night quite memorable. Damir spoke excellent English and was the biggest character we have met here; he talked our ear off for hours. Topics of conversation included (in his phrasing): he is a lawyer but can't make money because he is a communist; he believes native Split residents are far superior than the red necks from Hercegovina and Macedonia; he once gave a history speech to two thousand Japanese girls and only seven were pretty; he is a black racist because he likes black people's music better than all others, particularly blues music; he knows a famous Opera singer in Split who is American and lives here because she came for a visit a long time ago, got knocked up, and had to stay; he poured wine into my water because that is how wine should be drank; he thinks Jay and I shouldn't have gotten married; and he's scared of his wife. His wife, Nada, was actually quite nice and very pretty too. She joined us later in the evening and insisted on driving us home so we didn't have to walk.
Vendors – On Thursday, the Riva was lined with hundreds of Vendors selling just about everything traditional to Croatia and more. Many items were handmade and beautifully crafted. There was so much eye candy: lots of wooden crafts including woven baskets, clocks, stools, kitchen utensils, chess sets, baseball bats, religious figurines, and children toys; all types of jewelry; lots of food including colorful candies, fried donuts, crepes, ice cream, cotton candy and pasteries; wines; oils; lavender; home remedies; teas; ostrich eggs; fishing equipment; and fake plastic guns.
Rowing Regatta – Like many people, I had heard of the renowned rivalry between Oxford and Cambridge and their famous boat race on the River Thames each year. What I didn't know is that they also race in Split each year. I missed the university races on Saturday morning, but I caught the big event on Sunday when recent alumni of Oxford, Cambridge and Split universities raced in the Port of Split. Split actually won, and at first I thought it might be rigged, but I learned that Split has an amazing rowing program, which has produced several Olympic medalists. The pageantry and adrenaline from the event was completely captivating.
Stereo MCs and laser light show – Thursday night I thought I was headed home after buying Jay his favorite new dessert, a Krempita, when I noticed something was about to begin on the giant stage set up on the Riva. I moved to get a better look and got swept up in a fast moving crowd. Suddenly, I was in the second row in front of the stage for a concert I didn't even know was happening. I looked back behind me and the Riva was full of people as far as I could see.
London based hip hop group Stereo MCs commanded the stage and put on an energetic show for over two hours. It was so much fun; I just wished I had my girlfriends there to dance with me.

Before Stereo MCs took back the stage for their finale, there was the most amazing laser light show I have ever seen. The lights could be seen far down the Riva as they reflected off the tall angular white awnings. A sheet of falling water created a screen in front of the stage where images and words were projected. All of the action was synchronized to upbeat pulsating music. It was invigorating and beautiful.
All of the celebrations culminated into a pretty amazing weekend and most of it was free, so even better. I already can't wait until next year so I can share more of it with Jay.