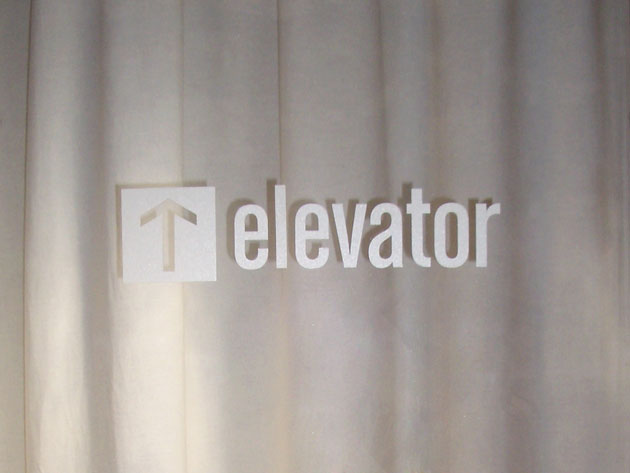 Diana Ross, Village People, Elvis, and my new colleagues
Posted on May 4, 2009 at 9:47pm Madrid / 3:47pm Cincinnati by Kelly Larbes

I think one of my favorite things about my new job has to be the music. My first day we listed to a Diana Ross CD on repeat all day and I thought, "Are you serious?!" Yes they were. As the days passed the repertoire included Village People (YMCA and Macho Man several times), the Beach Boys, Elvis, ACDC, Smokey Robinson, Janis Joplin, Hayseed Dixie, Luciano Pavarotti, George Michael, soccer fans' chants and songs, and more. The odd variety has grown on me; I haven't been converted, but it definitely makes me smile. I also love the fact that we listen to all of the music from CDs or sometimes through YouTube.
There are so many variances (enough that I will probably write a whole other blog entry about it) between my new job at Elevator and my previous job at Landor. I don't judge most of them as better or worse; just different. One of the biggest differences is the size. Where Landor had over 150 people in Cincinnati, Elevator has just four full time employees and a number of freelancers who step in for bigger projects. My three new colleagues are Tony, Sanja (pronounced Sanya), and Maja (pronounced Maya); luckily, I've already grown fond of each of them.
I've been working for almost a month now and the best part has been getting to know them, though it has been a bit of a challenge. They are all a bit reserved about their lives outside of work. I'm not sure if that is a typical Croatian work thing or Elevator specific. When we all went out to lunch together on my first day, I asked them all what they like to do outside of work. They looked a bit taken back by the question and then looked at each other with curiosity. I got the clear impression that they didn't know what each other did outside of work. I was happy to break the ice.
Tony is part owner, creative director and my new boss. He likes to ski and go to Hajduk Split soccer games. He spent ten years in Los Angeles, three in London and two in Rome working in advertising and design before he founded Elevator in Split, his hometown, in 1998. Of course, his English is impeccable (though he is always harping on me to correct his accent). My initial reaction is that Tony's personality has this weird American capitalism versus old Yugoslavia socialism duality. On one hand he can be a bit cavalier, but other times he is almost overly modest. He is usually very serious, but I really love when a bit of his quirkiness comes out: funny faces or quick little dance moves. He is very dedicated and I appreciate his passion.
Sanja is the other co-owner. She works on brand strategy and I think handles a lot of the business technicalities. Sanja lived in Rome from 1991-2007 working for the United Nations World Food Program. She also speaks great English, though it is not as effortless as Tony's and Maja's, so I really appreciate that she seems to make the biggest effort to speak English around me so I am not so completely lost. One of Sanja's biggest passions beyond work is singing. Her choir was traveling in northern Croatia last week for performances. She shared traveling stories with Maja and I this week, such as eating pasta with the famous and rare tartufo mushroom. I loved hearing the animation in her voice about how much fun she had. I can't really pinpoint why, but Sanja always seems to make me smile.
Maja is office manager/client manager/Tony's administrative assistant. She has never even visited an English speaking country, but her English is fabulous. She has quickly become one of my favorite people in Split. I am covertly trying to get her to be my friend outside of work, but I don't think it is going too well. She genuinely seems to enjoy my company, but doesn't seem to take me up on any of the hints to hangout outside of work. I think it goes back to that separation of work and life at Elevator. I've gotten to know Maja the best because I tag along with her during lunch (lunch is an entirely other topic – Croatian girls don't eat – they just drink coffee). She has definitely assumed the role of ambassador to Split for me. She has fielded questions from so many topics, from buying detergent to bank accounts to funerals. I appreciate Maja's friendliness, but what I really like is her strong feminine personality. She is witty, opinionated and smart, which are all qualities I value.
So many times I feel like I am back in kindergarten here: I hope she'll be my friend.